Torrential rains have fallen on the Big Island as a result of Hurricane Lane.
U.S. Disaster Relief
013622
UPDATE (9:03 a.m. ET Tuesday): Lane became a tropical depression late Sunday and headed west from the islands. Please continue in prayer for those affected in Hawaii. Damage was not nearly as severe as initially expected. This is expected to be the final update for Lane.
UPDATE (7:51 a.m. ET Sunday): Tropical Storm Lane continues to weaken and move away from the state. Nonetheless, more rain is expected today and flash flooding remains a threat. The eastern sides of Maui and the Big Island received the greatest rainfall from this storm.
UPDATE (1:11 p.m. ET Saturday): Tropical storm watches and warnings remain in effect as heavy rains are expected for Maui, Oahu, and Kauai. Flooding and mudslides remain a significant threat. Lane continues to degrade quickly, and the center of the storm is unlikely to come ashore on any of the Hawaiian islands. It is slowly moving away south of Hawaii.
UPDATE (6:55 a.m. ET Saturday): Hurricane Lane became a tropical storm late on Aug. 24. All hurricane warnings have been cancelled. However, flooding continues on the Big Island, with reports that a couple locations received over 40 inches of rain. Flash flooding may be a problem across the islands this weekend as downpours continue.
UPDATE (9 p.m. ET Friday): Hurricane Lane has been downgraded to a Category 1 storm. Flash flooding and landslides remain a threat through the weekend as Maui, Oahu, and Kauai will feel the cyclone's effects. As noted below, the Big Island already received 30+ inches of rain.
—
As Hurricane Lane passes near the Hawaiian islands, its outer bands have already drenched the Big Island with over 30 inches of rain in spots, raising concerns about major flooding and landslides.
Samaritan's Purse is closely monitoring the hurricane—now downgraded to a still dangerous Category 2 event. The storm, once a Category 5 cyclone, is expected to weaken further over the weekend. Our staff are poised and ready to respond as needed.
Please be in prayer for the people of Hawaii and its leaders as the storm continues.
As of now, the island chain is likely to escape a direct hit, but torrential rains have already fallen. Tropical storm-force winds and more precipitation are expected Friday night into Saturday and may cause extensive damage. If Lane does make landfall in Hawaii, it would be the first major cyclone to do so in more than 25 years.
The Hawaiian islands include Maui, Oahu, Kauai, Lanai, and the island of Hawaii, known as the Big Island.
Previous Responses in Hawaii
Earlier this spring, Samaritan's Purse deployed teams to Kauai, after 50 inches of rain in a 24-hour period pummeled the island on April 18. Soon after, our DC-8 aircraft arrived with emergency relief supplies and tools so we could assist the survivors of the historic flood. Over the course of three months, our staff and volunteers completed 110 clean-up jobs and 54 house repairs for homeowners on the North and East Shores of Kauai.
We praise God for the 19 people who made decisions to follow Jesus Christ during that deployment.
At the same time, we sent more than 2,100 half-mask respirators and 4,000 N95 masks to Hawaii's Big Island to help families affected after the Kilauea volcano erupted on May 3.
Samaritan's Purse deployment to Hawaii this year was our first ever to the 50th state.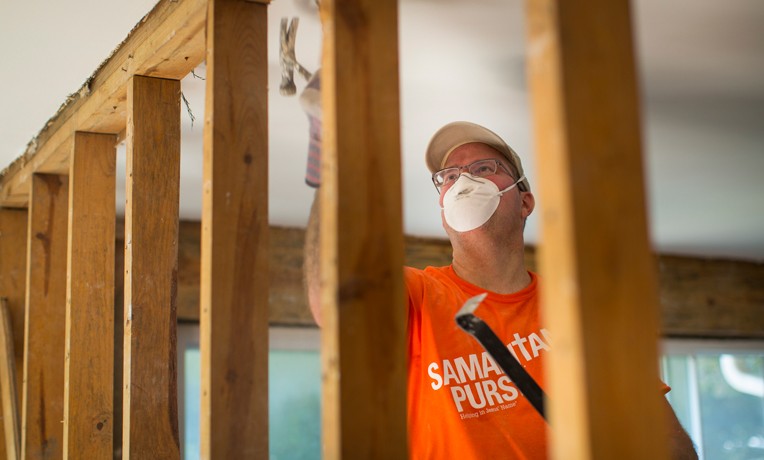 U.S. Disaster Relief
Samaritan's Purse mobilizes and equips thousands of volunteers to provide emergency aid to U.S. victims of wildfires, floods, tornadoes, hurricanes, and other natural disasters. In the aftermath of major storms, we often stay behind to rebuild houses for people with nowhere else to turn for help.
---
U.S. Disaster Relief 013622