Heavy rains have caused big problems on the border. We are helping homeowners in Jesus' Name.
U.S. Disaster Relief
013622
Samaritan's Purse has deployed to the far south of Texas along the Mexican border to respond to widespread flooding in the Rio Grande Valley. These were the state's worst floods since Hurricane Harvey last August.
Volunteer with Samaritan's Purse in South Texas
One of our disaster relief units—a tractor-trailer filled with equipment and supplies—is now in place in Texas after being dispatched from North Wilkesboro, North Carolina on Friday. We have staff already on the ground with more to come; additional support equipment is also coming soon.
Day and overnight volunteers will begin work this week out of our base at New Life Baptist Church in Weslaco, Texas.
More than 15 inches of rain fell in parts of Hidalgo County in mid-June, causing flash flood emergencies; Texas Governor Greg Abbott has declared a state of disaster. Several thousand homes have been flooded in the county. Especially hard hit was the border city of McAllen, the largest metro area in Hidalgo County with a population of about 142,000 people.
Samaritan's Purse volunteers are coming alongside hurting families in Jesus' Name, removing ruined furniture and appliances and tearing out waterlogged flooring and walls. This process saves the homeowner time and money by preparing the house for contractors who can come in and begin the restoration process.
Billy Graham Rapid Response Team chaplains will also be deployed, providing emotional and spiritual care.
Please join us in prayer for the region's hurting families and remember our staff as they serve.
Samaritan's Purse has been continuously at work in the Lone Star State since Hurricane Harvey hit in August 2017. We are still fielding teams in Rockport and Pearland (near Houston) as part of our rebuild project to help those whose homes and churches were damaged by the storm. We've helped thousands of homeowners already and praise God that hundreds have come to receive Jesus Christ as Lord and Savior through our combined witness with Billy Graham Rapid Response Team chaplains.
This story was originally published on June 22 and updated on June 23, 25, and 26.
Two more recent articles on our Hidalgo County response have now posted: "Volunteers Begin" and "Sharing God's Love".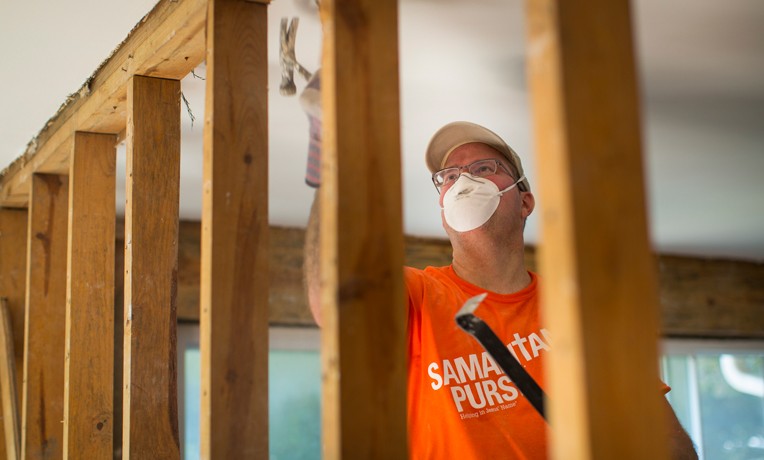 U.S. Disaster Relief
Samaritan's Purse mobilizes and equips thousands of volunteers to provide emergency aid to U.S. victims of wildfires, floods, tornadoes, hurricanes, and other natural disasters. In the aftermath of major storms, we often stay behind to rebuild houses for people with nowhere else to turn for help.
---
U.S. Disaster Relief 013622