A disaster relief unit deployed to Seneca County. Samaritan's Purse is helping homeowners in Jesus' Name.
U.S. Disaster Relief
013622
UPDATE (Aug. 31): Our response finished on Aug. 30. More than 140 volunteers served 60 homeowners in Jesus' Name. We thank God that three individuals came to know Jesus Christ as their Lord and Savior during this response.
—
On Thursday, Aug. 16, Samaritan's Purse deployed staff and a disaster relief unit—a tractor trailer filled with equipment and supplies—to upstate New York in response to recent flooding in Seneca County. Our base for this deployment is Seneca Community Church in Romulus.
Staff started assessing and writing work orders on Friday, Aug. 17. The next day our volunteer teams began coming alongside homeowners in Jesus' Name, helping them mud-out their flooded houses. Volunteers are also spraying for mold and doing some chainsaw work.
Volunteer in New York
More than nine inches of rain pounded the area southwest of Syracuse and southeast of Rochester on Tuesday, Aug. 14, triggering flash floods.
Roadways were clogged by a four-foot wall of fallen trees and brush, hampering efforts to rescue residents trapped by the deluge. Dozens had to be plucked by emergency personnel from their homes, which had been surrounded by raging water, or from cars stalled in flooded streets.
Billy Graham Rapid Response Team chaplains have joined us on this response.
This story was originally published Aug. 16 and updated Aug. 17, 20, and 31. The videos were added Aug. 23 and 24.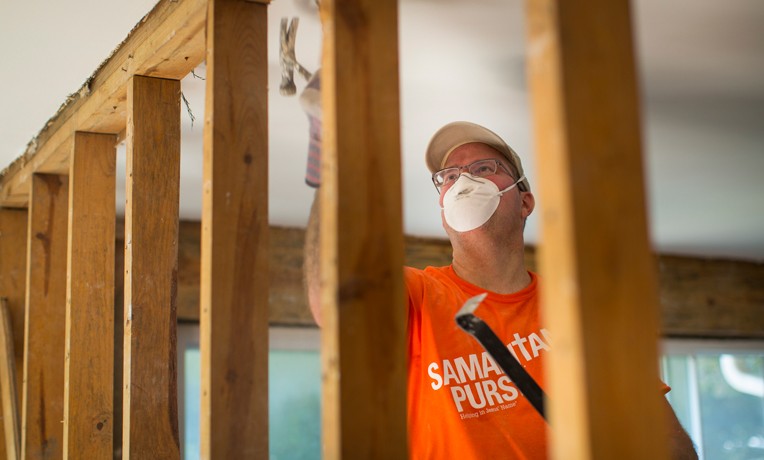 U.S. Disaster Relief
Samaritan's Purse mobilizes and equips thousands of volunteers to provide emergency aid to U.S. victims of wildfires, floods, tornadoes, hurricanes, and other natural disasters. In the aftermath of major storms, we often stay behind to rebuild houses for people with nowhere else to turn for help.
---
U.S. Disaster Relief 013622