We are providing 250 mobile home units in the Lone Star State to replace those destroyed by Hurricane Harvey. It's part of our rebuild and recovery project to minister to homeowners in Jesus' Name.
After Hurricane Harvey's powerful winds and rains ravaged parts of southeast Texas, many mobile home residents returned to find their property in ruins.
Rockport, Texas, resident Lore Norsworthy lived in the same mobile home for 28 years before Harvey hurled three large trees down on it. She was fortunate to have evacuated with her neighbors only a few hours before the massive storm hit, but when she returned, her home and those of several neighbors were wrecked. The hurricane also, sadly, took the lives of some of her pets, including a 34-year-old parrot.
For many months, Lore lived in the backseat of her car and in a tent on her property. But now, finally, she has a place to call home.
In May, Lore became the first Texas homeowner to receive a new mobile home courtesy of Samaritan's Purse. We installed and dedicated 10 mobile homes near Rockport, Texas.
In the coming weeks and months, we will replace mobile homes in multiple Lone Star State communities as part of our rebuild projects in Pearland and Rockport. Samaritan's Purse has pledged to replace 250 mobile homes, rebuild or repair 500 houses, and provide reconstruction grants for more than 160 churches.
"I had no idea how I was going to replace my home because I didn't have insurance, and I wasn't getting help anywhere, so I really thought this might take a very long time," Lore said. "God brought in all these great people into my life. If it wasn't for them I don't know where I'd be. When I first stepped in, it was very overwhelming. I couldn't believe it. It was so beautiful."
Claudia Dominguez is another Texas homeowner who returned to a house in ruins thanks to Hurricane Harvey. She had no idea where to turn for help, but was hopeful when, through her church, she learned about the recovery and rebuild efforts of Samaritan's Purse. She gave us a call.
"When they called me back and said I was approved, I was crying and crying. I was in shock," she said. "I'm so happy, because there's a lot of things that make me sad. But thank God I'm going to have my new house."
Claudia was overjoyed to move into her new mobile home on June 7.
Please pray for our continued efforts in Texas and for churches and families as they strive to rebuild.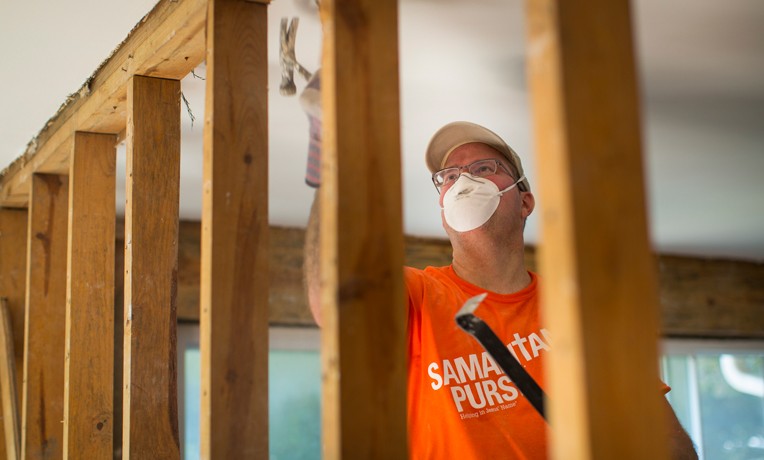 U.S. Disaster Relief
Samaritan's Purse mobilizes and equips thousands of volunteers to provide emergency aid to U.S. victims of wildfires, floods, tornadoes, hurricanes, and other natural disasters. In the aftermath of major storms, we often stay behind to rebuild houses for people with nowhere else to turn for help.
---
U.S. Disaster Relief 013622