Our U.S. Disaster Relief Unit is en route to southern Louisiana where floodwaters have devastated communities still recovering from 2020 hurricanes.
U.S. Disaster Relief
013622
Updated: May 21 with video on May 23
Samaritan's Purse has deployed to Lake Charles, Louisiana, after torrential rain caused serious flooding across the southern part of the state. As much as 12.5 inches of rain fell in 24 hours in Lake Charles, where people are still recovering from two hurricanes (Delta and Laura) that hit last year.
"Last fall, Lake Charles was hit back-to-back by two powerful hurricanes, and now they are facing overwhelming flooding," said Franklin Graham, president of Samaritan's Purse. "My heart breaks for these communities as they long to return home and regain normalcy. Please pray that God's peace would cover them during this time and that our teams would provide needed assistance in Jesus' Name."
This week's downpour caused flash flooding that required swift water rescues and resulted in two deaths and one missing person. Hundreds of homes have been damaged by rising water.
U.S. Disaster Relief Unit #7—a tractor trailer filled with relief supplies and equipment—was sent from North Wilkesboro, North Carolina, to Calcasieu Parish on May 19. It has arrived now and will be a hub as we deploy volunteer teams over the coming days. Our North American Ministries staff will be working closely with local officials, emergency management, and church partners to mount a strategic response to help homeowners clean up in the aftermath of this disaster.
As waters continue to recede and access to neighborhoods becomes available, we will start sending out volunteer teams from our base of operations at Glad Tidings Church, 3501 Texas Street, Lake Charles, Louisiana 70607. Volunteers will remove ruined walls and flooring, salvage cherished belongings, and carry debris to the street.
Samaritan's Purse provided immediate disaster relief in Lake Charles and other parts of Louisiana in the wake of hurricanes late last summer and fall. Just recently, our North American Ministries team also began a home rebuild program in the Lake Charles area.
Please pray for communities across southern Louisiana as they begin to recover from these most recent storms. Also pray for our staff and volunteers, working alongside local churches, as we minister to homeowners in Jesus' Name.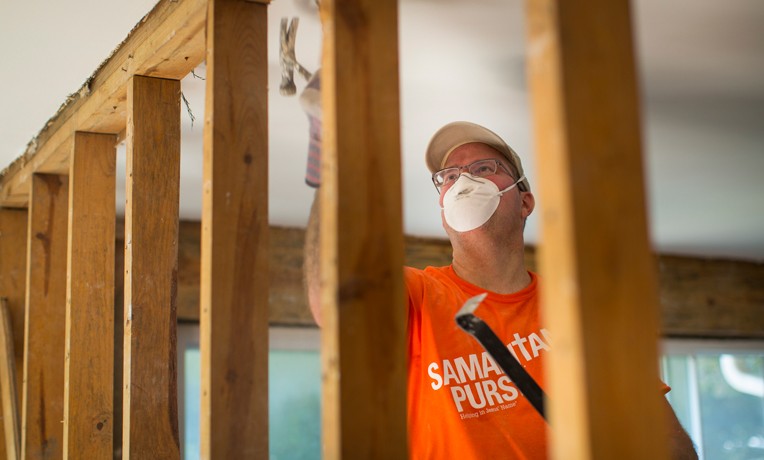 U.S. Disaster Relief
Samaritan's Purse mobilizes and equips thousands of volunteers to provide emergency aid to U.S. victims of wildfires, floods, tornadoes, hurricanes, and other natural disasters. In the aftermath of major storms, we often stay behind to rebuild houses for people with nowhere else to turn for help.
---
U.S. Disaster Relief 013622