Our team is in Bertie County, North Carolina, where a twister hit a mobile home park. The storm was produced by Hurricane Isaias.
U.S. Disaster Relief
013622
Samaritan's Purse has deployed to Bertie County in Eastern North Carolina after a devastating EF-3 tornado tore through the area early on the morning of Aug. 4. The tornado, spawned by Hurricane Isaias, reached maximum sustained winds of 145 mph and destroyed homes and killed two people. At least 20 have been injured.
Staff, vehicles, and equipment are set up at our host church Ross Baptist in the town of Windsor.
Hurricane Isaias made landfall in North Carolina on Monday evening and slammed into Ocean Isle Beach. Isaias continued to make its way up the country's East Coast after being downgraded to a tropical storm.
Day volunteers began working from our host church on Aug. 5. All volunteers and staff are working within guidelines established by local and federal government to prevent the spread of the coronavirus. Measures include wearing masks and gloves and practicing social distancing. Billy Graham Rapid Response Team chaplains also deployed alongside us.
Please pray for the families who are hurting in the aftermath of this disaster. Also pray for those who are still in the path of the tropical storm. Pray for our staff and volunteer teams as they share God's love during this difficult time.
This story posted on Aug. 4 and was updated on Aug. 5.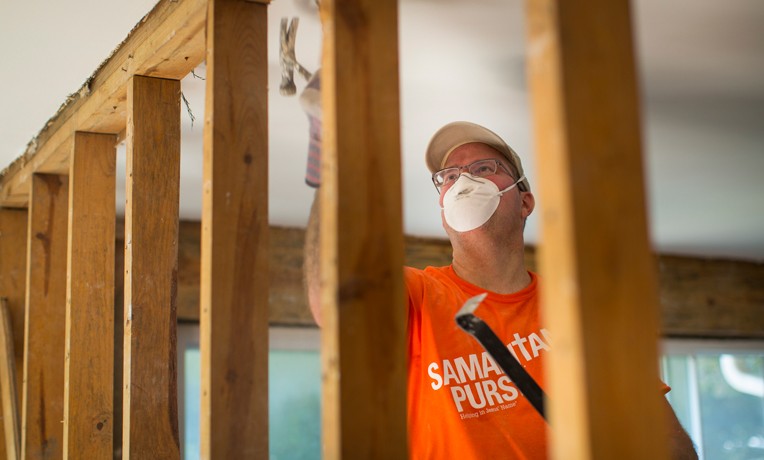 U.S. Disaster Relief
Samaritan's Purse mobilizes and equips thousands of volunteers to provide emergency aid to U.S. victims of wildfires, floods, tornadoes, hurricanes, and other natural disasters. In the aftermath of major storms, we often stay behind to rebuild houses for people with nowhere else to turn for help.
---
U.S. Disaster Relief 013622