Samaritan's Purse volunteer teams are working in northeastern New Mexico, helping residents recover belongings after the Hermits Peak Fire destroyed hundreds of homes.
U.S. Disaster Relief
013622
UPDATED June 8
Samaritan's Purse volunteers are working hard in northeastern New Mexico where the Hermits Peak Fire burned through more than 318,000 acres near the Santa Fe National Forest.
Teams are assisting homeowners in sifting through the ashes and debris to recover belongings and keepsakes not claimed by the blaze. Working in Jesus' Name to help these hurting families also provides opportunities to share the comfort and hope found in the Gospel of Jesus Christ.
Billy Graham Rapid Response Team chaplains are also on hand, providing care and spiritual encouragement and reminding residents of God's love for them in the midst of tragedy.
We are receiving both day and overnight volunteers at our host church: Mount Calvary Assembly of God, County Road A037 in Mora, New Mexico. Another partner church in the area, Mora Valley Baptist Church, is also providing housing and support to our teams.
The wildfire, which started April 6 and traveled more than 65 miles, destroyed more than 400 homes in Mora and San Miguel counties. The fires are currently 65 percent contained. Firefighters continue to battle the blaze in some areas.
Disaster Relief Unit #6—a tractor-trailer filled with relief supplies and equipment—departed our Wilkes Ministry Center in western North Carolina Sunday morning and has now established a base of operations in Mora, New Mexico. Additional Disaster Relief Vehicles have also arrived from partner churches to transport supplies and equipment to worksites.
Please pray for these many hurting homeowners and families faced with so much uncertainty. Pray that many would place their faith in Jesus Christ. Pray also for our staff, volunteers, and Billy Graham chaplains, that God would protect, sustain, and work mightily through them to point people to Jesus Christ.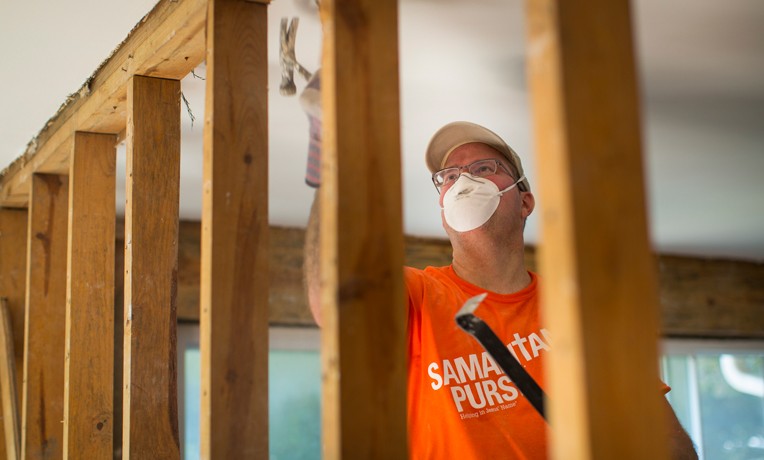 U.S. Disaster Relief
Samaritan's Purse mobilizes and equips thousands of volunteers to provide emergency aid to U.S. victims of wildfires, floods, tornadoes, hurricanes, and other natural disasters. In the aftermath of major storms, we often stay behind to rebuild houses for people with nowhere else to turn for help.
---
U.S. Disaster Relief 013622