Our teams are on the ground near Asheville to help hurting people in the aftermath of Tropical Storm Fred.
U.S. Disaster Relief
013622
Tropical Storm Fred dumped nearly a foot of rain in some areas of western North Carolina, washing out bridges and roads and destroying hundreds of homes. Close to 100 people had to be rescued, and six people died. The catastrophic flooding also caused more than 50,000 power outages.
Samaritan's Purse has deployed to Haywood County to bring physical relief and the hope of Jesus Christ to families in desperate need. Our volunteers are clearing debris and removing mud and waterlogged belongings from homes.
More than 200 of our volunteers have helped dozens of homeowners. We praise God for three salvations so far.
Billy Graham Rapid Response Team chaplains are also providing spiritual comfort and encouragement to hurting homeowners and community members.
Our host church and base of operations for this response is Woodland Baptist Church, 545 Crabtree Road, Waynesville. We are receiving both day and overnight volunteers.
For more information about how you can serve alongside us in Jesus' Name, visit spvolunteer.org.
Please pray for the families in western North Carolina who are suffering in the aftermath of this unprecedented flooding event. Pray also for our volunteers to have opportunities to share God's love as they serve in Jesus' Name.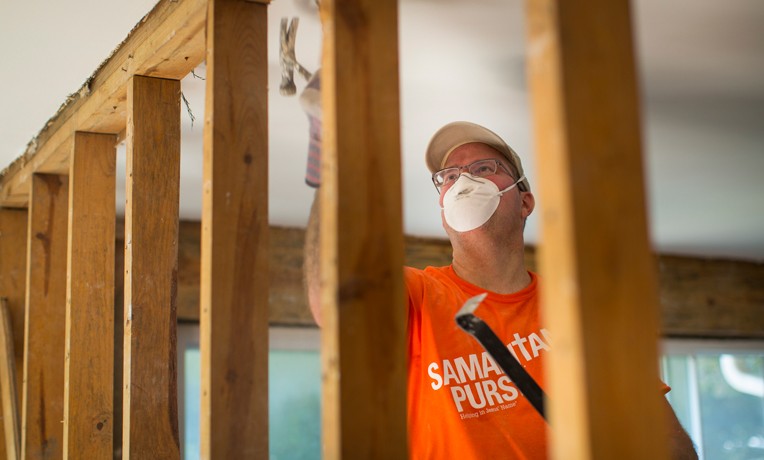 U.S. Disaster Relief
Samaritan's Purse mobilizes and equips thousands of volunteers to provide emergency aid to U.S. victims of wildfires, floods, tornadoes, hurricanes, and other natural disasters. In the aftermath of major storms, we often stay behind to rebuild houses for people with nowhere else to turn for help.
---
U.S. Disaster Relief 013622