Samaritan's Purse volunteers are working in two states where floodwaters have overwhelmed communities.
U.S. Disaster Relief
013622
Samaritan's Purse volunteers are already hard at work in Desha County, Arkansas, and Bolivar County, Mississippi, following widespread flash flooding that engulfed parts of both states. Over 20 inches of rain fell in some areas.
VOLUNTEER ARKANSAS | MISSISSIPPI
Dumas was one of the hardest-hit places. Entire communities in Desha County were overwhelmed by fast-rising floodwaters. Dozens of homeowners were forced to evacuate as the deluge swamped houses as it gushed across roads, fields, and yards. An irrigation canal also overflowed and inundated farmland. Thousands of acres of crops are now ruined. Arkansas governor Asa Hutchinson declared a state of emergency.
Just to the east, across the Mississippi River, heavy rain also drenched historic Mound Bayou in northwest Mississippi. The community, founded in 1887 by former slaves and once called "the Jewel of the Delta" by Teddy Roosevelt, was slammed by the storms as torrents of rain ended up in area homes. Some Bolivar County homeowners had to be rescued by boat. Many local roads are still inaccessible.
In all, hundreds of homes have been damaged by floodwaters from relentless storms along the Mississippi Delta in recent days.
U.S. Disaster Relief Unit #3—a tractor-trailer filled with relief supplies and equipment—was sent June 11 from North Wilkesboro, North Carolina, to Bolivar County, Mississippi, while Unit #5 was deployed earlier in the day to Desha County, Arkansas. Our North American Ministries staff is working closely with local officials, emergency management, and church partners to coordinate the relief effort and help homeowners start on the road to recovery.
Our volunteer teams began work over the weekend, operating from our bases of operation at Morrison Chapel Baptist Church in Cleveland, Mississippi, and First Baptist Church in Dumas, Arkansas.
Please pray for all the communities along the Mississippi Delta who have been hit hard by the storms. Also pray for our staff and volunteers as we minister to hurting homeowners in Jesus' Name.
This story was updated June 14.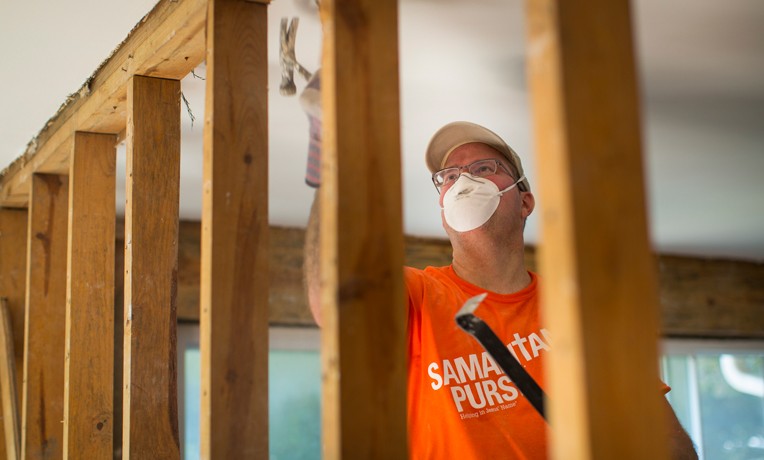 U.S. Disaster Relief
Samaritan's Purse mobilizes and equips thousands of volunteers to provide emergency aid to U.S. victims of wildfires, floods, tornadoes, hurricanes, and other natural disasters. In the aftermath of major storms, we often stay behind to rebuild houses for people with nowhere else to turn for help.
---
U.S. Disaster Relief 013622