We have deployed to Texas and Oregon in the aftermath of devastating winter weather.
U.S. Disaster Relief
013622
A deadly wave of severe winter weather brought historic snow, ice, and subfreezing temperatures to communities across Texas. Millions of people were left without electricity. Downed trees and power lines remain a serious problem. Many families have suffered major home damage due to frozen water pipes that burst. Some are still struggling with a lack of clean water.
Samaritan's Purse is responding to these storms in Jesus' Name by bringing relief to people in need in the Lone Star state's capital and its largest city. We dispatched two Disaster Relief Units—tractor trailers filled with relief supplies and equipment—and our teams will work in both the Austin and Houston areas. We deployed from our Southwest Ministry Center in Coppell, Texas, as well as from North Carolina.
"I was in Texas last week during the historic winter weather, and it was terrible. Even though the electricity is now back on, so many people have tremendous damage to their homes from frozen and burst pipes. They need help and are unsure of what to do next or where to turn," said Franklin Graham, president of Samaritan's Purse. "We want to be there to help as many as we can in Jesus' Name. Please join me in praying for these communities as they begin to recover."
Our teams will be ministering and assisting with extensive cleanup, including mold removal and chainsaw and tree removal work. Our host church and base of operations in Austin is Grace Covenant Church, and in Houston we are based at Christ Evangelical Presbyterian Church.
SIGN UP TO VOLUNTEER IN AUSTIN OR IN HOUSTON
Ice storms also affected many homeowners in Oregon. A Samaritan's Purse U.S. Disaster Relief Unit along with staff and other support vehicles are on the ground in the central part of that state. We deployed from our West Coast Ministry Center in Fullerton, California, and from North Carolina.
Our volunteers (day volunteers only for Oregon response) are coming alongside homeowners to assist with chainsaw work, tree removal, and yard cleanup, and they're especially focusing on the hard-hit areas of Salem and Willamette Valley. Our base of operations is Salem Evangelical Church in Salem, Marion County.
SIGN UP TO VOLUNTEER IN OREGON
Billy Graham Rapid Response Team chaplains will also be onsite in both Texas and Oregon to provide support and spiritual encouragement.
Please pray for our teams as they serve in Jesus' Name in these hard-hit areas. Pray for the many families who are struggling in the aftermath of devastating winter storms.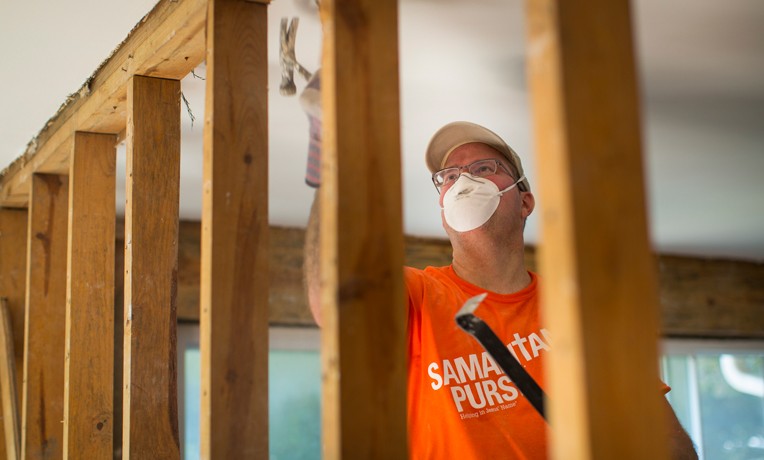 U.S. Disaster Relief
Samaritan's Purse mobilizes and equips thousands of volunteers to provide emergency aid to U.S. victims of wildfires, floods, tornadoes, hurricanes, and other natural disasters. In the aftermath of major storms, we often stay behind to rebuild houses for people with nowhere else to turn for help.
---
U.S. Disaster Relief 013622