Volunteers are at work in Memphis, where sub-freezing temperatures and thick layers of ice have downed trees and caused damage to hundreds of homes.
U.S. Disaster Relief
013622
Samaritan's Purse volunteers are at work in Memphis, Tennessee, after Winter Storm Landon brought record snowfall and destructive freezing rain to much of the U.S. last week. Crippling ice from Landon stretched from Texas to New England. At least three people died due to the severe weather conditions.
Memphis was one of the hardest-hit places. Sub-freezing temperatures and thick layers of ice caused more than 270,000 power outages in the greater metropolitan area and toppled numerous trees. Damage to homes is widespread and extends from Memphis northeast to the Kentucky border.
Our North American Ministries assessor team has been working with local officials and Emergency Management to coordinate relief efforts for these communities. A Samaritan's Purse Disaster Relief Unit from North Wilkesboro, North Carolina, arrived in Memphis on Monday (Feb. 7). Our volunteers began work Feb. 9 from our base at The Life Church, 255 North Highland St.
Volunteer teams are hard at work helping homeowners by cutting up trees and clearing debris. Interested in joining us to serve as the hands and feet of Jesus Christ to this hurting community? Go to spvolunteer.org to learn more and sign up.
Billy Graham Rapid Response Team chaplains are also working in the devastated Memphis communities to offer spiritual support and encouragement to those suffering in the wake of the destruction.
Please pray for those affected by the storm and for our staff and volunteers as they serve in Jesus' Name.
Note: This story was originally published Feb. 7 and has been updated for Feb. 11.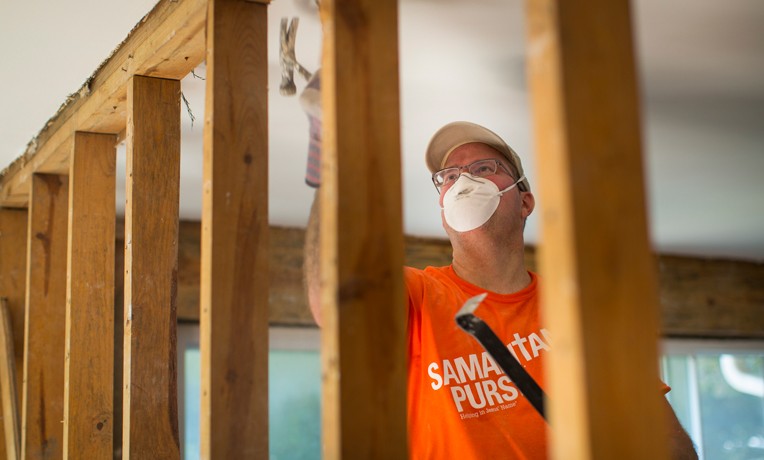 U.S. Disaster Relief
Samaritan's Purse mobilizes and equips thousands of volunteers to provide emergency aid to U.S. victims of wildfires, floods, tornadoes, hurricanes, and other natural disasters. In the aftermath of major storms, we often stay behind to rebuild houses for people with nowhere else to turn for help.
---
U.S. Disaster Relief 013622