Franklin Graham, Ricky Skaggs, and dozens of Samaritan's Purse staff provided a traditional turkey and ham meal to residents of the hurting community still reeling from a deadly tornado.
U.S. Disaster Relief
013622
This Christmas Eve Franklin Graham and Samaritan's Purse staff members served up a heapin' helpin' of roast turkey, baked ham, and all the trimmings to the hurting community of Mayfield, Kentucky.
With the hearty meal, Graham offered a message about the hope found only in the Lord Jesus Christ and assured the audience that God has not forgotten them. Residents are still grieving, as much of their hometown was flattened by a deadly EF4 tornado on Dec. 10-11.
After recounting the story of Jesus in the midst of the storm on the Sea of Galilee from the Gospel of Mark, Franklin invited residents to embrace the Gospel of the Lord Jesus Christ in the midst of this storm in their lives.
"It seems strange to say 'Merry Christmas' here when there's so much destruction," Franklin said. "But I mean it when I say it. I hope you all have a merry Christmas and that this community comes together to heal and build back even better than before."
Ricky Skaggs, country and bluegrass music legend and proud Kentucky native, was also there to serve, returning to his home state to bless the 1,500 in attendance at the event with upbeat Christmas music.
Mayfield homeowners James and Jelia Burgess attended the lunch at Graves County High School. They said when they heard the storm was coming, they got into their car and raced away from the center of town to a friend's house where they sheltered in the closet. Two hours later, they came home to find their whole neighborhood was devastated. Earlier this week, Samaritan's Purse volunteers came to their home to clean up.
"Before you came, we didn't even know where to start," Jelia said. "And now this meal is just amazing. We can't believe it. And we are so grateful for everything those volunteers did to help."
James said it's been a blessing to have Samaritan's Purse in town—including for this meal on Christmas Eve.
"I have eaten every bit. It was delicious!" James said. "We feel so blessed that Franklin Graham came to share a message. And it doesn't get any better than Ricky Skaggs!"
Just before the lunch event, Graham and his good friend Skaggs also met with homeowners around town where so many of our volunteers have been hard at work since the storms.
Samaritan's Purse volunteer Debbie Cowan came from Tomsbrook, Virginia, to serve for a week in Mayfield. She says that being able to help homeowners during Christmas has been an immense blessing to her.
"I wanted to be here today because what better time to serve than at Christmas," she said. "We've been cleaning yards, and now we get to hand them some meals and some comfort. So many are coming through the line, and you can tell that they're trying hard just to keep it together. We get to tell them that Jesus is real and alive and that He loves them."
Edward Graham, vice president of operations at Samaritan's Purse, offered encouragement to attendees and a prayer for the hurting Kentucky community—mourning so much loss even as the world celebrates the coming of Jesus Christ.
"We give you all the glory and honor. We pray for this community as it heals," Edward prayed. "So many are hurting. This is Christmas, and you sent your Son to comfort us and save us."
Samaritan's Purse has mobilized thousands of volunteers to help in Jesus' Name following the tornadoes. Our teams have come alongside hundreds of homeowners in Kentucky and Arkansas, assisting them by salvaging personal belongings, cutting up fallen trees, clearing debris, and patching damaged roofs. Ongoing work continues in Mayfield and Dawson Springs, Kentucky.
Dozens of crisis-trained chaplains from the Billy Graham Evangelistic Association's Rapid Response Team are working alongside Samaritan's Purse to provide emotional support and share the love of Jesus Christ with families impacted by the severe storms.
We praise God that dozens of people have received Jesus Christ as Lord and Savior through our work and witness.
If you are interested in volunteering with Samaritan's Purse, please go to spvolunteer.org to learn more and register.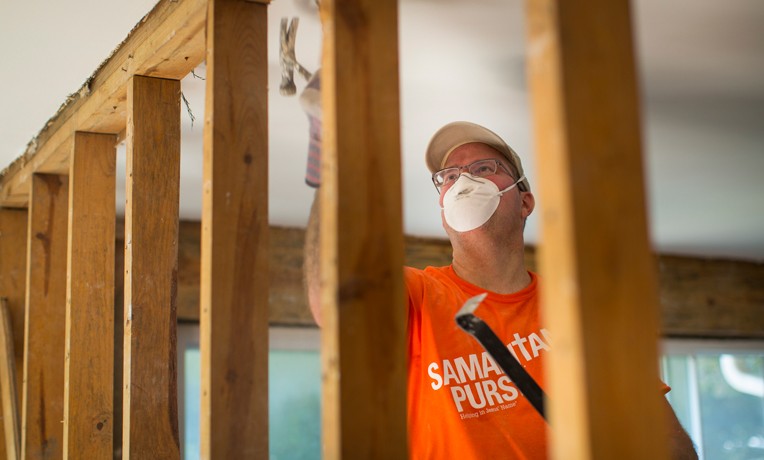 U.S. Disaster Relief
Samaritan's Purse mobilizes and equips thousands of volunteers to provide emergency aid to U.S. victims of wildfires, floods, tornadoes, hurricanes, and other natural disasters. In the aftermath of major storms, we often stay behind to rebuild houses for people with nowhere else to turn for help.
---
U.S. Disaster Relief 013622