Vice President Mike Pence joins the organization in bringing a special holiday meal to Englewood, Florida.
U.S. Disaster Relief
013622
With many Florida residents still reeling from the devastation of Hurricane Ian, Samaritan's Purse served a hearty Thanksgiving meal to residents of Englewood. The community was devastated when Ian, one of the strongest storms to ever hit the Sunshine State, roared through the area in late September. Families are still struggling to recover from massive damage to their houses.
Vice President Mike Pence and his wife Karen joined the organization to serve hot meals to 1,050 people at the special luncheon. "Samaritan's Purse has been working in southwest Florida since the winds stopped blowing," said Pence. "Karen and I are inspired by the resilience of the people here, and we wanted to come to show our love and support."
Samaritan's Purse deployed staff and equipment to Englewood and other badly affected areas immediately after the deadly Category-4 storm passed, and we still have staff, along with an army of volunteers, helping homeowners with repairs and cleanup that includes mudding out flooded homes.
"The people of this area are still trying to recover from a major disaster, and it is just physically and emotionally draining for them," said Samaritan's Purse President Franklin Graham. "We wanted to serve this meal on Thanksgiving Day to let the residents of Englewood know that God loves them and has not abandoned them. We're especially grateful to Vice President and Mrs. Pence for coming and helping serve alongside our team in Jesus' Name. It was such an encouragement."
Thousands of homeowners have received assistance with the help of more than 6,000 Samaritan's Purse volunteers in Englewood, Fort Myers, and Punta Gorda.
We praise God that, so far, more than 300 people have received the Jesus Christ as Lord and Savior of their lives during this deployment. Billy Graham Rapid Response Team chaplains and Samaritan's Purse teams have been partnering together from the start.
The Thanksgiving event was hosted by SKY Academy, with volunteer help from local churches.
VOLUNTEER IN FLORIDA: ENGLEWOOD | PUNTA GORDA | FORT MYERS
Please continue to pray for Floridians who are recovering after this traumatic storm. Our teams will continue working for many weeks to come.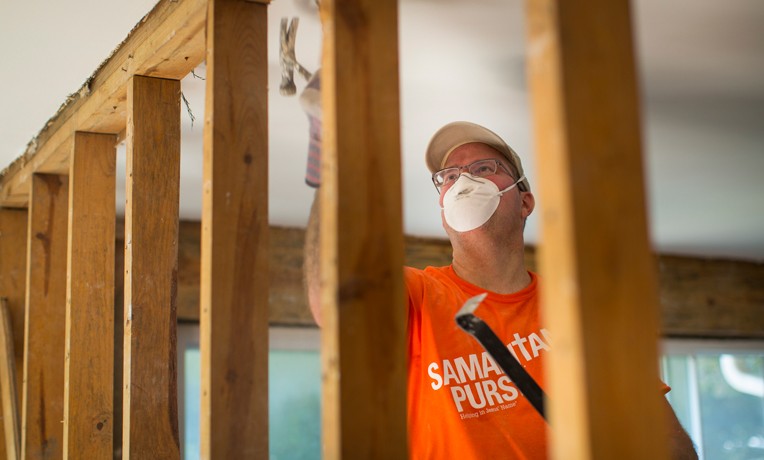 U.S. Disaster Relief
Samaritan's Purse mobilizes and equips thousands of volunteers to provide emergency aid to U.S. victims of wildfires, floods, tornadoes, hurricanes, and other natural disasters. In the aftermath of major storms, we often stay behind to rebuild houses for people with nowhere else to turn for help.
---
U.S. Disaster Relief 013622