An Army wife's prayers were answered when her husband surrendered his life to God during Operation Heal Our Patriots.
"The air is red"—that's what kept ricocheting through Army Corporal Wes Farron's mind as he gasped for air and fought for his life.
Wes was shot in the chest and critically injured during a counter-sniper mission against a Taliban stronghold in Afghanistan. His unit called for a medical evacuation, but the air was red that day, meaning helicopters were grounded due to gunfire and dust storms. When the medic offered morphine to keep him comfortable, he knew they had given up hope.
As Wes suffered in pain and tried to come to terms with the fact that he was dying, he thought he heard a whir in the distance. Maybe, just maybe he had a chance of seeing his wife and son again. He clung to a glimmer of hope. When a chopper came into view, he could hardly trust his eyes. A special forces team in the area happened to be on the same radio frequency, making a rescue possible.
Still under fire, a medic shielded Wes' body with his own. A second bullet pierced through the medic's hand and into Wes' armpit just before he was loaded into the helicopter. Once in flight, he lost consciousness and went into cardiac arrest. His chance of survival was slim, but at least he had a chance.
Bless the Marriage of a Military Couple
013960
A Call No One Wants
"When I got the dreaded call, I dropped the phone, hit my knees, and prayed. I just cried and prayed. What else do you do when you get a call like that?" said Melanie, Wes' wife and high school sweetheart.
Melanie knew it was bad when the Army couldn't give her more information. Wes was kept in a medically induced coma for more than two weeks because of the severe pain and traumatic injuries. Eventually he was transported to a hospital in Texas, where Wes was reunited with his wife and son. In the first three weeks, he had eleven surgeries.
Every day was a gift. Slowly, Wes began to recover. He endured four months of physical therapy and had to relearn how to walk. Melanie and their six-month old son, Asher, relocated to Texas in order to be together as a family. She stood by him the entire time, but their marriage was struggling.
"After injuries, the military, and everything surrounding it, your marriage struggles. It's a very hard road," Melanie said. That's why she applied for Operation Heal Our Patriots—the Samaritan's Purse project aimed at strengthening the marriages of wounded military personnel and their spouses. Wes was her best friend, but they needed to find a way to move forward after the injury.
Saving Grace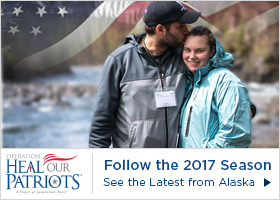 When they were selected to participate in the project, she hoped that a week at Samaritan Lodge Alaska would lead to a healthier marriage. And, more than that, she hoped that Wes would join her in finding out what it means to know Jesus Christ as Savior and Lord. "I wanted that freedom for him," she explained.
During marriage counseling with one of our retired military chaplains, Wes came to understand the Gospel. Chaplain Jim Fisher asked him to list everything that was bothering him—every sin, every struggle—and to write each one on a dry erase board. Wes' sins were staring him in the face. Then Chaplain Fisher erased the board completely and explained that God wants to forgive all of our sins and wipe the slate clean. In that moment, Wes understood his need for a Savior, and he surrendered his life to Jesus Christ.
"It felt like a weight was lifted. I have nothing to hide now. God steamrolled over all of my sin," he said.
Wes chose to publically proclaim his new faith in Jesus Christ by being baptized in Lake Clark. Melanie's prayers for her husband were answered, and they are committed to putting Christ first. On Friday morning, they stood together on the beach of Lake Clark to rededicate their marriage to God.
"We have so many tools to take home with us. If we hit rough waters, we can change our approach, reset, and turn to God," Wes said.
"Coming here has been a saving grace," Melanie said as she gathered with the Samaritan Lodge staff, chaplains, and nine other couples that they shared the week with. "Operation Heal Our Patriots saved our marriage, and it saved my husband."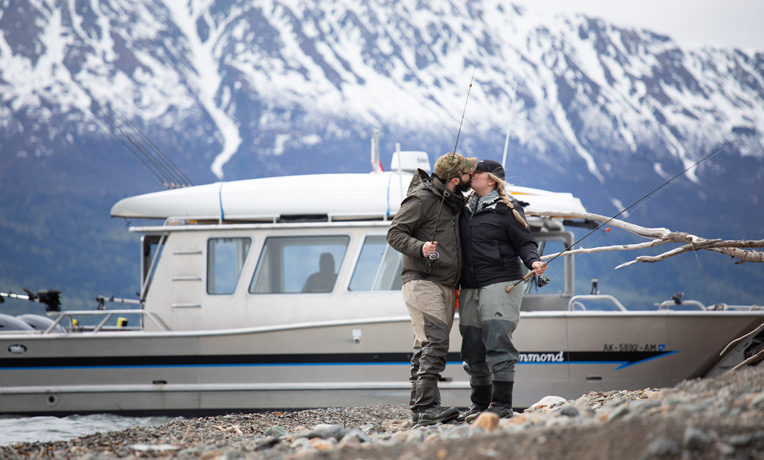 Bless the Marriage of a Military Couple
Operation Heal Our Patriots helps military couples build a strong spiritual foundation during a week of Biblically based workshops, relationship-building wilderness activities, and individual care by our retired military chaplains. We offer all this free of charge to these American heroes as a token of our appreciation for their service and sacrifice. Your gift will help us cover the costs—including transportation, lodging, activities, and long-term Family Care—so that we can help them find hope in the Lord.
---
Operation Heal Our Patriots 013960
Suggested Gift: $60