Samaritan's Purse is providing emergency medical equipment and supplies for 22 hospitals in Nepal as COVID-19 cases spike throughout the country.
Fight Infectious Diseases
013901
Update (June 9): Our DC-8 has landed and relief supplies have been unloaded in Kathmandu. Medical equipment will be making its way to more than 20 different hospitals in the coming days.
June 7: A second wave in the COVID-19 pandemic is rapidly spreading throughout Nepal with over 34,000 new cases reported in just the last week. The true number may be much higher because virus testing is inadequate across most of the impoverished nation of 30 million people. Sadly, hardest hit areas are the remote provinces that have the fewest resources to battle the deadly disease. In those regions, there is little to no access to doctors and medical facilities.
Overall, the country's already limited healthcare system is nearing collapse.
Samaritan's Purse is responding in Jesus' Name to Nepal's coronavirus crisis. Our DC-8 cargo plane departed from Greensboro, North Carolina, early Monday morning (June 7) with almost 15 tons of relief supplies that include masks, personal protective equipment, and medical machinery. These critical resources will be distributed among 22 hospitals, including United Mission Hospital Tansen—our partner hospital in Nepal, to help nearly overwhelmed medical professionals battle the new surge in coronavirus cases.
Nepal is being hit with the same novel coronavirus outbreak that has been sweeping through neighboring India the past several months. More than half a million people in Nepal are known to have become infected since the pandemic was declared in 2020 and nearly 8,000 have died. Crematoriums are struggling to keep up with the continual stream of bodies.
Please pray for the people of Nepal as their country continues to struggle with the COVID-19 pandemic. Pray also that our relief supplies will reach the hospitals safely and that our medical partners will be protected as they treat the ever-growing number of patients suffering from the virus.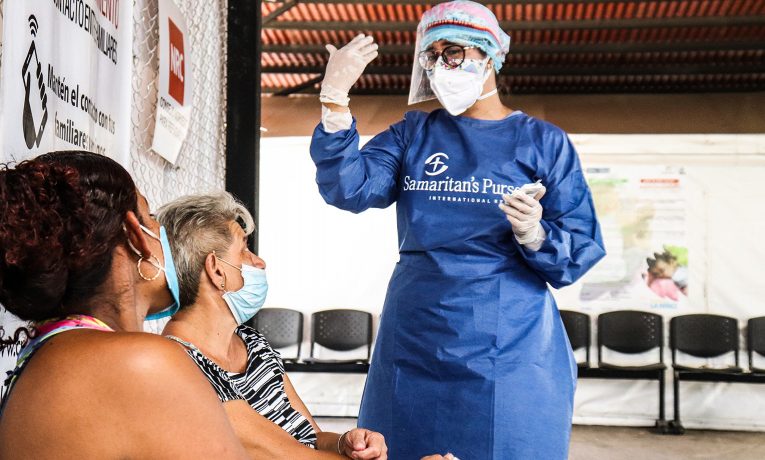 Fight Infectious Diseases
Samaritan's Purse does not shy away from the challenge of infectious disease and provides care and relief in Jesus' Name to those who are suffering. It is critical to be ready to respond quickly when these outbreaks occur, and we often work alongside our worldwide network of missionary hospital partners. We also carry out public health initiatives aimed at preventing the spread of disease and protecting vulnerable populations, which can include providing PPE, clean water, and needed food. Your gift enables us to help people in a variety of ways as communities battle illnesses such as COVID-19, Ebola, Marburg, malaria, cholera, tuberculosis, diphtheria, or HIV/AIDS.
---
Infectious Diseases Fund 013901