By working in the name of Jesus, Samaritan's Purse volunteers are helping repair more than ice damage in the lives of Georgia residents who were impacted by the historic winter storm
Homeowners said they could time it while sitting on their porches. There'd be a snap. Maybe another quick crack. Wait about 30 seconds. Then it started again.
Support Our U.S. Disaster Relief Efforts
The eerie creaking of the ice testing the strength of trees echoed for miles. Often, the ice won and many limbs toppled into the streets.
The broken branches impacted power lines, causing many homes to be without electricity even more than a week after the winter storm that hit Augusta, Georgia, on Feb. 12.
"Certain areas kind of look more like the path of a tornado than the path of an ice storm," said Rudy Barrington, a volunteer team leader from Waycross, Georgia, working with Samaritan's Purse to help homeowners affected by the terrible weather.
VOLUNTEERS NEEDED: Sign up to help people in Georgia.
HELPING AFTER A WINTER STORM: Samaritan's Purse is helping people in Georgia affected by devastating winter weather.
Samaritan's Purse responded to the storm that crippled parts of the South by sending a Disaster Relief Unit to Augusta and staff and equipment to Moncks Corner, South Carolina. Volunteers in both locations are cutting and removing damaged and downed trees and clearing debris.
When we arrived, ice still coated trees, power lines, and roads. As the ice melted and our volunteers began to remove fallen debris and even trees that posed potential risks, the same creaking that had caused so much fear before took on a different sound.
In fact, the second 61-year-old Saundra Walker heard the cracking now a week later, she threw her hands into the air and sang. It was definitely a different tune for the retired Augusta resident who endured the ice storm alone and went five days without power, a hot meal, and even a shower.
"Through the storm, I had no power and all of the sudden you would hear the cracking of these tree limbs falling for miles, and you'd just lay there in bed shaking because you don't know if it'll fall on your house," she said. "But as [volunteers] cut down those trees and branches, I'd hear that cracking and sing that 'Halleluiah' song because instead of the cracking being a sound of fear, it was a sound of joy."
Saundra needed help on her own property, but she volunteered with us while she waited for her own home to be worked on. Her singing of the Halleluiah chorus every time our volunteers helped down a broken tree caught on so much that other teams sang it too, even when she wasn't there.
"It was like the emotions that were binding her were being released every time a tree hit the ground," said Denise Hall, a Samaritan's Purse volunteer who first met with Saundra to assess her needs. "She said she had been so depressed with the storm and the mess and all the time in the darkness and the cold. She was questioning why she was here and just feeling isolated. But a burden was lifted off her. And she said she's found her purpose serving others and knows why she's here now."
As volunteers went out into the community of Augusta, it quickly became evident that the ice wasn't the main disaster in these people's lives.
People suffered from recent suicides of loved ones. Widows and divorcees struggled with being alone. Many were hurting and at the end of their ropes. This ice storm just put an added strain on an already stressed community, just like the limbs that were cracking under the pressure of the ice.
"Everybody's disaster is different," said Jonathan Blevins, the program manager coordinating the relief effort. "You don't know what that individual was going through before this added more trouble to their lives or more worries to what they've had to deal with. Disaster Relief is a lot more than what some think. We clean up a lot more in people's lives than just their physical damage."
Saundra had her own personal storm to deal with. She felt like a failure after her divorce and had no family to speak of, living and feeling completely alone. Even so, she volunteered with us for days despite her own yard's damage.
Our team decided to surprise her by cleaning her yard and removing fallen trees when she was out working to help her neighbors. When Saundra pulled up in her driveway at the end of the day to a clean yard, she threw her hands to her mouth in shock. And when she received the Bible signed by the volunteers, she couldn't contain her tears.
"Your heart is filled with joy to help other people, but then when you have to ask for help from someone else, you are so humbled," she said. "I have no family. I have no one. My church family is my family, and now I have expanded with Samaritan's Purse."
Saundra is continuing to serve with Samaritan's Purse. She said she found being a local volunteer was not only a blessing to her, but also helped foster relationships with neighbors who were otherwise skeptical of the free help, and like her, feeling alone.
"When I do the yard work, cleanup or like today, helping with the assessment, I'm telling these people that I understand," she said. "I'm from Augusta. I was here with you. I've been through the whole thing, and you could just see in their eyes that they are so appreciative that somebody was here with them. The Lord has just blessed me. I just need to go out there and spread the word."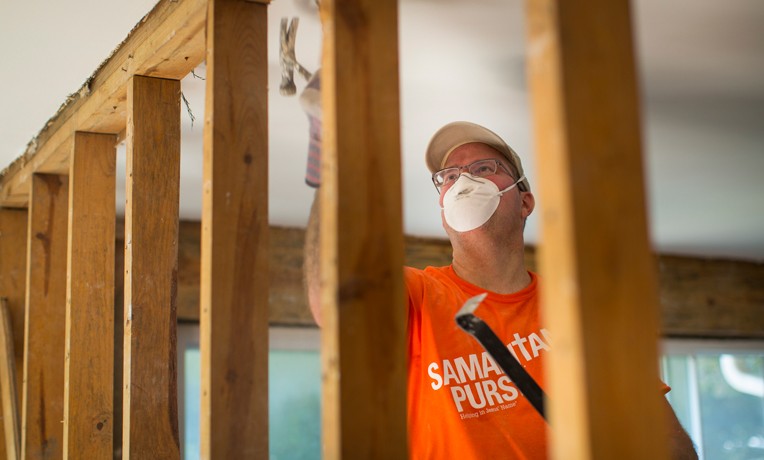 U.S. Disaster Relief
Samaritan's Purse mobilizes and equips thousands of volunteers to provide emergency aid to U.S. victims of wildfires, floods, tornadoes, hurricanes, and other natural disasters. In the aftermath of major storms, we often stay behind to rebuild houses for people with nowhere else to turn for help.
---
U.S. Disaster Relief 013622