Samaritan's Purse is supplying the hope of Christ for people whose homes were destroyed by Typhoon Hagupit
Kristine Wager is an intern with Samaritan's Purse in the Philippines.
Babatngon is a community near the sea on Leyte Island in the Philippines. Recently, the Samaritan's Purse construction team helped with assessment of the damage caused by Typhoon Hagupit to see how we could help. More than 60 percent of homes in this community were deemed uninhabitable, and another 20 percent have severe damage after the storm's rampage on December 6.
READ MORE about how Samaritan's Purse is helping after Hagupit
It's almost unbelievable to think that only four days ago this was a neighborhood. Entire houses, reduced to piles of wood like fallen and scattered bird's nests, line the streets. Even structures made of concrete couldn't withstand the violence of Typhoon Hagupit. All that remains on one lot is 12 stone pillars with cement crumbs of a home scattered around them.
We were directed to this particular barangay (a Filipino way of saying "neighborhood") by one of our staff members, Ryan. He's a Filipino working with Samaritan's Purse to help pay for his sister's college education. This is his hometown. His parents and siblings live in one of the homes that was severely damaged. He lives next door to his aunt and grandparents–all of their homes were destroyed.
This community is a long hour's drive from Tacloban City, over narrow and badly paved roads. Goods have been hard to come by, especially building materials, which require large trucks for transport. This is one of the many reasons why rebuilding after Haiyan, little more than one year ago, has been an almost impossible challenge for residents of Babatngon, and what made them so susceptible to this crushing second blow by Hagupit.
The acrid smell of smoke clings in the heat of the day and instantly overwhelms the senses as realization dawns. These are not just trash piles of storm debris burning—they're entire houses. Everything is destroyed. Clothes, photographs, children's toys, treasured mementos–all gone in a few hours.
When I asked one woman what happened here, she replied, "Everything was taken by the sea."
Myrna Agner lives in Babatngon with her family. Before the typhoon, they were evacuated to the local school for safe harbor during the storm. None of them realized they would be unable to return for four days.
"The mud from the sea was so great that we could not even walk through it to our homes," she said.
When the mud cleared, so did any illusions of going home. Myrna's street lay under a giant tangle of broken walls, roofs, framing, and floors. The pieces of neighbors' houses were as jumbled and twisted together as their histories in this small and remote fishing community.
When we asked what they needed, Myrna replied with tears in her eyes.
"Our situation is truly hopeless," she said. "There is not even clothing for my family; the needs are so great."
Before we left, Ryan spoke to me privately, thanking me for coming to his town to tell their story but also expressing concern over the amount of needs in the community.
"We don't know what to do with only two weeks until Christmas," he said with tears streaming down his cheeks. "People in my barangay don't know how they will have packages for their children."
Cecille Campmanes, operations coordinator for the Samaritan's Purse construction team, managed the assessments in Babatngon. I asked her what it was like to be in this place as a relief worker, having been a survivor of Typhoon Haiyan little more than a year ago. She said that after the storm, she thought it would take years for her city to recover from Haiyan. Years. Can you imagine a storm so strong that it would take years to recover from?
"If it hadn't been for organizations like Samaritan's Purse, I don't know how we could have recovered so much already," she said. "I didn't realize talking about it could affect me even now, but it does: when SP helps us it makes us believe that we can help ourselves, and I want to be part of that now with [Hagupit]."
Ces was right. It will take years for the Philippines to recover from Haiyan, and now from Hagupit, and from other storms that will come in the future. The needs in Babatngon are indeed so great—and this part of the Philippines was not even the most severely hit by Hagupit.
The main area of response concentration lies more than six hours east of this small and demolished town. Many communities like Babatngon will not be visited by international organizations that have resources to help. The Philippines is one of the most disaster-prone countries in the world.
But Samaritan's Purse is here, and we're not leaving. Our business is bringing hope to those from whom it has been taken by helping families like Myrna's and Ryan's—and the thousands of others like them across the Philippines affected by natural disasters—all in Jesus' Name.
We love because He first loved us. As of yesterday, Ces has been with Samaritan's Purse for one year; she has been able to share Christ's love with so many by meeting needs and giving hope.
"I can still remember from a year ago when [Haiyan] ravaged our town," she said. "This situation seems hopeless, but as Samaritan's Purse, we want to bring hope to these people this Christmas. We want to let them know that Jesus cares and hope is here."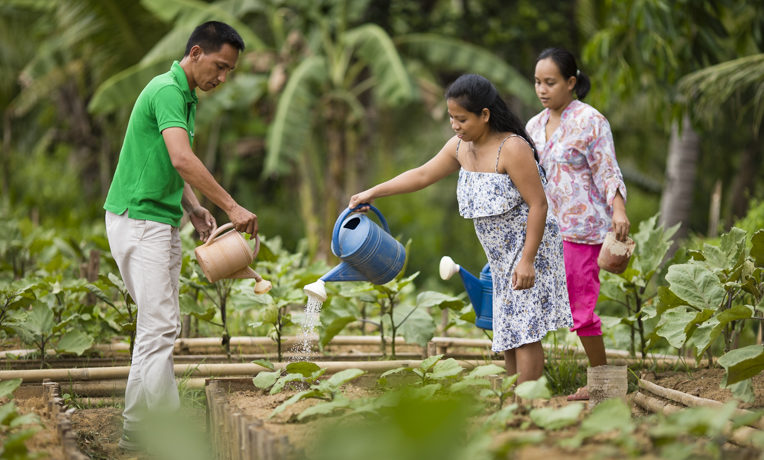 Philippines Projects
Samaritan's Purse is working to improve the quality of life for impoverished families in both rural and urban areas of the Philippines. We are training women and expectant mothers on best feeding practices for infants and young children. Our teams are providing malnutrition screening, medical care, clean water, latrines, and hygiene education. We're also supporting families through livelihood projects such as community gardening and pig raising, as well as vocational skills and microenterprise training. Most importantly, our staff are sharing the Gospel. We partner with local churches to offer evangelism and discipleship courses so that they can reach their communities with the hope of Jesus Christ.
---
Philippines Projects 013395