God uses Samaritan's Purse volunteers to bring relief and joy to a West Monroe family devastated by recent floods
The people of Haynes neighborhood in West Monroe, Louisiana, had never seen their area flood like it did on March 8.
Soggy yards became rivers of water in just a couple hours. Most homes flooded, and, within several days, huge piles of belongings sat along the curbs.
"The community is just devastated," said Cynthia Sanders, whose home was among those flooded.
Emma Lee Sanders, Cynthia's 76-year-old mother—widowed in 2008—had about 6 inches to one foot of water in her nearby home.
"This is all pitiful. Now I know how the people in Katrina felt," Emma Lee said, referring to Hurricane Katrina (2005).
Tears of sadness, though, are giving way to tears of relief, thanks, and even joy as Samaritan's Purse volunteers are hard at work in the neighborhood—removing waterlogged furniture and other items, ripping up floors, taking out drywall, and spraying houses to prevent the spread of mold.
Overwhelmed
Cynthia was the first homeowner Samaritan's Purse contacted here. Paul Brock, a volunteer from Rochester, New York, called her and told her a team was on its way to help. Cynthia just got out a few words and then was overcome with emotion.
On Wednesday evening, March 8, Cynthia had fled her home with her 17-month-old grandson, Ace. They went around the block to Emma Lee's residence. Though that location usually does not flood, the waters kept rising.
"Water was just everywhere. I had never seen it do that before," Cynthia said.
Soon Cynthia made a decision that the family had to leave her mother's home and go to the local emergency shelter.
"It was rough, because when I stepped off her back step I was in knee-deep water," Cynthia said.
Everyone—Cynthia, Ace, Emma Lee, and Donna, Cynthia's disabled sister who lives with their mother—piled into her car. The water was up to the doors, and the vehicle stalled three times before Cynthia finally steered it out of the deepest flow.
She was frantically praying during the ordeal. "Lord, don't let me drown in this car with my baby and my mom and my sister," she remembers.
Soaking wet, they did all make it to the shelter, where they stayed until Saturday. On Sunday, Cynthia went to church. Afterward, in her car in the parking lot, she admitted her desperation to the Lord.
"God, this is just bigger than me," she recalls crying out to Him. Though she says, "I've always been a strong woman, strong in my faith, strong in God," this flood had overwhelmed her.
Comfort Arrives
The next morning, our volunteer, Paul, called her. God was sending relief.
The rest of that week we fielded teams to assist Cynthia and her mother, neither of whom had flood insurance, in the labor-intensive work of mudding out their homes.
"God knew we needed help here, and He sent good people to help us," Cynthia said. "It just helps to have someone there to give you a hug, to pray for you. I feel like I'm surrounded by family.
"At first, I was crying because I was so desperate and upset, but now my spirit is crying out of joy. My life is devastated but I wouldn't have missed being able to see this and to feel this, for anything—to know that there are such good people out there in this world. It makes you change your whole outlook on life."
As volunteers worked on Emma Lee's home, she said, "It's a great thing they're doing. I'll accept any kind of help I can get. I need it. I thank everybody that's here helping me to the highest."
Among those helping Emma Lee were Pastor Gary and Tracy Yates, as well as their two teen sons, from New Albany, Mississippi. The Yates first volunteered with Samaritan's Purse during the Benton County, Mississippi, tornado response late in 2015.
"We love the organization, and we decided to come down," Tracy said. "Our church is very missions-minded and, any time the Lord calls to help, were' going to help. We just didn't have any excuse not to come."
Pastor Gary summarizes his focus and the focus of Samaritan's Purse in concise terms: "It's about Jesus. We're the hands and feet of Christ."
Volunteer Paul Brock reiterated that ethic and applied it to Cynthia. "We come alongside and share the love of Christ with them and the hope that is in our Lord and Savior," he said. "You can see [now] that there's hope. You can see all those tears of sorrow have turned to tears of joy. She [Cynthia] knows that it's going to be a while before she gets back into her home, but she knows the hardest part of it is over."
Cynthia continues to grieve the loss of her belongings—even the kitchen sink had to be removed and pitched to the street—but Samaritan's Purse volunteers were there for her at her lowest point. The work, the prayers, and the encouragement of our teams lifted her soul. Looking forward, she says she wants to serve others and has renewed hope for her own situation.
"It's going to all come back together slowly but surely," she said.
"Blessed be the God and Father of our Lord Jesus Christ, the Father of mercies and God of all comfort, who comforts us in all our tribulation, that we may be able to comfort those who are in any trouble, with the comfort with which we ourselves are comforted by God" (2 Corinthians 1:3-4, NKJV).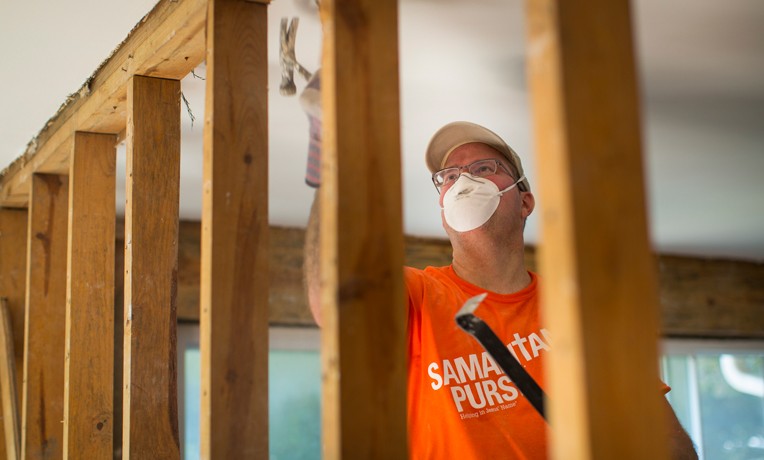 U.S. Disaster Relief
Samaritan's Purse mobilizes and equips thousands of volunteers to provide emergency aid to U.S. victims of wildfires, floods, tornadoes, hurricanes, and other natural disasters. In the aftermath of major storms, we often stay behind to rebuild houses for people with nowhere else to turn for help.
---
U.S. Disaster Relief 013622