See how wounded and injured military veterans, who sacrificed to help keep this country free, and their spouses enjoy the beauty of the Alaskan wilderness and marriage enrichment courses through Operation Heal Our Patriots.
Give
The majesty of God's creation is obvious for all to see as couples fly over Alaska's wilderness en route from Anchorage to Port Alsworth.
Staff Sergeant Daniel Ridgeway, USMC, and his wife, Jenna, rededicated their marriage before God and the Operation Heal Our Patriots community. They repeated their vows on the shores of Lake Clark near the Tanalian River.
Senior Chief Petty Officer Benjamin Hebert, USN, and his wife, Heidi, join in a silent moment of prayer during the end-of-week worship service.
Army Staff Sergeant Doug Cox was wounded in Afghanistan in December 2010 when a mortar landed on his right side. He's been diagnosed with traumatic brain injury and suffers from related cognitive and balance issues. His wife, Amiee, has prayed for him for years to receive Christ. After listening to a chaplain-led morning devotion on Psalm 23, Doug decided to receive Jesus as his Lord, Savior, and Good Shepherd. After being baptized in the frigid waters of Lake Clark, Doug proclaimed for all to hear, "I was lost in the icy darkness of sin, but I've been raised into the warmth and light of Jesus Christ's love."
Marine First Sergeant Christopher and Brandy Garza share a moment of community celebration during the baptismal service along the shores of Lake Clark, Alaska.
Claudia Russi comes up with a gasp after being baptized in the icy waters of Lake Clark, Alaska. Married less than two years, Claudia and her husband, Marine Corporal Esteban Russi, committed their lives to Jesus and were baptized during a recent Operation Heal Our Patriots retreat.
Army Sergeant First Class Emil Walsh has only limited use of his right side, due to a gunshot wound and back and spine issues associated with airborne jumps. He and his wife, Devon, committed their lives to Christ and were baptized in Lake Clark. Because of the severity of his injuries, Emil could not be immersed but sought baptism by pouring.
As couples arrive in Port Alsworth, Alaska, our staff, volunteers, and local residents gather at the gravel airstrip to give guests a hardy patriot's welcome. For many injured troops, this is the first time they have received such a public show of support and thanks.
To start each week, an employee of Lake Clark National Park provides kayaking lessons to Operation Heal Our Patriots couples. Kayaking together can be both a fun and challenging relationship-building exercise.
Samaritan's Purse President Franklin Graham leads Sergeant James Tucker, USMC (Ret.), to receive Jesus Christ as his Lord and Savior following a baptism service for other guests in Alaska. Moments after this photo was taken, James asked the Operation Heal Our Patriots chaplains to regather the community and baptize him too in the cold waters of Lake Clark.
Flag-waving Samaritan's Purse staff and town residents greet military couples as they arrive in Port Alsworth.
Specialist Laura Rossi, ANG, received a warm welcome at Port Alsworth. Laura developed an autoimmune disorder while serving in Afghanistan, which limits her mobility. The week in Alaska "raised her spirits 300 percent," said her husband, Steven, who also was deployed to Afghanistan in 2011.
Mark Lang, program manager at the Operation Heal Our Patriots wilderness lodge in Alaska, and all staff make couples feel welcome each week. "I felt like a red carpet was laid out for me. I felt like a queen," said Kristiana Keeler, whose husband, Sergeant Jeremy Keeler, USA (Ret.), was injured while serving in Afghanistan.
Marine veteran Travis Williamson, and his wife, Stephanie, enjoy a stroll along the beach of Hardenburg Bay.
Whether fishing, kayaking, hiking, or just sitting around the fire pit, time together—away from daily responsibilities back home—is a treasured part of the Operation Heal Our Patriots experience. "It's good for the body. It's a real good atmosphere for the couples to come out and take it in," said Staff Sergeant Duane Merchant, USA (Ret.).
Gunnery Sergeant Brien Kirkpatrick, USMC, and his wife, Annie, enjoyed lots of fly-fishing success along the Kijik River. "This week will be a monumental moment in our lives," said Brien as he reflected on their experiences, which included daily outdoor adventures, devotions from Psalm 23, and marriage enrichment classes.
Master Sergeant Shawn Demenkow, USMC, and his wife, Anne, enjoyed a day of fishing. "She's doing it for me," Shawn said. "She knows I love fishing. This is making us so much stronger. Just to see her smile—she hasn't smiled like that in almost a year."
Couples pose in the pristine waters of Upper Twin Lake.
Yvette Evanoff shares insights into native Alaskan culture.
Chaplain Jim Fisher led marriage enrichment workshops for the couples each day. Topics included family systems, personality types, love languages/communication, respect/reconciliation, and worship. "We got to learn things about each other we didn't know or couldn't explain," said Lesley Olivares, whose husband, Raul, was injured in Afghanistan.
Corporal Raul Olivares, Jr., USMC (Ret.), and his wife, Lesley, had a fantastic day fishing as they cruised Lake Clark aboard the Jay Hammond, a boat named for the former governor of Alaska. Raul, whose legs were terribly wounded three years ago in a Taliban attack on his convoy in Helmand Province, Afghanistan, was ecstatic when he finally landed a pike late in the afternoon.
Eric and Jillian Dingman made the arduous trek up Tanalian Mountain, which overlooks the Operation Heal Our Patriots retreat center. The steepest part of the trail climbs 3,250 feet in just 2.4 miles. Eric was shot by insurgents in Iraq and still has a bullet lodged in his neck.
Steven Rossi climbed Tanalian Mountain during the Operation Heal Our Patriots retreat in Port Alsworth,
On Fridays, military couples join Operation Heal Our Patriots staff and volunteers for a time of worship together. Each guest couple is prayed over and presented with a Bible.
Master Sergeant Shawn Demenkow, USMC, and his wife, Anne, both came to faith in Christ during their week with Operation Heal Our Patriots and were baptized in the waters of Lake Clark.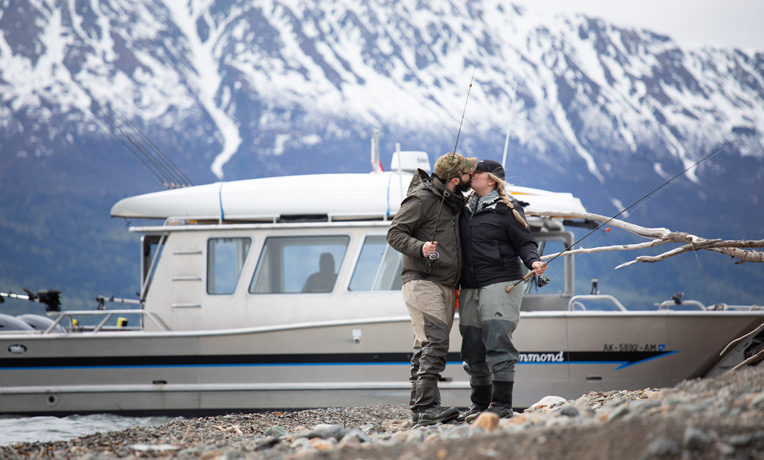 Bless the Marriage of a Military Couple
Operation Heal Our Patriots helps military couples build a strong spiritual foundation during a week of Biblically based workshops, relationship-building wilderness activities, and individual care by our retired military chaplains. We offer all this free of charge to these American heroes as a token of our appreciation for their service and sacrifice. Your gift will help us cover the costs—including transportation, lodging, activities, and long-term Family Care—so that we can help them find hope in the Lord.
---
Operation Heal Our Patriots 013960
Suggested Gift: $60