Gifts from volunteers who built her new home become garments of praise for an Oklahoma tornado victim
When the drywall went up a few months ago, it marked another step in recovering from the tornado that destroyed Fran Gill's house last May. But there was a problem.
"They couldn't sign anything," she said.
The Samaritan's Purse volunteers who had been coming to Oklahoma to help build a new home for Fran had been writing messages, prayers, and Scripture all over the frame, clear up to the roof.
To Fran, the notes and signatures represent the goodness of God and the body of Christ. So when the studs were covered by drywall, she came up with an alternative.
She announced her plan one night while having dinner with the volunteers at the host church.
"I said, 'Every one of you has taken the time to come down here to help a family you don't even know,'" Fran said. "I believe you'd give the shirt off your back. As a matter of fact, before you leave, I want you to sign a shirt with everyone's name on it and Scripture, and I want the shirt off your back.'"
That week, an orange Samaritan's Purse disaster relief T-shirt peppered with signatures, Bible verses, and well wishes became the first in Fran's collection.
"It's something I wanted to remind me about what God's people can do," she said.
In Need of a Miracle
God's people have been an answer to Fran's prayers since the terrible storm severely battered her home on May 20 last year.
"There were holes in my roof the size of bowling balls," she said. "I had taken and nailed two-by-fours up across my ceiling to keep it from falling in."
The bathroom floor gave way, so she put down plywood to walk to the sink. The poor condition also made it hard to keep possums and other critters out.
Michael Todd, Samaritan's Purse program manager for the Central Oklahoma rebuild, met Fran in her home last December.
"She had nowhere else to go," he said. "She was living in this home where some of the rooms are closed off because they're so full of mold, and it was really affecting her health."
Fran couldn't afford repairs on her home of 23 years. When she found out the house was condemned and she needed a new home altogether, it was overwhelming news.
"I just broke down and started crying," she said. "I said, 'There's no way. I guess I'll live in it till it falls down, and God will provide. I know God will provide.'"
God had never let her down. After placing her faith in Christ 30 years ago, Fran turned from drugs and alcohol, sold her bar, and bought the piece of property and house where she raised her family.
Her home became a haven for mentoring young people and hosting activities. She led youth ministry for dozens of churches in the region. When she was recently diagnosed with cancer, it became the place her daughter and son-in-law returned to live and take care of her.
"I've seen God work miracles," said Fran, whose health has been improving. "You are looking at one."
She saw Him work again in January, when Samaritan's Purse began building her a new house, free of charge.
"I still serve a miracle-working God," she said. "He's alive, and He still takes care of His children."
Building the Body of Christ
After the EF5 tornado ripped through Moore, Oklahoma, last year, thousands of Samaritan's Purse donors and volunteers answered the call to help victims pick up the pieces and start over. We responded in the immediate aftermath of the storm, and helped over 600 homeowners by clearing debris, cutting trees, and tarping roofs.
We then began a program to rebuild and repair homes, and to install storm shelters to provide safety and comfort the next time a storm strikes.
Fran's home is the first to be completed from the ground up.
The original plan was to build a two-bedroom house. When her daughter and son-in-law came back to care for Fran, the plan changed to a three-bedroom. Then, Fran's two teenage grandchildren moved in. We modified the floor plan again to accommodate four bedrooms and two bathrooms.
Michael's team welcomed the opportunity to enable another first: the first time the family will live together in their own home.
"It was just a privilege to be able to do that for that family. God worked it out," he said.
During construction, the Gills lived on the property in a small, donated RV and helped every chance they could—from the foundation to the finishing touches. One of Fran's favorite memories is helping to raise the first wall. But most of all, she loved spending time with the volunteers. Over 160 people from 24 states came to work on her house.
"To me it wasn't just about getting a new home, it's about meeting God's people," she said. "I wanted that fellowship."
Sharon Fuller from Elmbrook Church in Brookfield, Wisconsin, helped put up the first wall together with Fran in May. She has traveled three different times to work on the house, and her eyes well up when she talks about it.
"She [Fran] has a wonderful faith story, just a great woman of faith," Sharon said. "She really connects with the people."
Sharon's third trip included the completion and dedication of the Gill's home on Oct. 24.
"I was so excited when I found out that this was the dedication, that I got to come back. It's pretty special," she said, adding that seeing Fran's life come back together is "like the flowers are blooming again."
At the dedication, Samaritan's Purse staff members presented Fran with a Bible signed by volunteers, a journal, the keys to her new home, and a framed certificate testifying that it was paid-in-full. Pastor Frank Miller from Church of the Harvest asked God to bless the house, and there was a time of worship.
Then, volunteers, neighbors, future homeowners, and other members of the community stood in the sunshine on Fran's lawn while she spoke tearful words of gratitude on behalf of her entire family.
"Most of all I thank God for what he has done. He's done a mighty work for each and every one of us," she said. "Y'all are not just volunteers to me, you are brothers and sisters in Christ, and I thank God for each one of you."
After the ceremony, Fran led her family into their new home, complete with hardwood floors, black laminate countertops, and most important, a laundry room and bathroom that doubles as a storm shelter.
The guests attended a reception in Fran's living room, while her grandchildren showed volunteers their new rooms several times.
Fran's daughter, Missy, said the house looked gorgeous.
"It's almost unbelievable to think that people that don't even know you, do this for you," she said.
And after sharing a room with her two kids for months, she is grateful that she and her husband finally have a space of their own.
"It's like you belong somewhere," she said. "I belong here."
Michael said it has been a blessing to watch God work in Fran's life.
"Just seeing the difference in her since the first time I met her, just how the love of Christ has been poured into her and into that home—that won't burn out. That's going to be a lighthouse, a beacon back there on that lot for the family and really for anybody that passes by," he said.
Fran served cupcakes in the kitchen while wearing the final shirt "from the backs" of the volunteers who celebrated the new beginning with her.
"I would have never in my life thought I would have anything like this," she said. "To me, the concrete, wood, everything that's been put into this home, has been put in with the love of God. This is nothing on what I got prepared for me in Heaven, but you know what, this is pretty close. I got a mansion up there, but this is my mansion here."
The Samaritan's Purse Central Oklahoma rebuild team continues to work on houses and storm shelters for victims of the May 2013 tornadoes. Our desire is for homeowners to stand firm in Christ no matter what storms come their way.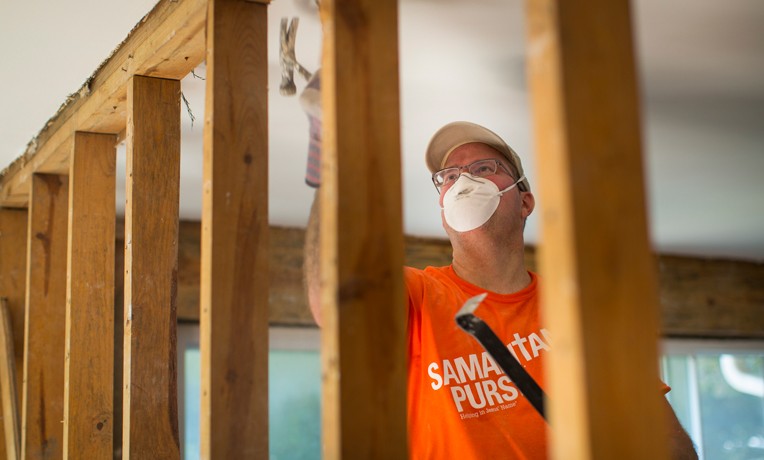 U.S. Disaster Relief
Samaritan's Purse mobilizes and equips thousands of volunteers to provide emergency aid to U.S. victims of wildfires, floods, tornadoes, hurricanes, and other natural disasters. In the aftermath of major storms, we often stay behind to rebuild houses for people with nowhere else to turn for help.
---
U.S. Disaster Relief 013622