God uses a Samaritan's Purse marriage ministry to change the lives of an Army veteran and his wife
Army Sergeant Ben Decker served 15 months in Iraq during the U.S. troop surge of 2007-2008. He sustained a traumatic brain injury, plus neck and back injuries, as the result of multiple IED attacks.
He also served as his brigade's chaplain's assistant and was responsible for taking care of the dying and the dead on the battlefield. He lost 57 soldiers during that combat tour, some close friends. The horrors he saw cannot be forgotten—the medical diagnosis for his struggle is post-traumatic stress disorder.
After 12 years of service, Ben was retired from the Army in 2010. He and his wife Sharon—and their kids—began an odyssey that took them from job to job and across the oceans and the continent. They left Hawaii, Ben's last duty station, and then went to New Hampshire, then to Arizona, then Hawaii again, and finally back to Arizona.
Sharon had wanted to settle down into a church and commit herself to Jesus Christ, but the constant moving made it difficult. At the same time, Ben had built up his emotional defenses against religion. Their mutual relationship was bogged down by stress and tension.
"We both felt we were at a crossroads with each other" Sharon said.
They applied this winter for the opportunity to attend a week of Christ-centered marriage enrichment in Alaska through Operation Heal Our Patriots, a project of Samaritan's Purse for combat-wounded veterans and their spouses. They were accepted and Ben decided to go with an open mind and an open heart.
From the first night (Sunday) at Samaritan Lodge Alaska, Ben's desire to fight against God disappeared. He knew it was time to give his life over to Christ. "I was fighting it for years," Ben said. "From day one [in Alaska] when I got there, I didn't have any desire to fight it anymore."
Ben and Sharon went fishing with Chaplain Steven Keith and his wife Delta on Tuesday, July 12. The two couples talked and then that night they talked some more. The Deckers both received Jesus Christ as Lord and Savior during the evening conversation.
"Immediately I could feel a difference coming from him [Ben]. It was very peaceful," Sharon said.
Later in the week, the Deckers were baptized in Lake Clark and publicly rededicated their marriage to God, along with four other couples.
"This week was life-changing. We had time for ourselves, to talk to each other," Sharon said. She added that they were happy to be moving forward on the right track spiritually, leaving their baggage—such as anger and resentment—behind them.
Back Home, the Change Continues
The Deckers are back now with their four children in Casa Grande, Arizona. Already the kids can see a difference in their parents' relationship. The oldest told her mom, "I'm beyond happy that you and Dad got to do this."
Sharon and Ben are both following the counsel that the Keiths' gave them: take things day by day with Jesus, 24 hours at a time. Sharon says she wakes up and tells the Lord, "Today I give my heart to you."
Ben and Sharon also gathered their family together for a meal on Sunday, July 17. "We didn't waste any time," Ben said. "We explained what took place, how Jesus touched us."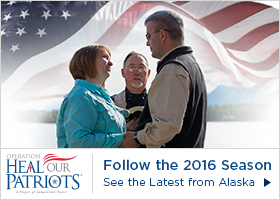 The couple let their children know that following Christ and participating in a local church body would be the priority from now on.
It's an exciting time for the Deckers as they start their new walk with God. Please pray for them and for the other nine couples who attended Week 7 of Operation Heal Our Patriots in Alaska. Pray that will they will rely on God and draw closer to Him each day as they integrate back into everyday life.
Pray also for couples in Alaska this week (8) and for upcoming couples as they arrive in Alaska and begin their time of marriage enrichment through Operation Heal Our Patriots.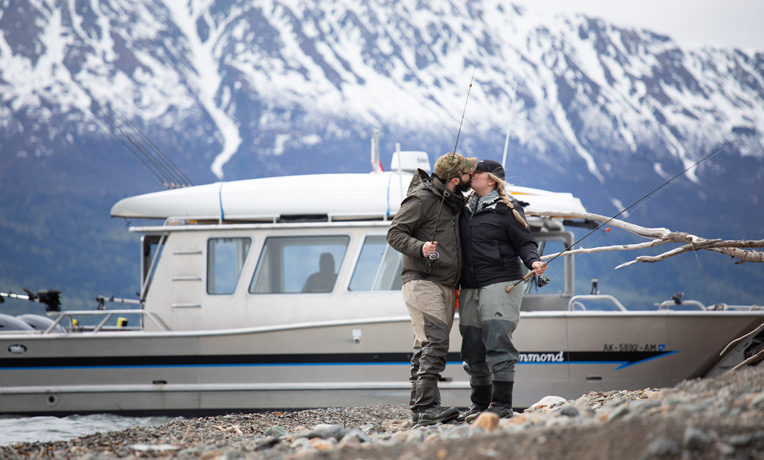 Bless the Marriage of a Military Couple
Operation Heal Our Patriots helps military couples build a strong spiritual foundation during a week of Biblically based workshops, relationship-building wilderness activities, and individual care by our retired military chaplains. We offer all this free of charge to these American heroes as a token of our appreciation for their service and sacrifice. Your gift will help us cover the costs—including transportation, lodging, activities, and long-term Family Care—so that we can help them find hope in the Lord.
---
Operation Heal Our Patriots 013960
Suggested Gift: $60