Samaritan's Purse volunteers are serving hurting families in the wake of a deadly tornado.
U.S. Disaster Relief
013622
With tornado sirens wailing, Samuel and Khristy Wilkins had minutes to gather their children and take shelter in the hallway of their home in Jefferson County, Alabama.
The family was surrounded by eerie, howling winds that suddenly transitioned into a roar similar to a freight train. "It makes your heart race and you get into a panic, but at the same time, you have to remain calm," Samuel said.
They heard trees twisting and popping and felt intense suction, like someone trying to rip the roof off of their home. Yet, through it all, they prayed.
"I was praying silently, my wife was praying out loud," Samuel said. "The most important thing was 'God, take care of our children and keep us safe.'"
Within seconds, the tornado had passed over the home and the couple praised God that they had been spared. Samuel grabbed a flashlight to survey the damage, and although he could make out silhouettes of tangled and toppled trees through the rain and darkness, it wasn't until morning when he realized the extent of the devastation.
"About 50 percent of the trees were over and down," Samuel said. "And, surprisingly, it wasn't our little trees and our fruit trees—it was big pine trees and big oak trees and they were just snapped in half like twigs."
Samaritan's Purse is responding in Alabama and coming alongside families like the Wilkinses after an EF-3 tornado devastated parts of Jefferson County, leaving downed trees, damaged roofs, and scattered debris. Our teams were on the ground less than 24 hours after the storm, ready to help hurting communities in Jesus' Name.
Khristy quickly felt overwhelmed as she tried cleaning up just a few of the limbs in her yard. The prospect of removing dozens of large trees was too daunting for her to consider. "Sometimes I would just look at how bad it was, and it would break my heart and make me cry that I couldn't fix it," she said.
But help soon arrived. A team of Samaritan's Purse assessors surveying the neighborhood walked up to her home and asked if she needed assistance.
"Samaritan's Purse was the first person knocking on our door," Khristy said. "That's truly a blessing."
A BURDEN LIFTED
Samuel and Khristy's 8-year-old son Sam has high-functioning autism and the couple worried how he would react to seeing all of the trees collapsed in their backyard.
"He likes everything on a schedule, in a certain way, and he's not getting to come home or have any of that right now," Khristy said. "The yard was damaged, and the house was damaged, and it's all upsetting to him."
Samaritan's Purse volunteers cleared the yard in just one day—helping to restore a bit of normalcy for Sam and his parents. With Sam's birthday a few days away, this was the best present the couple could have imagined.
"Samaritan's Purse helping us get it all back to where it's supposed to be is such a miracle and it will help him feel safe at home again," Khristy said.
Khristy and Samuel never thought that their yard could be cleaned so quickly. But, even more than that, they were astounded by the outpouring of love from dozens of Samaritan's Purse volunteers.
"We knew we would have a few hands, but we had no idea the Lord's army was showing up," Samuel said.
"You are doing God's work," Khristy added. "We appreciate everything. Every branch that you dragged to the debris pile, everything is helping us so much. We are so grateful and I hope that God blesses you."
Please pray for our staff and volunteers as they continue to minister to hurting Alabama families during this time of critical need.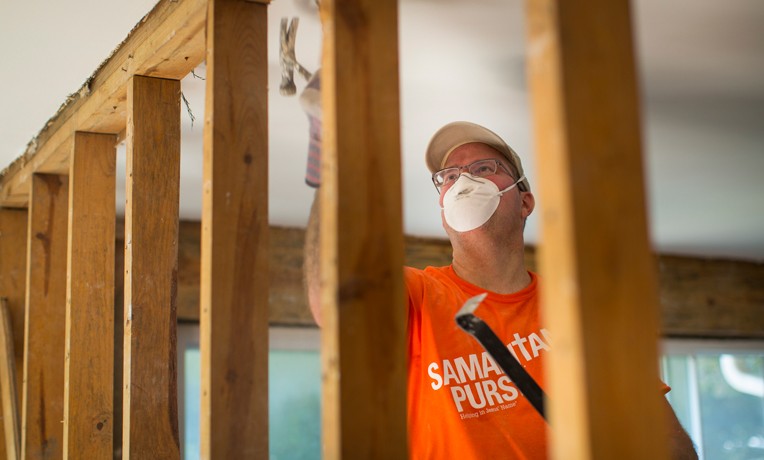 U.S. Disaster Relief
Samaritan's Purse mobilizes and equips thousands of volunteers to provide emergency aid to U.S. victims of wildfires, floods, tornadoes, hurricanes, and other natural disasters. In the aftermath of major storms, we often stay behind to rebuild houses for people with nowhere else to turn for help.
---
U.S. Disaster Relief 013622