We have completed our response in Midland, Michigan, where God moved in many lives and families. Please continue to pray for residents, churches, and community leaders.
U.S. Disaster Relief
013622
Over the weekend, our volunteer teams in Midland, Michigan, completed work on flooded homes in the area. Over the course of our relief work, nearly 1,500 volunteers joined our relief efforts and completed clean up and recovery on 315 homes. We praise God for at least 49 salvations, many seeds planted, and many people blessed through the faithful witness of staff, volunteers, and Billy Graham Rapid Response Team chaplains.
Among these new believers was the son of a homeowner who worked regularly with our volunteer teams after his father's house flooded. During the many hours he worked with our volunteers, the son heard the Gospel and gave his life to Christ.
A man our assessment teams met had been prayed for by his wife and also by a friend who had refereed basketball games with him in Midland. For years they had prayed for the man's salvation. Our team shared the Gospel with him and he came to faith in Christ.
These are just some of the dozens of new believers. Our volunteers impacted the community in many ways. Homeowner Nancy Stube said that just seeing the Samaritan's Purse teams in her community brought her a sense of peace and hope. She said that after she drove away from Midland, Michigan, during the evacuation May 17, she thought she'd never see her house again.
"I'm experienced in flooding," she said, referencing a major flood that hit her community a few years ago and, most recently, flooding in late May. "That's not something you want to be experienced in."
Nancy's home was one of 2,300 houses in Midland that were flooded when days of heavy rain and the failure of one dam caused the Tittabawassee River to overflow. Thankfully the dreaded failure of a second dam never happened. Even without that catastrophe, Nancy still had six feet of water in her home.
Samaritan's Purse began work in Midland in late May, where we assisted homeowners like Nancy with removing ruined walls and flooring and waterlogged belongings.
After mud and other debris were cleared from Nancy's home, our volunteers worked tirelessly to remove damaged drywall, spray for mold, and make the space ready for contractors to perform repairs.
"It was emotional to drive my street and see everyone's belongings and lives out on the street," she said. "But seeing those orange shirts at every house and their willingness to help us—they truly are the hands and feet of Jesus. I'm just overwhelmed with what they've done."
A Town Filled with Hope
Betsy Thompson recalled alerts coming in on the evening of May 17. She was unloading her car after two weeks out of town at her daughter's house several states away. She got back in her car, and that's when the mandatory evacuation was announced.
"I loaded everything back up, sat in my driveway thinking about what to do, then I drove away," she said. "It was a caravan leaving town. All up and down my street people were packing their cars."
As the water eventually receded and she came back home after several days, Betsy returned to the devastation of a flooded Midland. But she also returned to a town filled with hope as volunteers serving in Jesus' Name assisted people on her street.
Because her home wasn't in a flood plain, Betsy didn't carry flood insurance. When she heard about Samaritan's Purse from a friend who attends Calvary Baptist Church, our base of operations in Midland, she was relieved. Our volunteers quickly got to work.
"My dad was a huge Billy Graham advocate. He would be so happy to see you here," Betsy said. "It's an incredible thing that you guys do. It was like a weight was lifted right off my shoulders when you showed up."
Please continue to pray for the many new believers and for the many lives God worked in during our response in Midland. Pray for the many families who continue to struggle in the wake of this catastrophic flooding.
This story was updated June 29.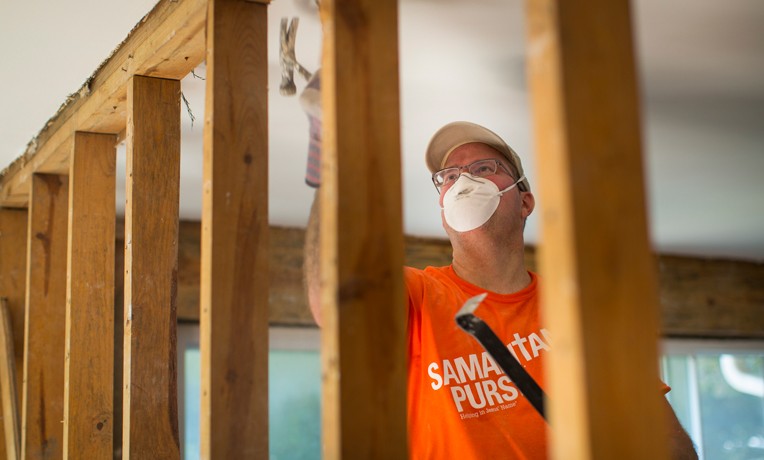 U.S. Disaster Relief
Samaritan's Purse mobilizes and equips thousands of volunteers to provide emergency aid to U.S. victims of wildfires, floods, tornadoes, hurricanes, and other natural disasters. In the aftermath of major storms, we often stay behind to rebuild houses for people with nowhere else to turn for help.
---
U.S. Disaster Relief 013622