Many military families were affected by Hurricane Florence as it passed through the Carolinas. Samaritan's Purse volunteers are helping in Jesus' Name as these communities recover from the storm.
U.S. Disaster Relief
013622
SIGN UP TO VOLUNTEER FOR OUR HURRICANE RESPONSES
When Jeremy and Kristy Kulberg saw on social media that people in their flooded New Bern, North Carolina, neighborhood were being rescued from rooftops, their hearts sank. That could only mean that their own house was under at least five feet of water.
Jeremy and Kristy had already evacuated to Georgia and paid close attention as Hurricane Florence bore down on the Carolinas. The storm stalled along the coast, unleashing historic rainfall and sending water cascading over the banks of the Neuse and Trent rivers into their neighborhood.
The couple watched in horror from afar as neighbors had to be plucked off their roofs and rescued by boat. They wondered what they would find upon their eventual return.
Jeremy is just shy of 30 years with the U.S. Marine Corps, serving as a master gunnery sergeant out of Camp Lejeune in nearby Jacksonville. He and Kristy relocated to New Bern from Japan a year ago. The couple found a house nestled in a quiet, wooded neighborhood backing up to a pond, intending to retire there.
Jeremy returned home first and found a muddy disaster. He spent three days trying to clean up the mess by himself, but was overwhelmed with the enormity of the task. Kristy then arrived with their remaining belongings.
The two heard about Samaritan's Purse through social media and signed up to receive help. On a Sunday afternoon in late September, our 12-person team arrived and jumped into action, gutting out the home and getting it ready to be repaired.
Jeremy is thankful for the team's work of service. "I'm amazed and very, very, very grateful," he said. "What a fantastic organization. It's been awesome to work with them."
Kristy voiced her appreciation as well, especially on a personal note. After our volunteers presented a Billy Graham Study Bible to them, Kristy told the group: "We were bickering, trying to stay strong for each other. It was really hard. When you guys came here and started taking care of the house, we were able to focus on each other and our marriage and rebuilding. You have built our faith back up and given us hope."
Then circling up for prayer, one of our team members asked the Lord: "Most special Heavenly Father, we thank You for this day and for this family. We thank You for their service of protecting our country. Lord, we thank You for the volunteers who came to show the love of Jesus. I ask You, Lord, to be with this family. Watch over and guide them."
Among our volunteers was Debra Kenyear. She's retired after serving eight years with the U.S. Air Force. She moved to New Bern with her husband, Eric, a 20-year Air Force veteran, to be near his family.
"I had always wanted to volunteer with Samaritan's Purse but each time something came up," Debra explained. "When this opportunity presented itself, I jumped at it. What made it special is that I've had the honor to help a couple in the military, who are serving our country."
Other local military personnel served across the New Bern area during our deployment. Eight members of the Safety Office of the Fleet Readiness Center East at Cherry Point—all veterans—donned respirators to clear out mold-infested insulation from one person's flooded home.
Brian Snow, leader of the group, said of their experience: "We do the Operation Christmas Child shoeboxes at our church, but I wasn't familiar with the disaster relief side of Samaritan's Purse until now. I put the word out, and we just wanted to help and give back to our community."
Elsewhere in this coastal city of 30,000 people, Marines from the Air Station at Cherry Point were up on the roof of Eddie and Cathy Wynn's home.
Fierce winds tore off parts of the roof. Our volunteers spent two days tarping it. "I'm scared to death of heights, so just climbing the ladder frightens me," Eddie said. "It's awesome that you're here. We appreciate all you're doing."
Sgt. Andrew Bailey was glad to help. "I've got two arms, and I can do this work if Eddie can't," he said.
Knowing our work is done in Jesus' Name, Sgt. Mathew Schuler added, "We're serving and spreading His Word, one tarp at a time."
SIGN UP TO VOLUNTEER FOR OUR HURRICANE RESPONSES
—
Volunteer teams continue recovery efforts with one base of operations in South Carolina and three established in North Carolina where Hurricane Florence caused devastating flooding and wind damage.
We are also responding to needs in hard-hit areas of the Florida Panhandle and Georgia where Hurricane Michael struck in early October. Please continue to pray for homeowners as they rebuild their lives after these devastating storms.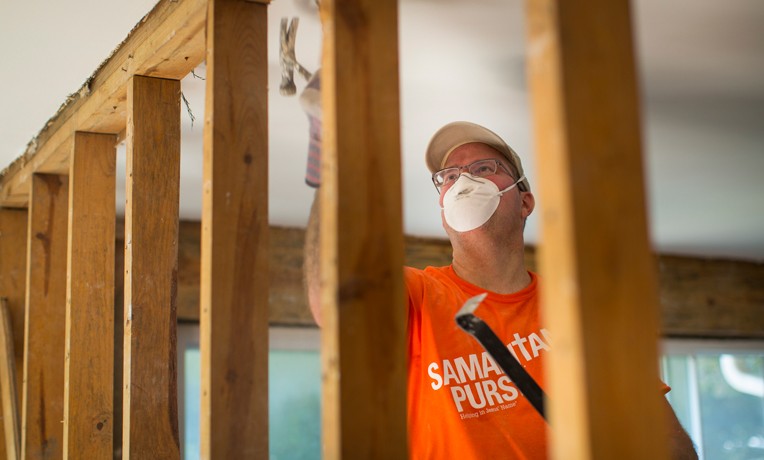 U.S. Disaster Relief
Samaritan's Purse mobilizes and equips thousands of volunteers to provide emergency aid to U.S. victims of wildfires, floods, tornadoes, hurricanes, and other natural disasters. In the aftermath of major storms, we often stay behind to rebuild houses for people with nowhere else to turn for help.
---
U.S. Disaster Relief 013622