Samaritan's Purse volunteers are working to help homeowners sift through the ashes after the Carr fire in California. At just one of many sites, we helped a homeowner find her late husband's dog tags. Watch the story.
U.S. Disaster Relief
013622
UPDATE (Aug. 29): Our Shasta County fire response concluded on Aug. 28. We praise God for 26 people who were saved during this deployment. We are thankful for all our local partners and for the 965 volunteers who served more than 240 homeowners.
—
The Carr fire destroyed more than 1,000 homes in northern California, leaving families homeless and hurting. As the fire raged, Samaritan's Purse deployed a Disaster Relief Unit, staff, and volunteers to Redding, so that teams could provide relief as soon as the area was safe.
Since the beginning of August, more than 700 volunteers have tirelessly sifted through the ashes helping nearly 180 families recover precious items (as of Aug. 22). Over and over again, homeowners were overcome with emotion when volunteers recovered something they thought was gone forever. Regardless of the item's monetary value, every discovery was important to families who lost everything—providing much needed closure.
For homeowner Charlotte Bailey (featured in the video above), seeing volunteers sift through the ashes of her home was a priceless blessing. She was overwhelmed that this team was selflessly serving her, expecting nothing in return. Charlotte dedicated much of her life to helping others—serving for 20 years with the volunteer fire department— but being on the receiving end was a new experience.
"I can feel God wrapping His arms around me and telling me that it's going to be OK," she said.
---
Charlotte was already deeply encouraged by the volunteers work when Bert Won, a volunteer from the San Francisco area, found her late husband's dog tags. She was overcome with emotion.
"I thought they were lost, but Samaritan's Purse found them," she said. "It's a treasure for me to have these because they mean a whole lot to me."
Next time, Charlotte said that she wants to be wearing an orange shirt and volunteering with Samaritan's Purse because she knows first-hand how important the work is.
We praise God that, as of Aug. 23, 25 people have received Jesus Christ as Lord and Savior during this response through the witness of Samaritan's Purse teams and Billy Graham Rapid Response chaplains. Our host church is Redding Christian Fellowship.
If you are interested in volunteering with Samaritan's Purse at any of our North American Ministries sites, go to spvolunteer.org to learn more.
Note: This article was originally published on Aug. 23. The update at top was published on Aug. 29, and the numbers in that update are the final numbers, superseding any in the story below.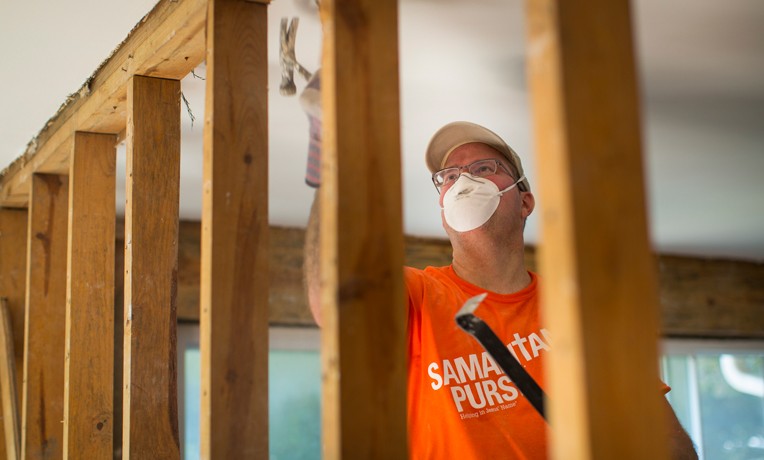 U.S. Disaster Relief
Samaritan's Purse mobilizes and equips thousands of volunteers to provide emergency aid to U.S. victims of wildfires, floods, tornadoes, hurricanes, and other natural disasters. In the aftermath of major storms, we often stay behind to rebuild houses for people with nowhere else to turn for help.
---
U.S. Disaster Relief 013622