Our teams are bringing hope in the aftermath of a devastating storm. Lt. Governor Dan Forest is among the volunteers working hard to assist suffering homeowners.
U.S. Disaster Relief
013622
Samaritan's Purse volunteer Don Hoggard grieved with his neighbors when they lost everything during the Aug. 4 tornado that ripped through the town of Windsor in Bertie County. The tornado, produced by Hurricane Isaias, destroyed hundreds of homes and left some completely in ruins.
"I can feel the hurt they're feeling and I hurt with them," Don said. "When I see that homeowner, I know how they feel."
Don and his wife, Denise, were in a similar position about 10 years ago when another tornado devastated Bertie County. The Hoggards lost everything in the storm, and they didn't know what to do. But the couple was grateful at that time to be on the receiving end of help from Samaritan's Purse.
Today the Hoggards are on the service side of disaster response, joining our volunteers who are once again out in Bertie County helping hurting homeowners in Jesus' Name. Earlier this week, Samaritan's Purse deployed to Eastern North Carolina, and volunteers were on the ground the day after the powerful EF-3 twister.
Our volunteers are working from Ross Baptist in Windsor, our host church for this response. They are clearing yard debris, removing downed trees, tarping damaged roofs, and salvaging personal belongings.
On Friday, Aug. 7, North Carolina Lt. Governor Dan Forest was among those serving the hurting with us. Also volunteering was his wife, Alice; two sons; daughter; and son-in-law.
The Lt. Governor has joined our volunteer teams in previous responses, including earlier this year after storms and tornadoes hit Seneca, South Carolina, and in the aftermath of Hurricane Florence in New Bern in 2018.
"Groups like Samaritan's Purse lend a helping hand and show the love of God—that's the most important part," he said. "While the destruction is here, you want to share hope and let people know that there is ultimate hope in God."
Demonstrating God's Love
Don and Denise too are eager to share the love of Jesus Christ in a tangible way as they uniquely relate to their neighbors, having experienced the same kind of loss.
Denise remembers back in 2011 when she saw a perfect funnel cloud form on the horizon just miles away. "The debris, trees, vehicles, you saw everything in that cloud—and it was coming straight over my house," she said.
In the days that followed, the Hoggards would be blessed by the compassion of Samaritan's Purse volunteers. As they worked on their home, Denise was amazed at the care they demonstrated with every detail, including her rose garden that had been flattened by the storm. "They sat every rose up and my prayer bench was set up," Denise said.
Now, as a volunteer herself, Denise tries to find the small things that make a big difference to a family. "It's not always about the big stuff. It's the little things that matter, too. And that's what touched me with Samaritan's Purse—it's the little things that matter."
For Don, his experience with Samaritan's Purse volunteers all those years ago had an eternal impact. Though he grew up in the church, he never had a personal relationship with Jesus Christ.
"Life was all about make money, make money, make money," Don said. "Life was all about 'I,' look what I did."
One year after Samaritan's Purse helped remove downed trees and salvage personal belongings from his home, Don was invited to a Samaritan's Purse breakfast by a family friend who was volunteering with our home rebuild program.
"I can't tell you what the devotion was about that morning and I can't tell you what Scripture it was. All I can say is that it was the most different feeling I've ever had in my life," Don said. He was not the same person leaving that breakfast as he was when he entered. "Now I know what it was—it was the Holy Spirit descending down on me."
Don began living his life for God rather than for himself or for money. "Now, life is not about me, it is about sharing the love of Christ with everyone I can," Don said. "If I can make a difference in just one person, it's worth all of it."
Please pray that our volunteers would continue to have unique opportunities to meet the physical needs of families in Bertie County while reminding them that God loves them.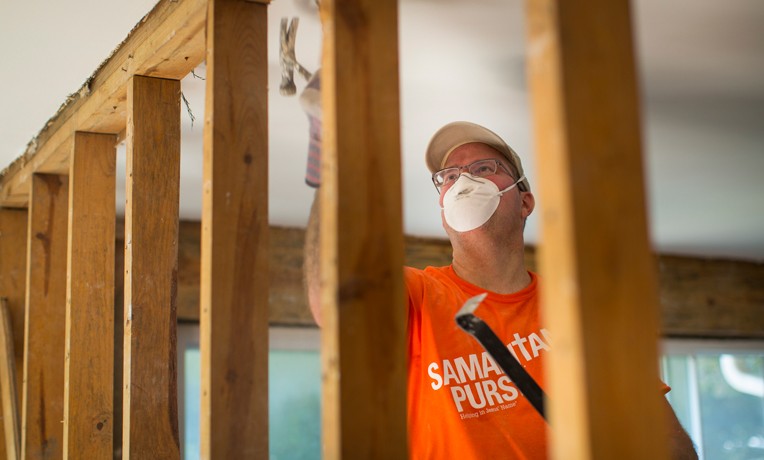 U.S. Disaster Relief
Samaritan's Purse mobilizes and equips thousands of volunteers to provide emergency aid to U.S. victims of wildfires, floods, tornadoes, hurricanes, and other natural disasters. In the aftermath of major storms, we often stay behind to rebuild houses for people with nowhere else to turn for help.
---
U.S. Disaster Relief 013622