A doctor and his son serve together at Chogoria Hospital in Kenya after a near-death experience changed their lives.
Editor's Note: A year ago, Dr. Gregory Ekbom thought he was going to lose his son. In the midst of the crisis, he held onto hope that God would use the traumatic situation to bring about good. As they soon discovered, the arduous path to healing often begins the moment we seize the opportunity to bless others.
I was returning home from a service trip to Chogoria Hospital—my third visit there with World Medical Mission. After 30 years in private practice, I relished the opportunity to work alongside Kenyan doctors and contribute my skills as a general and vascular surgeon.
I put the SIM card back into my cell phone at Chicago-O'Hare airport. This was January 15, 2018. There were multiple voice mails dating back two weeks. The doctors at Regions Hospital in St. Paul, Minnesota, had been trying to reach me to tell me that my 33-year-old son was critically ill.
Doug suffered an acute and complete thrombosis of his abdominal aorta, with no blood flow to his lower extremities. He had endured 10 hours of surgery to remove the blood clots. Then in ICU he developed multiple post-op complications, including GI bleeding, liver failure, sepsis, and respiratory distress.
When I called Regions Hospital, the ICU physician told me, "Your son is the sickest patient we have here right now." He urged me to come directly from Minneapolis-St. Paul airport to the hospital.
I asked about the circulation to his feet. The doctor responded, "He is facing bilateral amputations."
Doug was semi-alert when I arrived, with rapid, shallow breathing, and the doctors were planning to place him on a respirator that evening. I looked at his feet. They were gangrenous. If he suffered cardiac arrest during the night, his chances of survival would be slim.
I told Doug that things looked bleak. If his heart stopped we decided we didn't want anyone to pound on his chest like doctors did on his mom. My wife Eva died in 2011 from a massive pulmonary embolism that occurred two weeks after she had a ruptured brain aneurysm. We both were there during the attempt to resuscitate her.
"Are you ready to go, son?" He said "yes."
I signed the "do not resuscitate" form, and I went home that night and slept for maybe an hour. I awoke with the worst nightmare—except it was real. I cried out to the Lord and said, "Come into my nightmare!"
And He did. Isaiah 26:3 came to my mind. I said, "Lord, my mind is fixed on you alone. I refuse to go down the dark alleys of fear and anxiety, and I give this chaos over to you!"
I fell asleep and awakened refreshed a few hours later and drove to the hospital. Doug was stable and did not need to go on the respirator. He remained stable for another 48 hours. Then he began to improve very slowly, but steadily. He had two or three additional setbacks over the next month, but was able to leave ICU after six weeks.
Doug underwent bilateral below-the-knee amputations March 8, 2018. He was discharged from the hospital April 4, and after the swelling went away, two months later he received his prostheses.
I was there all those years ago when he took his first tentative steps as an 11-month-old. Now I was watching him take his first steps with artificial limbs.
Unexpected Opportunity
By the end of August, he was playing golf. He started driving a car again. He drove himself to doctor appointments, physical therapy sessions, and support groups.
I would like to say the nightmare was over, but it wasn't for Doug. I tried to be strong for both of us, but I would glance at him and see that his legs weren't there. I think I overcompensated by trying to help him too much. Finally he said, "Dad, just leave me alone. I'm trying to adjust to all of this."
As a surgeon, I have performed many amputations over the years. But as a father and caretaker, I wanted to help him. I had to step back and let him do things for himself. We had some knock-down, drag-out discussions, but he knows I love him and I know he loves me. Our relationship has become much deeper.
I was planning to do another short-term World Medical Mission trip to Kenya in January 2019. In October I asked him, "Do you want to go with me to Chogoria?"
"Sure, I would love to come," was his response. "But what will I do there?" I didn't know, but I went ahead and purchased our plane tickets.
Shortly thereafter I attended the Global Missions Health Conference in Louisville, Kentucky. While there I struck up a conversation with the founders of an organization called The Ellen Meadows Prosthetic Hand Foundation. I mentioned I was going to Chogoria in January and that I had done two arm amputations there last year. They asked if I would be willing to take a supply of prosthetic arms with me. They even gave me a training session on fitting the arms.
I contacted officials at Chogoria and told them I was bringing a container of donated prosthetic arms. They said great, and that's the last I heard from them until just after Christmas. Imagine my surprise when a former Chogoria medical officer sent me an email announcement that was posted on the hospital's Facebook site. They were inviting amputees to come to a clinic January 17.
I shared this remarkable news with Doug. That's when he got excited.
Arms of Blessing
Amputees in the developing world have less than a 10 percent chance of ever receiving a prosthetic limb. When word of the clinic spread, patients and their families came from all over Kenya, including the Ethiopian border and from hundreds of miles away. The entire hospital grounds were saturated with amputees and their families.
Doug and I saw 53 upper extremity patients, and the team from Nairobi's Kikuyu Hospital saw around 100 lower extremity amputees. He mingled with the patients, showing them his stumps and how the prosthetics worked.
Patient after patient told us their stories. One young woman lost both of her arms when her husband chopped them off during a drunken rage. Doug helped fit her with short arm prostheses, and she could not stop smiling as she signed her name for the first time in four years.
A man who had bilateral arm amputations due to an accident was fitted. His brother kept praising the Lord and told us he had been praying for several years, asking God for help for his brother. One woman brought her young son who had lost his right arm. After the fitting, she rejoiced to watch him hold a ball in his hand.
Doug was deeply moved that day, as was I. He said, "Dad, I wish we could do more." So we did. We postponed our planned visit to a safari and extended the clinic one more day. The rest of our time at Chogoria I worked in the operating room and Doug accompanied the chaplains to the wards where he shared his message of hope with the patients.
It was a real joy for Doug and me to be able to work side by side serving others. I think that's part of the healing and restoration process for amputees, or for anyone who has experienced trauma or grief or a major loss.
"It was a joy for Doug and me to work side by side serving others."
Doug continues to walk through that journey of healing and encourages others to do the same. Last week he spoke to an amputee support group. He is living in an apartment and seeking employment. And much to my frustration, when we are out on the driving range, he still hits the golf ball much better than I do.
Chogoria now hosts a monthly prosthetic clinic. They are partnering with the foundation that donated our first shipment of limbs. Next winter I return to Kenya for a couple of weeks, and then I will be going to a hospital in the Democratic Republic of the Congo that has scheduled its very first amputee clinic.
Sometimes our calling involves suffering, but God restores us and gives us a platform for ministry that we never would have had otherwise. I marvel at His grace.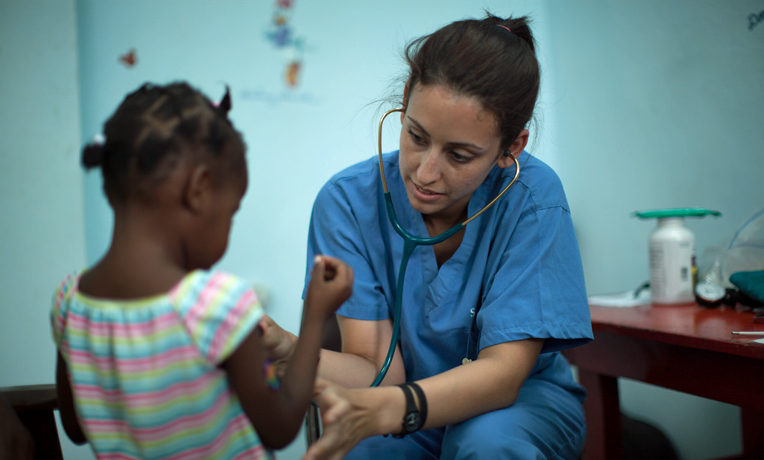 World Medical Mission
World Medical Mission was established in 1977 to assist general surgeons who wanted to volunteer for short-term mission trips. Today, hundreds of volunteer Christian physicians, dentists, and other medical personnel work in mission hospitals and clinics around the world. We also staff a biomedical department and warehouse that provides critically needed equipment and supplies to these medical facilities.
---
World Medical Mission 012004