A new church building, constructed by Samaritan's Purse, was dedicated to the Lord in Koyuk on Oct. 7.
The nearly 300 residents of Koyuk, a primarily Inupiat village at the eastern edge of Alaska's Seward Peninsula, mark the year by dramatic seasonal changes.
Winter is long, cold, and dark, but the powdery pillows covering the land allow snowmobile travel, a liberating opportunity that is possible at no other time. A short spring means thawing and the noisy return of birds big and small—ducks and swans and cranes. Summer is warm and busy, with constant berry picking, fish catching, and moose hunting when it opens Aug. 1.
However, there is no autumn.
"We don't have fall, just freeze-up," said Melvin "Duma" Otton, longtime village resident and member of Koyuk Covenant Church.
"It's 28, but feels a lot colder, because of that north wind," he said, also acknowledging the mighty Koyuk River is already partly frozen.
That's the weather situation a little before noon on Oct 7, as the conversation quickly turns to the day's big event—the dedication of a brand-new church built by Samaritan's Purse.
"Is it warm in there?" someone asked.
"Real warm, it's nice," Duma said.
What does the weather have to do with the new church building? A lot. The old building demolished earlier this spring was not even 40 years old, but it was near collapse and cost way too much to heat. Warming the old building was like running the heater in your car on a very cold day with all the windows rolled down, said Corey Lynch, director of Alaska projects for Samaritan's Purse. Pointless. You could see your breath inside the old building in the winter, and winter is most of the year here. It's harder to go to church if you're afraid the roof will cave in and you know the indoor plumbing has been shut off for fear of burst pipes. Most of the week, the building went unused.
Of course, a few hardy and faithful souls did attend Sunday service, but even they would admit their prayers had long been for something better. Those pleas were finally answered with the first service in their new building, a day of dedication to the Lord last Saturday.
"Our dreams became reality," said 78-year-old Gabriel Dewey, a village elder and church leader for many years.
New Building, a Gift from God
The village had watched Samaritan's Purse staff and volunteers constructing the new church since June. The dedication in early October was the culmination of 15 weeks of volunteer work, with well over 100 individuals serving from many of the Lower 48 states.
They observed the quality of the materials and workmanship that went into the construction, and the quality of the volunteers themselves. They watched as our dedicated staff formed deep relationships and helped residents in many ways—listening and learning, fixing a flat tire, saving a sinking boat, repairing windows, leveling a leaning porch, and more. Love abounded.
Curtis Ivanoff, superintendent of the Alaska Conference of the Evangelical Covenant Church, spoke at the dedication and noted that the Samaritan's Purse ministry in Koyuk went far beyond construction.
"I think there was a real intentional effort to go beyond these walls and bless the community at large," he said. "I heard over and over again how Samaritan's Purse blessed the community. And that was very encouraging."
As Corey Lynch addressed the dedication audience, he hammered home the message behind both the labor and the love of the Samaritan's Purse team.
"It's all about Jesus," he said. "I want to build a building that will last for a hundred years…[and] the one sole purpose is for the Gospel of Jesus Christ. It's a story that must continue, because it changes lives."
He then listed a number of sins and ills, but offered this hope, "The only cure out there is the cross and resurrection of Jesus Christ."
Samaritan's Purse staffer Russ Richardson spoke shortly after Lynch, again emphasizing that the work is about far more than a building. "The church may last 100 years, but when someone asks the Holy Spirit into their lives that impact is eternal," he said. There have been multiple salvations in Koyuk this summer and church attendance has increased.
Richardson handed over the keys of the new building to Pastor Don Cross who preached from Psalm 122, John 4, and Hebrews 10. As he read the story of the Samaritan woman and Jesus, he extended an invitation to the community, "The doors of this church are open to everyone, wherever you're at."
There was joyful hymn singing in English and Inupiaq at the dedication, and there were many tears and hugs. Then the feast began, as 160-plus people enjoyed fried chicken and local delicacies, including berries and wild game.
All this took place just a couple weeks after the church celebrated 14 baptisms at the municipal center where they had been meeting during construction. The baptisms took place in a large fish tote, with tarping underneath to protect the flooring.
Annie Adams, the church's children's choir leader, was among those baptized. This summer she found fellowship with our staff and volunteers, regularly sharing meals together. She looks forward to meeting multiple times a week with her church family in the new building.
"We can have a warm, cozy place to gather and worship and fellowship all through the winter," she said at the dedication, as people enjoyed her caribou noodle soup and pickled muktuk (whale skin and blubber). "We can use it for Bible study and prayer group. We can have our minds refreshed as we meet through the week."
Bob Walters of Shelbyville, Kentucky, was among Samaritan's Purse volunteers who served the final deployment at Koyuk, cleaning up the construction site. The dedication was a memorable experience for him and all who had the privilege to be there.
His thoughts sum up the attitudes of both our staff and volunteers who spent months on this project: "We're serving the Lord God. We are here for a reason. We did the best we could, and it's a rewarding feeling knowing you're doing the Lord's work."
More Work to Be Done in Rural Alaska
Since 2006, Samaritan's Purse has completed 35 projects in Alaska, mostly in remote areas off the road system. The structure in Koyuk is the 13th church rebuild we have finished. More than 3,500 volunteers have served with us so far.
"God has blessed us with aircraft to be able to reach the villages," said Luther Harrison, vice-president of Samaritan's Purse North American Ministries. Planes ferry in both personnel and materials to these areas. "There's over 250 villages here in the state of Alaska. We just have got to keep moving on and finding churches that are willing."
In regard to the new church in Koyuk, he said, "This is going to be a building where His Word is preached, His Word is proclaimed…We want to make sure that the next generation has a safe place where they can follow suit and have that relationship and walk with Christ."
To God be the glory!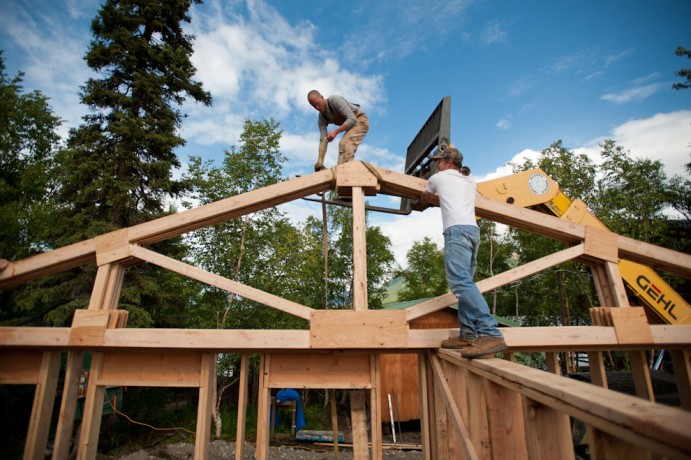 Alaska Projects
Samaritan's Purse staff and ministry partners aim to bring practical help and the Good News of Jesus Christ to native peoples in Alaska and the surrounding region.