Samaritan's Purse has deployed staff and equipment in the wake of flooding in Wisconsin.
U.S. Disaster Relief
013622
UPDATE (Sept. 11): Teams continue to serve homeowners with cleanup as floodwaters are no longer rising.
UPDATE (Sept. 6): As waters across Sauk County continue to rise, Samaritan's Purse volunteers are engaging with homeowners worried that their homes might flood once again. Yesterday, we filled sandbags and also prayed with homeowners, asking God for His protection and peace.
UPDATE (Sept. 5): Rain keeps falling in Wisconsin—and with more severe storms in the forecast—Samaritan's Purse volunteers are helping homeowners prepare for another round of expected flooding.
On Sept. 4, we helped residents of Reedsburg fill sandbags and then fanned out into the community. The bags were delivered to homeowners to stack along house foundations to keep floodwaters from seeping in.
Our teams are also going back into some of the houses we've already worked on and propped up furniture on buckets to keep them out of reach of rising water.
"Our volunteers are able to connect with folks during this time," said Todd Taylor, assistant manager for U.S. Disaster Relief. "There are hundreds of families watching their homes flood for the second time in one week. Pray for the Lord to give weary homeowners peace and comfort."
—
Samaritan's Purse has deployed staff and a disaster relief unit (DRU) to south central Wisconsin in response to widespread flooding. The DRU—a tractor trailer filled with tools, equipment, and supplies—arrived Sunday night, Sept. 2.
Walnut Hill Bible Church at 1900 East Street in Baraboo serves as our base of operations and is hosting our volunteer teams. These volunteers, primarily focused on mud-outs, began serving Sauk County homeowners over the Labor Day weekend. The rising waters of the Baraboo River, which crested on Aug. 31, damaged hundreds of houses.
Walnut Hill also partnered with us after flooding in 2008. "The church is excited to have us back, and we are looking forward to seeing what God is going to do," said Todd Taylor, assistant manager for U.S. Disaster Relief.
Find out more about volunteering with Samaritan's Purse in Wisconsin.
Wisconsin Governor Scott Walker issued a statewide state of emergency on Aug. 29, citing an ongoing weather pattern that has resulted in severe storms, heavy downpours, flooding, and tornadoes. More rain is expected, raising area residents' anxiety. It rained Monday night and heavy rain is predicted Tuesday.
Billy Graham Rapid Response Team chaplains have arrived to work alongside us during this deployment.
Please pray for recovering families and for our teams as we minister to their physical and spiritual needs in Jesus' Name.
Note: This article was originally published on Sept. 1 and has been updated Sept. 3, 4, and 5.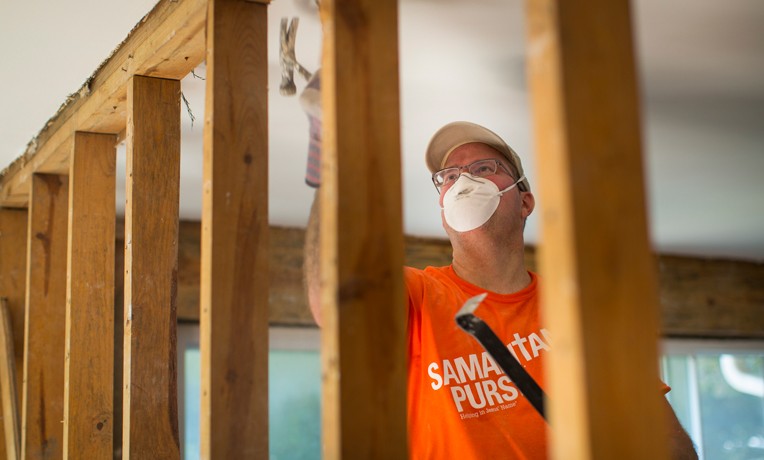 U.S. Disaster Relief
Samaritan's Purse mobilizes and equips thousands of volunteers to provide emergency aid to U.S. victims of wildfires, floods, tornadoes, hurricanes, and other natural disasters. In the aftermath of major storms, we often stay behind to rebuild houses for people with nowhere else to turn for help.
---
U.S. Disaster Relief 013622