Operation Heal Our Patriots celebrates a fruitful summer for military marriages
As the summer comes to a close and we finish the fifth season of Operation Heal Our Patriots, we also celebrate the beginning of a journey with an additional 160 military couples. For many of these couples, the week-long marriage enrichment experience at Samaritan Lodge Alaska was a last chance to save their marriages.
They experienced so much more.
We praise God that so many left Alaska with stronger marriage relationships and also with new relationships with God.
This year 67 people trusted Christ for salvation, 95 individuals were baptized and 79 couples rededicated their marriages. Every couple we met this summer is a part of our family, said Samaritan's Purse President Franklin Graham.
"We don't really say goodbye, because we do something different at Samaritan's Purse," he said. "For the couples who God brings here we feel that you're part of our family and part of our responsibility. We have chaplains that work 24/7. You ever hit a wall, you have a problem, you call us and we're there."
A Lifeline for Military Marriages
Since 2012, Operation Heal Our Patriots has provided a support network and, often, a lifeline to nearly 700 combat wounded veterans and their spouses. Beginning with the weeklong Alaska trip, we facilitate year-round connection with our chaplains and opportunities for wounded veterans and families to connect with each other.
As a result of the work of Operation Heal Our Patriots, almost 300 participants have accepted Christ, 315 have been baptized, and 302 couples rededicated their marriages to God.

For so many participants, the Alaska experience and the on going ministry of Operation Heal Our Patriots has been eye-opening and life changing.
"It's almost shocking because you get kind of cold to the world because of the way things are," retired Army Sergeant Robbie Durst said. "It was amazing. I didn't know what to expect, but it was really amazing to see that people care. I don't really have words to express it."
Jessica Lynn Rodriguez, who attended with her husband retired Navy PO3 Jorge Rodriguez, joined him in accepting Christ during their week at Samaritan Lodge Alaska. After years of searching, Jessica said she learned how to open her heart to God.
"When we got here I was telling them that I was talking to God all the time but that when I talked to God it felt like I was talking to a door," she said. "It was as if I was saying to him 'I see you through the key hole and I can get your messages through the mail slot but I can't open the door. I don't know how.'
"We don't really say 'goodbye.'"
Chaplain Jim and his wife, Lori, helped Jessica and Jorge understand the Gospel and open the door of their lives to God.
"I'm very happy to know that it was easier than I'd thought all these years," Jessica said. "He led me here to these great people. So that I may be able to talk to Him."
Please continue to pray for the participants and our staff as Operation Heal Our Patriots concludes its 2016 work at Samaritan Lodge Alaska and continue the ongoing work throughout the year.
Pray for veterans and their families as they reintegrate back into daily life that God would continue to heal them, their marriages and their families. Also pray as we prepare for future couples in need of God's healing, saving grace. To view our photo feed from this year's summer season, visit here.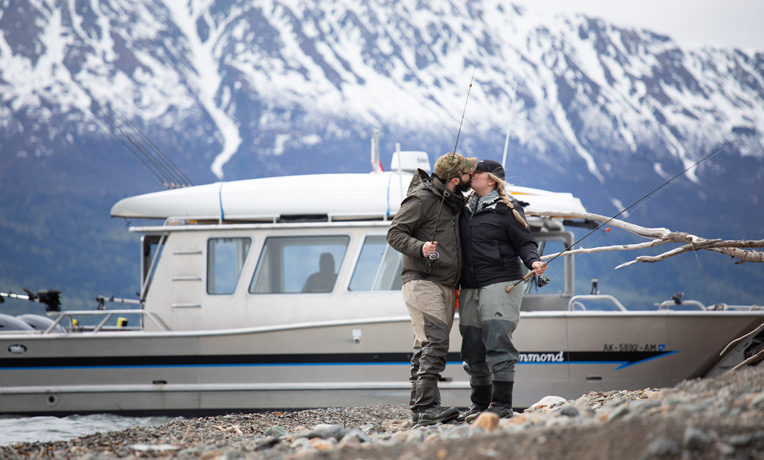 Bless the Marriage of a Military Couple
Operation Heal Our Patriots helps military couples build a strong spiritual foundation during a week of Biblically based workshops, relationship-building wilderness activities, and individual care by our retired military chaplains. We offer all this free of charge to these American heroes as a token of our appreciation for their service and sacrifice. Your gift will help us cover the costs—including transportation, lodging, activities, and long-term Family Care—so that we can help them find hope in the Lord.
---
Operation Heal Our Patriots 013960
Suggested Gift: $60