2023 Year-End

Impact Report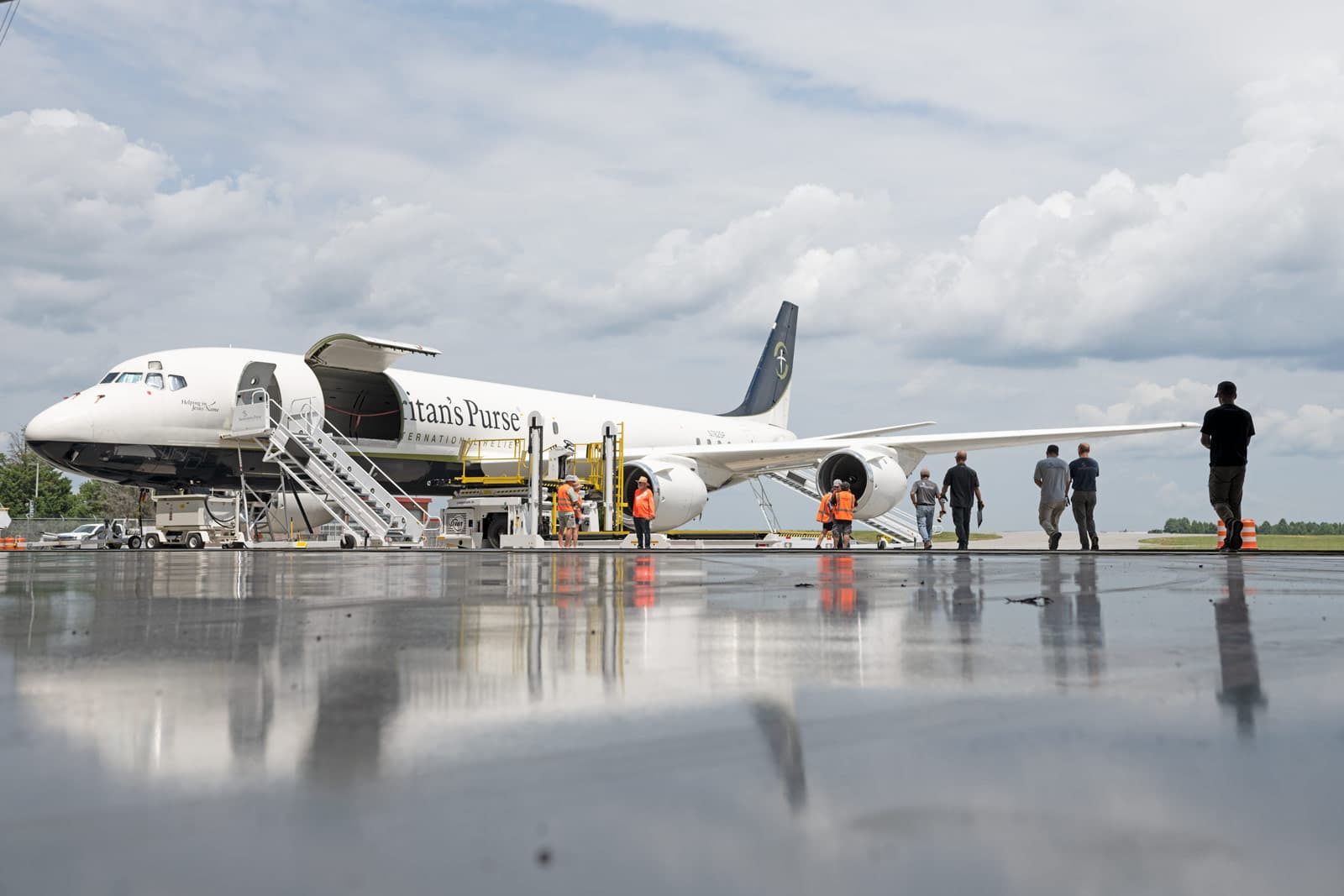 Many people worldwide are desperate for physical relief and spiritual hope as they experience disaster and crisis situations. Samaritan's Purse remains committed to following the example of Jesus Christ by helping those in need and sharing the eternal hope of the Gospel.
We comforted families in New York and Vermont and helped them recover after catastrophic flooding destroyed their homes. We also continued arranging lifesaving heart surgeries for boys and girls, providing clean water for impoverished villages, and distributing gift-filled shoeboxes to children who had never heard about God's love.
"The LORD is near to all who call upon Him, to all who call upon Him in truth. He will fulfill the desire of those who fear Him; He will also hear their cry and save them"
Thank you for your generosity, prayers, and partnership. We give God all the glory for the great things that He has done.
DC-8 Cargo Jet
Transported

219

Tons
of Emergency Relief Supplies in 2023
Tens of thousands of families were driven from their homes after the Kakhovka Dam collapsed and overwhelmed communities with the rushing reservoir waters of the Dnieper River. Our teams evacuated more than 300 people and distributed emergency relief items.
We are thankful for the faithful network of church partners who delivered aid provided by Samaritan's Purse to help people stay warm and survive the winter. One of these churches is led by Pastor Ivan*, whose congregation dwindled from 400 to 40 after a mass exodus at the start of the war. Those who stayed were mostly the elderly who could not leave their homes.
Pastor Ivan continued serving in Jesus' Name as the war raged on. He met a Ukrainian soldier who came to the church because he'd heard the congregation was distributing food. He happened to arrive in the middle of a worship service. He was so moved by Pastor Ivan's sermon that he repented of his sins and gave his life to Christ. Since the beginning of the conflict, the congregation has grown again to about 300 members. Many of these new members came in search of aid from Samaritan's Purse. Instead of only receiving a bag of food, hygiene supplies, or a restored home, many have also tasted of the love of Jesus Christ and have given their lives to Him.
Samaritan's Purse began a trauma healing program in Ukraine to help those suffering from the violence and evils of war. Participants learned about spiritual and psychological care and how to facilitate trauma healing groups through their churches. More than 550 people from 161 churches participated in the program this year.
Anna* joined the program after connecting with a local church that offered her comfort as she grieved the loss of her husband and mother-in-law who had died during the conflict. Our program taught her Biblically based principles that she can share with others who have also suffered devastating losses.
"I was surprised by the simplicity and effectiveness of the methods we learned," she said. "I am convinced that the Lord understands my pain and cares for me."
95,000,000
Pounds of Food
Distributed Across Ukraine in 2023
In 2023, Children's Heart Project facilitated life-saving surgeries for 54 children born with congenital heart defects in Bolivia, Mongolia, and Uganda. We continued bringing children to partner hospitals in the United States and the Cayman Islands and also connecting with new partner hospitals in South Korea. We praise God that 20 children and family members accepted Jesus Christ as their Savior through the project.
Valentina, 13, is a patient from Bolivia who enjoys playing sports, especially basketball. She had always experienced trouble breathing, but one day on the court her skin began turning blue. A cardiologist diagnosed Valentina with a heart defect. In the years that followed, Valentina desperately tried to keep up with her friends but didn't have the energy to do so.
Children's Heart Project connected Valentina and her mother with a partner hospital and host family in the Cayman Islands. As Valentina recovered from surgery, her interpreter, Yesi, remained by her side and read to her from the Bible.
Valentina was initially not interested in God or the Bible. But Yesi continued to read the Scriptures and shared her testimony of God's faithfulness in her life.
One morning, Valentina told Yesi that her father had abandoned her when she was a child. And she said that she wanted a relationship with her Heavenly Father. "I want to know this God who is going to be with me no matter what and who is not going to abandon me."
Valentina gave her life to Christ and was baptized before returning to Bolivia. She arrived home not only with a healed heart but also with the peace and joy of the Lord.
"I want to know this God who is going to be with me no matter what and who is not going to abandon me."
The floodwaters reached four feet high in the home of Linda Macris. All of her furniture and personal belongings that sat on the floor were ruined.
Linda is among thousands of homeowners who were devasted after historic rainfall triggered catastrophic flooding in Vermont. With her home in shambles and unable to pay for repairs or begin the cleanup herself, she didn't know what to do.
Hope arrived through a team of Samaritan's Purse volunteers. They removed soaked sheetrock, insulation, cabinets, and flooring. They also cleared out waterlogged belongings. Our volunteers demonstrated God's love for Linda through their hard work.
Linda was amazed by the efficiency of our team. She said that now her home is basically ready for a rebuild. "I'm thankful that God provides. It means a lot to see faith in action," she said. "I'm grateful that they found me. This has literally been a life-saver."
This year, during 24 deployments across the country, more than 8,700 volunteers served 5,297 hurting homeowners like Linda. Our volunteers, along with chaplains from the Billy Graham Evangelistic Association, also had opportunities to share the Gospel. We praise the Lord that more than 600 people came to know Jesus Christ as their Lord and Savior.
In August, wildfires swept across Maui and claimed about 100 lives. It was the deadliest U.S. wildfire in over a century. Samaritan's Purse volunteers ministered in Jesus' Name as they cut down burnt trees, removed debris, and sifted through ashes to recover valuables and treasured mementos for devastated homeowners. We also sent our DC-8 cargo jet with 17 tons of relief items including solar lights, cooking kits, hygiene kits, and plastic tarp.
Once the initial cleanup phase is completed after a disaster, Samaritan's Purse often returns to the hardest-hit communities to help hurting families with repairs, rebuilds, and new home construction. In Mayfield, Kentucky, we dedicated the first homes that are part of our effort to build a new subdivision after a devastating tornado in 2021 ripped through the area. We also continued rebuilding in Louisiana and launched new programs in Alabama and Mississippi.
8,782 Volunteers
Served on 24 Deployments
Across the country
Operation Christmas Child
This year, your partnership helped us deliver 10.5 million gift-filled shoeboxes and share the Gospel in more than 100 countries and territories. The shoeboxes went to children who not only received gift items to treasure but also had an opportunity to hear—many for the first time—that God loves them and sent His Son to die for their sins. About 4 million boys and girls participated in The Greatest Journey follow-up discipleship program and learned how to share their faith in Jesus Christ with friends and family.
French Polynesia includes 121 islands that are home to more than 300,000 people. Operation Christmas Child held outreach events there as part of a broader initiative in which Samaritan's Purse is seeking to reach 500,000 children on 1,000 Pacific islands with a gift-filled shoebox and Gospel presentation.
More than 560 children in French Polynesia were overjoyed to receive shoeboxes this year. They squealed in delight as they discovered all the toys and school supplies. The girls in one village were so excited to find soccer balls and pumps in their boxes. Their village is home to a popular women's soccer team, making the sport a favorite among young girls.
In another village, a boy arrived at an outreach event wearing shoes three sizes too large—hand-me-downs from his sister. When he opened his box, he found a new pair of sandals exactly his size.
Our teams presented the Gospel during every outreach event, and we praise God that both children and family members prayed to receive Jesus Christ as their Savior. Local leaders who joined our teams at the outreach events also heard the Gospel.
"This is the first time something like this has happened," our teams were told repeatedly by parents and village leaders. "You are doing so much for our children."
Water, Sanitation, and Hygiene
Billions of people worldwide suffer from waterborne illness because they lack clean water sources and adequate sanitation infrastructures. With your faithful support, we reached 223,158 people by providing freshwater wells, household water filters, latrines, and hand-washing stations. We also taught proper hygiene and sanitation practices to help keep people healthy. Our clean water projects created opportunities to share the Gospel of Jesus Christ, and we are thankful for every person who decided to put their faith and trust in Him.
In 2023, Samaritan's Purse served in Jesus' Name in eight countries to provide 808 freshwater wells that were drilled, hand-dug, or rehabilitated.
For Regina, a mother of two, the new well in her community in Liberia represented more than clean water—it became a symbol of hope. After she became pregnant, Regina dropped out of high school and eventually turned to prostitution to support her family. She felt abandoned and alone when the village rejected her.
Our staff told Regina that God loved her and would never leave her. They shared the Gospel and also invited her to a training to learn about the necessary upkeep of the new well. Regina was hesitant, fearing that the community would not want her to participate in the training.
We praise God that the village now welcomes Regina and her family. She has been playing a critical role in sustaining clean water for her neighbors since she was elected chairperson of the local water management committee.
"In my earlier years, there came a point where life seemed unbearable. Today, I stand with immense pride, knowing that I play a significant part in implementing positive changes and promoting better living conditions in my village," she said. "Samaritan's Purse has been instrumental in empowering me to make a meaningful difference in the lives of those around me."
"Samaritan's Purse has been instrumental in empowering me to make a meaningful difference in the lives of those around me."