The Samaritan's Purse aircraft fleet, which includes our DC-8 cargo jet, enables us to respond to disasters with great speed, quickly bringing emergency supplies and teams anywhere in the world.
Aviation has long been a vital and necessary tool for the ministry of Samaritan's Purse, a Christian relief organization that responds to crises worldwide.
In addition to the DC-8, Samaritan's Purse also utilizes a fleet of 18 aircraft that includes helicopters, lightweight aircraft, and a DC-3 plane. These aviation resources make it possible for us to serve people in impoverished villages in Africa, isolated communities of Alaska, remote Pacific islands, and many other hard-to-reach areas around the world.
A Unique Workhorse
Our DC-8 aircraft is one of only two that are active in the world. The plane is equipped to carry both cargo and passengers, enabling Samaritan's Purse to send disaster relief supplies while also deploying our Disaster Assistance Response Team.
The DC-8 has a range of 7,000 nautical miles—that's equal to a nonstop flight from Charlotte, North Carolina, all the way to Tokyo. The plane has capacity for up to 10 air-freight pallets with a combined weight of up to 82,000 pounds, and can carry 32 passengers and two flight attendants.
The cargo jet is 157 feet nose to tail with a wingspan of 149 feet. The four CFM-56-2C engines each produce 22,000 pounds of thrust.
Here's a look at this unique jet's journey to Samaritan's Purse:
The DC-8 was the first civilian jet model built by the Douglas Aircraft Company. A total of 556 of these planes were produced from 1958-1972.
Our DC-8 came off the assembly line on Dec. 24, 1968.
Samaritan's Purse purchased the plane in 2015 from an Australian cargo carrier just before it was set to be turned into scrap parts.
Samaritan's Purse inspected and refurbished the airplane to ensure it met FAA standards.
The DC-8 made its inaugural journey in April 2016, less than 24 hours after the FAA gave final sign-off. Samaritan's Purse airlifted an Emergency Field Hospital, doctors, nurses, and disaster response specialists to Ecuador in response to a 7.8-magnitude earthquake.
Since the inaugural mission, the DC-8 has transported more than 5.6 million pounds of cargo on 147 missions.
In 2020 alone, the DC-8 carried more than 250 tons of cargo on 14 relief missions.
International Emergency Relief
In addition to Emergency Field Hospitals, the DC-8 also airlifts emergency relief supplies in the aftermath of devastating events. The aircraft transported shelter material, solar lights, hygiene kits, and a mobile surgical unit to Beirut, Lebanon, after a deadly explosion rocked the capital city.
Emergency Field Hospitals
The Ecuador airlift was the first of many DC-8 flights to transport our fully-equipped Emergency Field Hospital into disaster areas. Samaritan's Purse has also deployed the mobile hospital in the wake of epidemic disease outbreaks in Italy and Bangladesh; tropical storms in the Caribbean, Honduras, Mozambique, and Saipan; and ISIS terrorism in Iraq.
In Armenia, Samaritan's Purse airlifted more than 22 tons of critical relief supplies and winter clothing to families fleeing the Nagorno-Karabakh conflict.
And in northern Ethiopia, Samaritan's Purse teams provided food, shelter material, clean water, and cooking and hygiene kits to thousands of families displaced due to violent conflict.
ECUADOR

April 2016

After a 7.8 magnitude earthquake shook Ecuador, the DC-8 made its inaugural journey to airlift an emergency field hospital along with key medical staff to Ecuador. In the days following the earthquake, the DC-8 made five trips—continuing to deliver critical supplies.

IRAQ

December 2016

The DC-8 supported the Samaritan's Purse emergency field hospital by transporting life-saving medical equipment to Iraq as coalition forces and ISIS fighters fought for control of Mosul. Located 11 miles from the front lines, medical staff provided emergency trauma care to more than 4,000 victims of war and performed more than 1,700 major surgeries.

TANZANIA

May 2017

After a tragic bus accident in northern Tanzania killed 35 people, three children were the sole survivors—left with life-threatening injuries. The Samaritan's Purse DC-8 transported the children to the United States where they received critical medical care.

PUERTO RICO

Fall 2017

In the months following Hurricanes Irma and Maria, the DC-8 made 44 round trips from North Carolina to the Caribbean—airlifting more than 1,000 tons of emergency relief supplies to islands including Puerto Rico, St. Martin, and Antigua and Barbuda.

BANGLADESH

December 2017

Samaritan's Purse responded to the Rohingya refugee crisis by sending more than 20 tons of medical equipment—anesthesia machines, an X-ray machine, surgical tables and other critical supplies—to a local partner hospital in Bangladesh.

MOZAMBIQUE

March 2019

Samaritan's Purse airlifted more than 70 tons of critical relief supplies, including an emergency field hospital, to Mozambique after Cyclone Idai created widespread devastation—killing hundreds, flooding thousands of homes and leaving some 400,000 people displaced. Medical teams treated more than 5,700 patients and disaster response specialists aided thousands of families through the distribution of food, emergency shelter materials, water filtration units and blankets.

ITALY

March 2020

As northern Italy quickly became a global epicenter of the COVID-19 pandemic, Samaritan's Purse airlifted more than 38 tons of medical relief supplies, including an Emergency Field Hospital, to Cremona, Italy. In partnership with Cremona Hospital, Samaritan's Purse medical staff treated 280 patients at the 68-bed respiratory care unit.

LEBANON

August 2020

Samaritan's Purse brought emergency relief to families in Beirut, Lebanon, after a deadly explosion overwhelmed the capital city on Aug. 4—killing some 150 people, injuring thousands, and displacing more than 300,000 people from their homes. The DC-8 cargo plane carried more than 50 tons of emergency relief supplies on two DC-8 flights—including emergency shelter material, solar lights, hygiene kits, and a mobile surgical unit.

Ethiopia

February 2021

Samaritan's Purse airlifted more than 120 tons of critical relief supplies on four DC-8 flights to northern Ethiopia after months of internal conflict left millions of families without access to basic necessities. Teams of disaster response specialists distributed the supplies—including supplemental food kits, emergency shelter material, and cooking and hygiene kits—while providing medical care through two mobile medical units.

United States

Ongoing

The DC-8 has transported critical relief within the United States on several occasions—providing flood relief in Hawaii and airlifting Emergency Field Hospitals to Alaska and California during the coronavirus pandemic.
Stay Informed About Our Work
Sign up to receive email updates on the work of Samaritan's Purse, prayer alerts, and volunteer opportunities.
Mission Aviation Services
The DC-8 and crew are part of our overall Mission Aviation Services, responsible for nearly 20 aircraft in total.
Our skilled helicopter pilots made multiple trips delivering cargo to the Abaco Islands, Bahamas, where Hurricane Dorian decimated entire communities. Without the use of our helicopters, these hurting people would have been cut off from the aid they so desperately needed.
In 2001, we acquired a DC-3 prop plane that was built for World War II. It can carry five tons of cargo or up to 32 passengers and is rugged enough to operate on unpaved runways. At age 75, this airplane is still a workhorse for our projects in Africa, including in the remotest parts of South Sudan.
Samaritan's Purse also flies Cessnas and other light aircraft to support relief and evangelism projects in some of the most remote corners of the world.
The Last Frontier
Our Mission Aviation Services pilots and planes also carry scores of volunteers, Samaritan's Purse staff, and supplies each year to remote areas of Alaska. Our Alaska projects deploy volunteer construction teams to remote villages where we have helped rebuild burned-down homes and dilapidated church buildings battered by decades of harsh Alaska winters.
Alaska is also where our Operation Heal Our Patriots program has hosted more than 1,200 military couples at Samaritan Lodge since 2012. This ministry to wounded veterans and their spouses relies heavily on our CASA aircraft and floatplanes to transport these hurting couples to the lodge where they participate in Bible-based marriage classes and go on bond-building excursions in the Alaska wilderness.
For more than 50 years, Samaritan's Purse has helped meet the needs of people who are victims of war, poverty, natural disasters, disease, and famine, and we do this in Jesus' Name. We want people all over the world to know that God loves them.
We are thankful to God for resources such as our DC-8 cargo jet and other aircraft that help us distribute life-saving aid and provide our staff opportunities to share the eternal hope of Jesus Christ.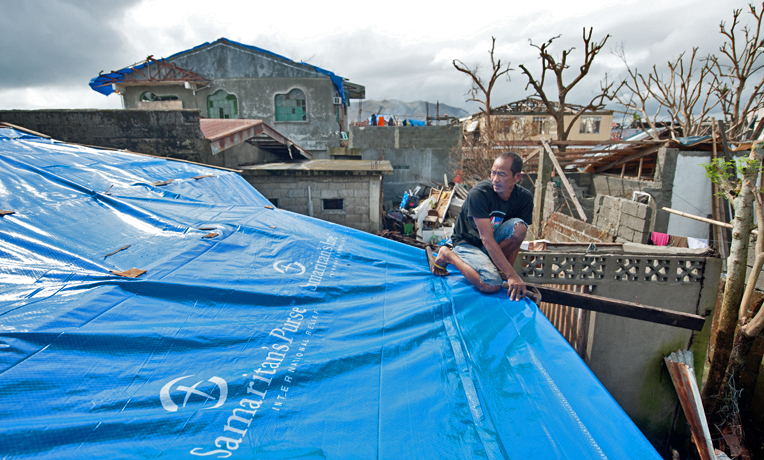 Where Most Needed
Your gift to "Where Most Needed" equips Samaritan's Purse with the resources—including personnel, materials, supporting services, buildings, and equipment—to fulfill our mission of relief and evangelism worldwide.
Where Most Needed
Where Most Needed - 012000
You can also make a donation by mail. Send to: Samaritan's Purse, PO Box 3000, Boone, NC 28607