Church members and community officials throw a celebration to thank Samaritan's Purse for serving the Alabama city for the past two years
After two years of rebuilding and remodeling homes damaged by a devastating tornado, Samaritan's Purse staff members in Tuscaloosa, Ala., received an unexpected thank you.
First Baptist Church of Tuscaloosa, the church that has hosted our staff and volunteers for the past two years, threw a "Thank You Celebration" June 26 to express gratitude as our home rebuild project approaches completion.
"[The staff] always say 'thank you' to us, but the fact of the matter is, we, our church have been blessed by having them in our community and in our church," said Kris Sullivan, the business administrator for First Baptist. "We are the ones who have been blessed by their presence here."
READ MORE about how First Baptist Church supported Samaritan's Purse and their community in the days following the storm.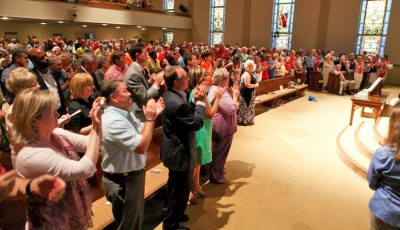 State and city officials in attendance included Tuscaloosa Mayor Walt Maddox and Alabama's first lady, Dianne Bentley. Shannon Camper, Miss Alabama 2004, performed a song.
It was an emotional experience for Samaritan's Purse project manager Dan Burton.
"My first thought was, 'This is going to be hard'," he said. "This church has been such a blessing, and we have been honored to be here for two years."
First Baptist made Samaritan's Purse staff members and volunteers feel welcome since we arrived in the aftermath of the deadly tornado that hit the area on April 27, 2011. The church went above and beyond in continuing to house our personnel and equipment when we launched the rebuild project.
Pastors and elders would lead devotions for the staff and volunteer teams each week, and members of the congregation would go shopping with homeowners who were receiving new homes to buy their new furniture. But more importantly, the church developed strong relationships with the people affected by the storm—relationships that will continue long after Samaritan's Purse operations officially pack up.
"The First Baptist Church has really been an incredible partner and are examples of what it really means to be a partner in a rebuild project," said Jason Sutherland, Samaritan's Purse Manager of U.S. Recovery and Development. "Even as we leave Tuscaloosa, we want them to carry the flame and not turn the light out after we leave."
In all his time of working on rebuilds with Samaritan's Purse, Burton said he had never experienced such a heartfelt thank you on such a large scale.
"I feel like they've overdone their appreciation for us," he said. "I thought, 'Goodness. They don't need to do any more.' But they wanted to, and they're really great folks."
The most incredible part for many staff was the presentation of special Bibles for each member.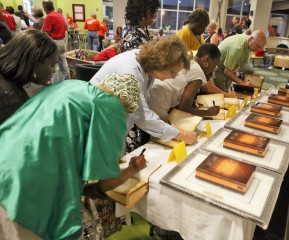 When Samaritan's Purse works on a person's home, whether it's during disaster relief or a rebuild project, the homeowner receives a Bible signed by all the volunteers who worked on that particular property. This time, the city of Tuscaloosa returned the favor by having grateful homeowners sign the Bibles for the staff.
"We just thought it would be a good idea to return the same gift to them," Sullivan said. "Then when staff open and read that Bible, they can have fond memories of their time in Tuscaloosa."
The church of 3,000 members also presented Samaritan's Purse with a check of more than $52,000 to help with the ongoing relief efforts in Oklahoma where we are still working on cleanup after the devastating tornado hit Moore on May 20. The money was collected within the congregation as a "love offering" so they could help other tornado victims like they had been helped.
"We could think of no better organization to give that money to for tornado relief other than Samaritan's Purse," Sullivan said.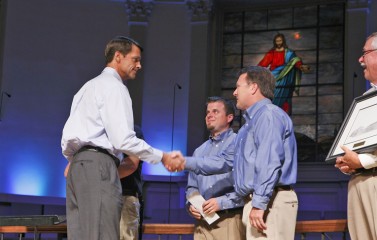 Mayor Maddox also presented staff with the key to the city and the State of Alabama gave a framed proclamation.
Samaritan's Purse operations in Tuscaloosa will officially close when the last three homes are dedicated on July 9.
"It's going to be hard to imagine life without a project going on in Tuscaloosa," Sutherland said. "It's been two years. We've made a lot of great relationships, but it's time to move to the next storm—the next disaster."
Samaritan's Purse also will be ending our rebuild project in Joplin, Missouri, this month, where we have been working for two years. Rebuild sites are operating in New Jersey and New York, where we are helping homeowners affected by Hurricane Sandy.
Find out about volunteering for a rebuild project with Samaritan's Purse.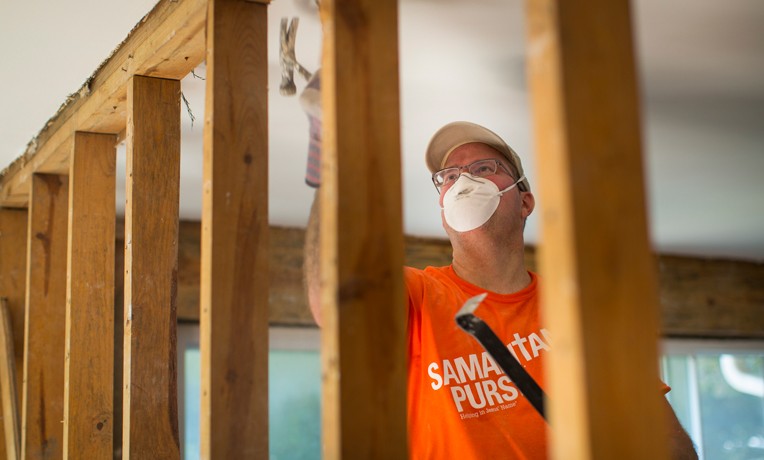 U.S. Disaster Relief
Samaritan's Purse mobilizes and equips thousands of volunteers to provide emergency aid to U.S. victims of wildfires, floods, tornadoes, hurricanes, and other natural disasters. In the aftermath of major storms, we often stay behind to rebuild houses for people with nowhere else to turn for help.
---
U.S. Disaster Relief 013622