Staff at Maban County Hospital are providing critical medical services for pregnant women and their babies.
Care for Mothers and Babies
013717
"When the baby came out, he was flat—he had no heartbeat. We had to do CPR immediately," said Dr. Felix Mugalla. "Eventually, he started breathing, but slowly and irregular."
Dr. Mugalla and the team at Maban County Hospital in South Sudan hooked the baby up to oxygen. Then, they waited.
"Before the C-section, we prayed. Throughout the night, we kept praying," Dr. Mugalla said.
To their relief, the baby did well in the nighttime hours, but the morning brought unexpected convulsions and the team had to quickly administer medication.
As the baby improved throughout the day, Dr. Mugalla knew the reason why: "God is the One who did it."
The baby is the fifth child welcomed into Theresa and Sobit's family. "I thank God and Samaritan's Purse," Sobit said. "If there was no hospital here, my son might not be alive."
Maban County Hospital in northeast South Sudan serves about 200,000 people, of which nearly 150,000 are refugees displaced during the country's many years of war and violence. The hospital, built and supported by Samaritan's Purse, is the only full-service referral health facility in the entire region.
The hospital is the only facility where Theresa could have an emergency C-section. She also received medical care throughout her pregnancy as she came to the hospital for regular antenatal check-ups.
Nurse Pauline met with Theresa for the check-ups and told her that if she felt sick at any point during the pregnancy, she shouldn't dismiss the symptoms—she needed to get to the hospital. Theresa followed Pauline's advice and was treated at Maban County Hospital for malaria about a month before she gave birth to her son.
Pauline explained that if untreated, parasite-borne illnesses like malaria can lead to complications and cause a pregnant woman to lose her baby.
"It's very good Theresa started coming," Pauline said. "We serve a mighty God."
Renewed Hope
Pauline and Dr. Mugalla are grateful to God that the urgent physical needs of mothers are being met in Maban. These women, and all patients who come to the hospital, receive compassionate care in Jesus' Name.
They also have an opportunity to hear the Good News and to respond to Christ's love for them. "We need the light of the Gospel," Dr. Mugalla said. "We need people to know God."
God's love and light is desperately needed in Maban, where mothers and their families continue struggling after decades of armed conflict. Hawa, 20, has lived in a refugee camp in Maban County for six years and still dreams of one day being able to return home.
Her family fled from their home in Sudan when the fighting intensified to the point that they had no choice but to escape.
"We came here because we feared death," Hawa said. "We came with only water and a little sorghum."
She traveled with her parents and nine brothers and sisters for nearly one year before reaching a refugee camp in Maban. They survived on little other than wild fruits.
"We walked during the day and stayed the night in the forest," Hawa explained.
During the yearlong exodus, she witnessed mothers give birth—along the roadside or in the forest—and many babies died as a result of not having medical care.
Now married with two children, Hawa is grateful both were delivered in the safety and care of the Maban County Hospital medical team. The young mother came to the hospital for check-ups during both pregnancies, where she also learned the best food for her newborn and how to keep herself healthy during pregnancy.
Hawa hopes that her young daughters will grow up to be strong and healthy and will receive a good education. She said Samaritan's Purse has helped to start her children out on a path toward a brighter future.
Samaritan's Purse is working in countries around the world to save the lives of mothers, babies, and children who are struggling in impoverished communities. Our teams are hosting nutrition groups, training midwives and traditional birth attendants, and providing supplemental food to malnourished babies and children.
Please pray that many mothers will come to know God's love for them and will raise their boys and girls in the knowledge of Jesus Christ.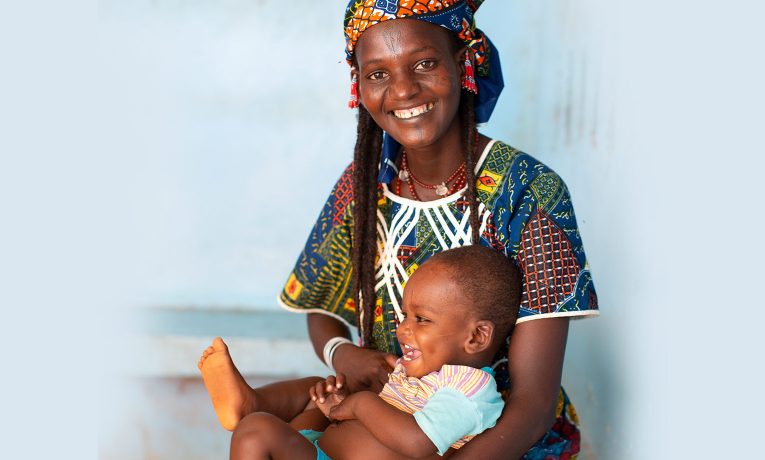 Care for Mothers and Babies
Tragically, hundreds of young mothers and thousands of newborns die every day from preventable causes. Your gift can help Samaritan's Purse reduce the mortality rates of women and their young children by improving obstetric care, teaching essential nutrition practices, and increasing access to quality healthcare.
---
Prenatal & Maternity Care 013717
Suggested $75