As our work concludes in Selma, Alabama, we rejoice at the many lives changed by the Gospel. Pray for teams continuing our efforts in Griffin, Georgia.
U.S. Disaster Relief
013622
The storm system that swept across the southeastern U.S. on Jan. 12 spawned numerous tornadoes, leaving destruction and devastation in their wake.
Parts of Alabama and Georgia took direct hits from the twisters. In the days following, Samaritan's Purse volunteers were on the ground clearing trees from homes, patching damaged roofs, and cleaning up yards and properties.
As our teams worked in Jesus' Name, we met Bobby in Selma, Alabama. Two trees struck his home and debris littered his yard. Through our efforts and the work of Billy Graham chaplains, Bobby experienced God's love, heard the Gospel, and received Jesus Christ as his Lord and Savior.
"There was a time when my whole life was about me," Bobby said. "But now it's about the Lord. I'm just getting to know Him. I want to be a man of God now."
Please watch the video at top for more of Bobby's story.
As we wrapped up our work in Selma on Feb. 8, we praise God that we were able to assist more than 200 homeowners in that historic city and that more than two dozen residents received Jesus Christ as their Lord and Savior.
"I want to be a man of God now."—Bobby
Our work continues in Griffin, Georgia, another area struck in the January storm. Please continue to pray for the residents of these two communities and for the many volunteers, chaplains, and staff continuing to meet needs in Jesus' Name.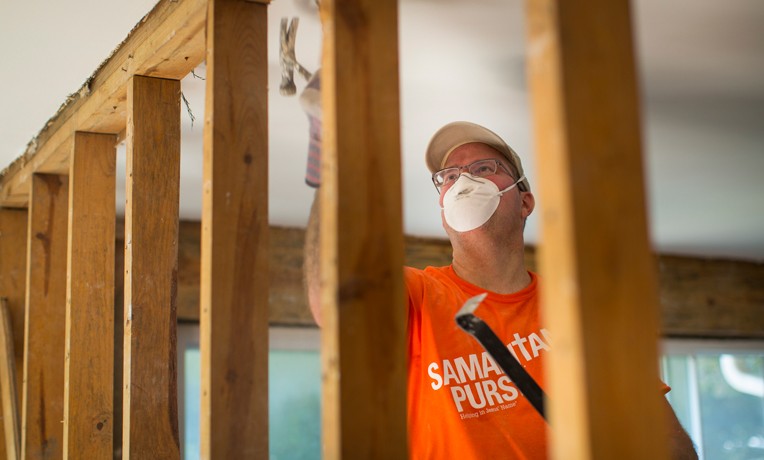 U.S. Disaster Relief
Samaritan's Purse mobilizes and equips thousands of volunteers to provide emergency aid to U.S. victims of wildfires, floods, tornadoes, hurricanes, and other natural disasters. In the aftermath of major storms, we often stay behind to rebuild houses for people with nowhere else to turn for help.
---
U.S. Disaster Relief 013622