Wounded veterans and their spouses celebrate our nation's freedom and freedom in Christ on July 4 as part of the Operation Heal Our Patriots summer season.
Accomplished Navy aviators and commercial airline pilots Tammie Jo Shults and her husband Dean, as well as their son Marshall, encouraged ten military couples at Samaritan Lodge Alaska over July 4 week. Special guests of Franklin Graham and Operation Heal Our Patriots, Tammie Jo and Dean joined wounded veterans and their spouses for excursions and meals during a week of Christ-centered marriage enrichment training.
Tammie Jo, one of the first female fighter pilots to serve in the U.S. Navy, came into the public eye more recently after safely and heroically landing a severely damaged Southwest Airlines plane last year.
She was commanding flight 1380 from New York to Dallas when an engine fan blade failed on the Boeing 737. Debris battered the fuselage and hit a window, causing the plane to decompress. With nerves of steel, she made an emergency landing in Philadelphia, saving the lives of more than 140 people.
Franklin Graham said of her: "Tammie Jo Shults is a hero. As a pilot, I can only imagine the difficulty of what she was dealing with—she did a masterful job of landing [that] airplane."
Addressing a room full of fellow heroes—the veterans and their spouses—in Alaska this week, she relayed some of the wisdom she gleaned from the life-changing events of April 17, 2018.
She reminded them that "heroes are just people who take the time to see and the effort to act on behalf of someone else."
A strong Christian, Tammie Jo has said that sitting in the captain's chair gives her "the opportunity to witness for Christ on almost every flight." Her book, "Nerves of Steel: How I Followed My Dreams, Earned My Wings, and Faced My Greatest Challenge," will be published in October 2019.
The Price of Freedom
Over 1,000 military couples have become a part of the Operation Heal Our Patriots family since Samaritan's Purse started the project in 2012.
These combat-wounded service members and their spouses have made many sacrifices to defend the freedoms celebrated on Independence Day. The wounds of war have severely strained lives and marriages, but many have found hope and healing in Jesus Christ as a result of their time in Alaska with us. More than 400 individuals have been saved, and close to half of all participating couples have publicly rededicated their marriages to God.
"We are here in Alaska celebrating the birth of our nation, and we are here working with our wounded veterans and their spouses," Franklin Graham said. "We're here to help with their marriages, but we also want them to know Jesus Christ as their Lord and Savior. We want them to know that God loves them and He has a plan for them."
Army Sergeant First Class Victor Medina and his wife Roxana said their week so far in Alaska has given them a chance to step back from everyday life.
"It's helped us slow down from the pace of life and reset and nurture our relationship," Victor said. "We came here to learn what we're supposed to be for each other and to enjoy the glory of God. This has been a great opportunity."
As Americans celebrate our freedoms this week, please continue to pray for these ten couples and the many others who will be joining us in Alaska this summer. Ask God to transform their lives and marriages through the power of the Gospel.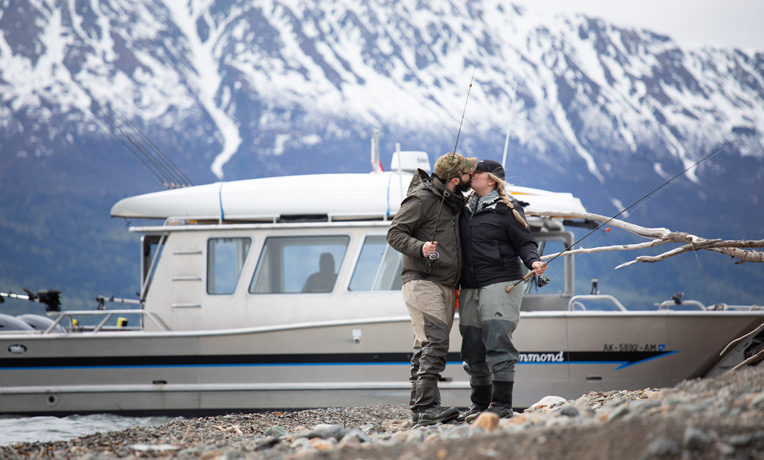 Bless the Marriage of a Military Couple
Operation Heal Our Patriots helps military couples build a strong spiritual foundation during a week of Biblically based workshops, relationship-building wilderness activities, and individual care by our retired military chaplains. We offer all this free of charge to these American heroes as a token of our appreciation for their service and sacrifice. Your gift will help us cover the costs—including transportation, lodging, activities, and long-term Family Care—so that we can help them find hope in the Lord.
---
Operation Heal Our Patriots 013960
Suggested Gift: $60