Liberty University students served with Samaritan's Purse in southwest Florida to help a homeowner recover from the devastation caused by Hurricane Ian.
U.S. Disaster Relief
013622
When Thelma Reynolds, 87, returned to her home after Hurricane Ian ripped through her North Port, Florida, neighborhood, she was shocked by what she discovered—her house was in shambles.
"We were on what they call the 'dirty side' of the storm, which rotated counterclockwise, and it just sat here for several hours," she said. "It tore part of the roof off of my house and punched holes in the rest of it. A lot of rain came in and caused a lot of damage. I managed going through the storm fine at a friend's house. I was calm. But this after-part is overwhelming, because it's a lifetime of memories gone."
Thelma's husband, Jim, passed away in May 2021. They were married for 65 years. Now, Thelma was alone and facing the destruction of the home that she and Jim moved into in 1985. She didn't know what she was going to do. But relief soon came from an unlikely place. A group of students from Liberty University arrived as volunteers with Samaritan's Purse to help clean up her house.
"I don't know what I would've done without them."
"These students are really nice people, and they are very devoted to what they're doing," Thelma said. "I don't know what I would've done without them."
The students are all part of Liberty's LU Serve Now program that trains and equips students in disaster and crisis response. Nine students from the program worked on Thelma's home for a week, tearing out moldy walls, hauling debris to the curb, and tarping her roof.
Putting the Focus on Jesus
Christina Docksteader, a senior business and humanitarian aid major, said she specifically wanted to volunteer alongside Samaritan's Purse. "I love the work that Samaritan's Purse does," she said. "They strive for excellence in everything they do, and they always put the focus on Jesus. They're very open about that and that's so important, especially when coming to help someone in a disaster."
Another student, Isaiah Franqui, said he came on the trip because he used to live in Florida and wanted to do anything he could to help. "It's hard work, but when you're here you realize that the work you're doing is for God's Kingdom," he said. "You're helping people in crisis and letting them know that God loves them."
Most of the students didn't know one another before the trip, but now they've formed a close bond working together—being the hands and feet of Jesus to help a hurting homeowner.
"I've learned a lot about myself working with this group and it's been great," freshman Kelley Atkinson said. "I didn't know what to expect and this is so very different from anything I've ever done before. It's been challenging, but God put us exactly where we needed to be. God just set things up perfectly."
Seth Hartsfield, a project and organizational management major, encouraged other students and Christians to volunteer with Samaritan's Purse. "The main reason for believers to volunteer is simply to carry out the Great Commission, to spread the Gospel, and make disciples of all nations," he said. "The work we're doing is great, but the conversations we have with the homeowner are the most important thing."
VOLUNTEER IN FLORIDA: ENGLEWOOD | PUNTA GORDA | FORT MYERS
Bringing Hope for Today and for Eternity
The first couple of days the students were working on Thelma's home were especially difficult for her, as she saw moldy walls torn down and beloved items and keepsakes—now ruined—taken to the curb. But the students were intentional with their time with Thelma and made sure they got to know her as a person. As the week progressed, she began sharing paper bag lunches with the team on her front lawn and opened up more about her life. Slowly, she began to realize how much God loves her. She was especially moved by how the students began and ended each work day with prayer.
"Before they start doing anything in the morning, they make a ring and hold hands and say a prayer, and they always end the day with a prayer," Thelma said. "I appreciate that. It means a lot to me."
Before the storm, Thelma said she believed in God but she didn't have a personal relationship with Jesus Christ. But after seeing the students' love for her and after two Billy Graham Rapid Response Team chaplains shared the Gospel with her, she gave her life to the Lord.
"This is one of the most difficult things that I've had to contend with in my life," Thelma said of the storm. "But everyone, the students and the chaplains, have all been great and have been a real big help to me. They've given me hope. I will not forget them."

Samaritan's Purse volunteers have served from multiple locations in southwest Florida since late September, right after Hurricane Ian struck the region. We praise God for allowing us to help thousands of homeowners thus far and that more than 350 of them have trusted Jesus Christ as their Lord and Savior.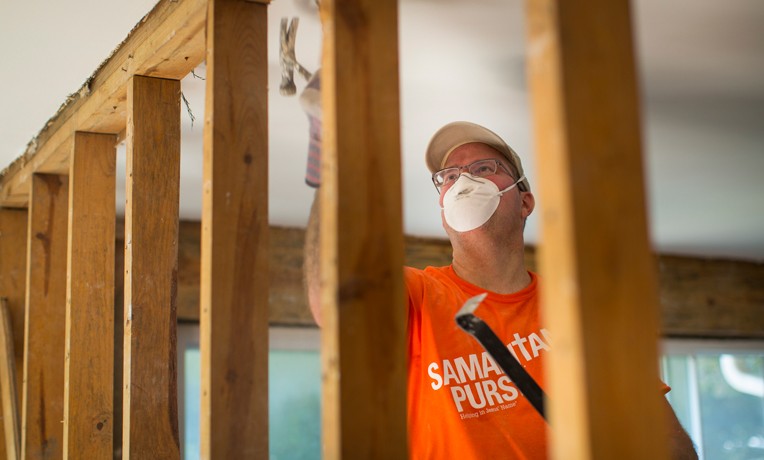 U.S. Disaster Relief
Samaritan's Purse mobilizes and equips thousands of volunteers to provide emergency aid to U.S. victims of wildfires, floods, tornadoes, hurricanes, and other natural disasters. In the aftermath of major storms, we often stay behind to rebuild houses for people with nowhere else to turn for help.
---
U.S. Disaster Relief 013622