Samaritan's Purse disaster relief volunteers are strengthened, sharpened, and encouraged through a retreat
Addressing attendees at the Samaritan's Purse North American Ministries Retreat on June 10-12, 2016, at the Billy Graham Training Center at the Cove in Asheville, North Carolina, pastor Michael Catt reminded more than 300 U.S. Disaster Relief volunteers and leaders that God's power is on display through our work.
"We are a witness to the world of 'Look what God can do,'" said Catt, pastor of Sherwood Baptist Church in Albany, Georgia—a city that's experienced its share of disasters, including a 500-year flood in the 1990s. "When God is looking for people, He's looking for people who believe He can do more than we can ask or imagine. Every promise of God should lead to expectations. Every command of God is backed by the power of God."
North American Ministries emphasizes a hands-on demonstration of God's love through relief and rebuild efforts following disasters in the U.S. Each year, Samaritan's Purse sends out thousands of first time and seasoned volunteers of all skill levels, opening doors for the Gospel
The retreat is designed to equip and multiply that volunteer force.
Through workshops and hands-on training, newcomers and ministry veterans were strengthened, encouraged, and developed in new skill areas, including recovery, construction, site leadership, marriage enrichment, and personal evangelism.
David and Jill Woodsmall from Valparaiso, Indiana, got their first taste of disaster relief and recovery during our response following fires in Colorado Springs, Colorado, in 2013.
"We sifted through the remains of people's valuables," said David, a retired petroleum engineer.
Jill said she got to involve their granddaughter in the work as well.
"We visited antique stores together to help replace a woman's entire cooking set," she said.
That was years ago, but now the Woodsmalls have come back for more and deeper involvement with U.S. Disaster Relief. They attended workshops on ministry and on construction where they learned hands-on what it takes to help with disaster recovery.
"We're here because we want to find out how we can get more involved," Jill said.
The North American Ministries numbers year-to-date illustrate the magnitude of the needs and of our volunteer responses to fires, floods, tornadoes, and other disasters nationwide. They also illustrate a need for a growing force of volunteers.
Since Samaritan's Purse first began responding to U.S. disasters, we've deployed in 35 states and helped 32,211 families through the efforts of 102,782 volunteers, who God used to initiate 2,541 salvation decisions.
So far this year, we've deployed 4,369 volunteers to five states to assist almost 800 families. But even with this many volunteers, shortages still slow down efforts in especially hard-hit communities.
Availability is the Most Important Ability
Every day, God provides opportunities for people to serve in Jesus' Name, and the people who respond can often be transformed in the process of serving. This is the case for Lori Crisco and her daughter.
"I had never done anything like that before," Lori said, recounting their experience with the tornado in Joplin, Missouri, in 2011. Since that trip, Lori and Danielle, a new mom, have been committed volunteers.
Lori and Danielle work in the banking industry and are given volunteer time each year, so the mother-daughter team uses their hours to join up with our U.S. Disaster Relief work.
Their experience following the EF5 tornado that devastated Joplin opened their eyes to God's work through crushing circumstances. They got to tarp roofs for the first time, haul debris that used to be prized possessions, and spend time with homeowners who may have lost everything and even loved ones.
"I remember wondering, 'How can they still have hope after this?'" Danielle said.
What Lori and Danielle have discovered over the last few years was how God provides hope through the tangible work of His people following disasters and other devastation.
Since Joplin, the pair has participated in relief efforts in Moore, Oklahoma; Calhoun, Georgia; Long Island, New York; and, most recently, in Andrews, South Carolina, following tragic flooding there.
"Every time I walk away from a deployment I think I feel even more blessed than the people that we helped," Danielle said. "I feel like I'm so blessed by the homeowners. You just get so attached to the homeowners and their stories and the hope they've found in Jesus. It's cool to see God's hand throughout all of it."
To see volunteer opportunities with Samaritan's Purse North American Ministries, please visit our volunteer network.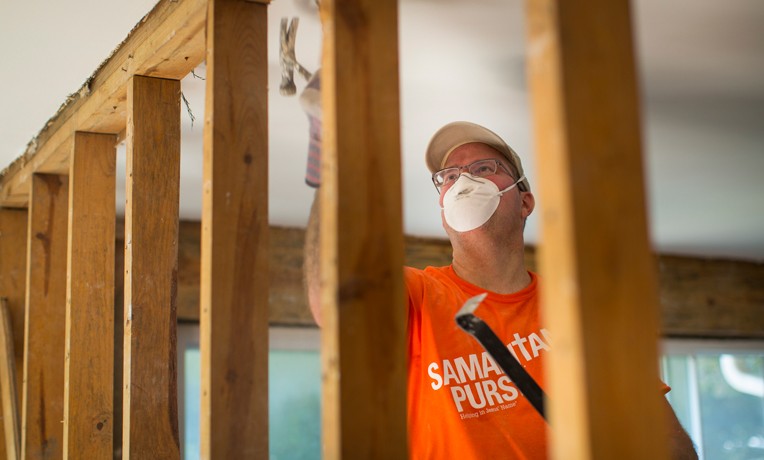 U.S. Disaster Relief
Samaritan's Purse mobilizes and equips thousands of volunteers to provide emergency aid to U.S. victims of wildfires, floods, tornadoes, hurricanes, and other natural disasters. In the aftermath of major storms, we often stay behind to rebuild houses for people with nowhere else to turn for help.
---
U.S. Disaster Relief 013622