Samaritan's Purse continues serving families devastated by multiple hurricanes.
U.S. Disaster Relief
013622
Edward Graham traveled this week to southwest Louisiana to encourage Samaritan's Purse teams as they come alongside hurting homeowners. Many communities in the Bayou State are still struggling to recover after powerful hurricanes pummeled the area in recent months.
Hurricane Delta slammed ashore as a Category 2 storm in early October and hit just a few miles from where Hurricane Laura–a deadly Category 4 storm with maximum sustained winds of 150 mph–had made landfall only a few weeks prior.
Edward Graham, youngest son of Samaritan's Purse President Franklin Graham, visited homeowners in the hard-hit community of Lake Charles. He also helped with cleanup alongside military couples who were working at sites throughout the area as part of our Team Patriot program. Team Patriot is a Samaritan's Purse initiative started last year to deploy Operation Heal Our Patriots couples as volunteer teams. These wounded veterans and their spouses help homeowners in Jesus' Name following the devastation of natural disasters.
"For the week of Veterans Day, there's no better place for me to be than here with my fellow veterans," said Edward, a former Army Ranger who served for more than 16 years before joining the leadership of Samaritan's Purse in 2018. "I'm out here watching them love on homeowners who have had their homes destroyed, and sometimes they lose hope.
"These veterans come and put their arm around them and share the Gospel of Jesus Christ. Being able to share the hope of Jesus Christ during a tragedy is what Team Patriot is all about."
Joining Edward in volunteering with Team Patriot was Corey Lynch, Samaritan's Purse director of Alaska projects; John Pryor, a former U.S. Marine and director of Operation Heal Our Patriots; and Luis Anda, a retired military chaplain and one of our regional chaplains with Operation Heal Our Patriots.
"These veterans have honored their country, and they want to continue honoring their country, but most importantly, they want to honor the Lord Jesus Christ," said Luis, who helped lead military couples through marriage enrichment classes this year during the Operation Heal Our Patriots summer season in Alaska.
Blessing Storm-Weary Families
The Team Patriot team were helping at the home of Morris Herbert, an 88-year-old Air Force veteran. One of Morris' sons and his son-in-law also served in the Air Force.
Morris, a widower, lives alone now after losing his wife a few years ago to cancer. He was left to face the storm alone as well, and recalls hiding in the hallway during Hurricane Laura when a tree in the front yard came crashing into his home. "The tree came through the roof, through the ceiling, and onto my bed," he said.
After the violent wind and rain passed, Morris came out from hiding to survey the damage to his home of 58 years. "I opened the hallway door and could see the tree in my bedroom," he said. "I don't have one tree in my yard now that's standing straight up."
Edward Graham and others with him joined the Team Patriot volunteers in clearing downed trees and yard debris for the elderly veteran. And, after a hard day's work, they presented a Bible to Morris signed by every volunteer who worked on his home.
While in Lake Charles, Edward also met and prayed with homeowner Lisa Nixon, who said the Samaritan's Purse volunteers "brought so many blessings" during a difficult time. "I don't know what I would have done. I never would have been able to do all this work."
Lisa had nowhere to live after her home was destroyed during Hurricane Laura. She slept in her car for several weeks until a friend offered to let her borrow an old RV.
Our team removed waterlogged sheetrock, insulation, and carpet. They also cleared yard debris and helped Lisa get all of her damaged personal belongings out of the home.
"It's unbelievable," Lisa said. "For people to do this for people they don't even know—it's amazing. So much of a burden is taken off our shoulders. Thank you from the bottom of my heart."
Still Giving Back
Among the Team Patriot volunteers hard at work this week in Lake Charles are Army Sergeant Colin Reisner and his wife Amanda, who drove all the way from South Dakota to serve hurting homeowners in Jesus' Name.
"You can see this on TV, but driving in, it's completely different," Amanda said. "People's property and memories are all at the curb and your heart breaks for them."
This is the Reisners' first volunteer experience with Samaritan's Purse, and they are thrilled that it's with Team Patriot. They said that the week has proven even more meaningful because the homeowners they've served are all fellow veterans.
"It's nice to give back and show them that we appreciate what they've done for us as we try to carry it on for them," Colin said.
The Reisners participated in Operation Heal Our Patriots in 2015, and Amanda said the week changed their lives.
"Our marriage probably would not have made it. Alaska gave us a week to focus on each other and to figure out who we were. It was a break from everything."
The couple said they're excited to be a part of Team Patriot and also about involving their local church in disaster relief ministry through Samaritan's Purse. Amanda said they hope to bring more volunteers with them next time.
"We're going to go back to our church and tell them everything."
In addition to Lake Charles, Samaritan's Purse has staff and equipment in three other locations in Louisiana to serve homeowners affected by hurricanes Laura and Delta. To learn more about volunteering, visit spvolunteer.org.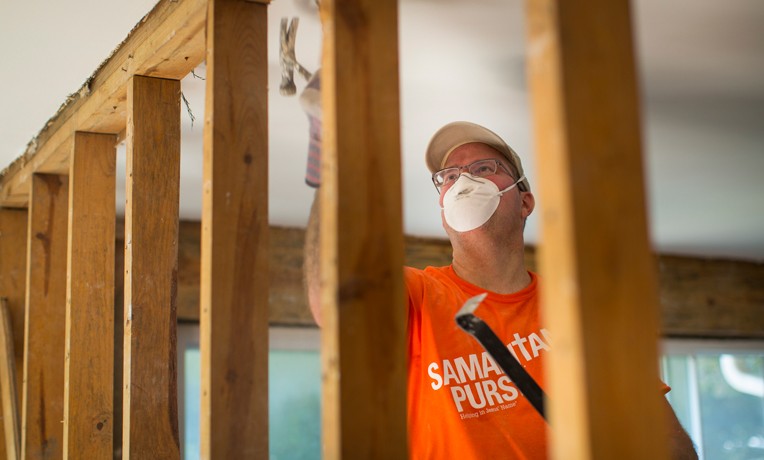 U.S. Disaster Relief
Samaritan's Purse mobilizes and equips thousands of volunteers to provide emergency aid to U.S. victims of wildfires, floods, tornadoes, hurricanes, and other natural disasters. In the aftermath of major storms, we often stay behind to rebuild houses for people with nowhere else to turn for help.
---
U.S. Disaster Relief 013622