A Cambodian family receives gardening tools and nutritional education that helps save their malnourished son
Sophan Son's two-year-old son, Yai Hong, was weak, sick, and had a poor appetite when Samaritan's Purse nutrition staff first visited her family.
Give
Sophan was barely able to provide for her five children with her job selling snacks in the nearby capital city of Phnom Penh. Sometimes they were not able to eat three meals a day.
When our team evaluated and weighed Yai at his home, they determined he was malnourished. We gave the family a ration of food every week for five months and taught Sophan the importance of feeding her children healthy foods like fruits and vegetables.
Samaritan's Purse also trained her in how to maintain a home garden. We gave her the tools she needed to get started: a watering can and garden hoe, as well as seeds to grow squash, pumpkin, and cucumber.
Her garden is now flourishing, and her family is healthier. Yai is now at an appropriate height and weight for his age.
"My child is much healthier than before," Sophan said. "The Samaritan's Purse staff is good because they have come to help our family and they are also very friendly.
"No one has ever helped us like this before and I would like to say thank you. Samaritan's Purse has continued to come visit me and has checked on my son's health."
Most Cambodians are Buddhists. As our staff trained Sophan in gardening and nutrition, they also shared with her the hope found only in Jesus Christ through the Gospel. As Jesus told Thomas, "I am the way, and the truth, and the life. No one comes to the Father except through me" (John 14:6, ESV).
Please pray
That Sophan and her family will trust in Christ for salvation.
For the Samaritan's Purse staff as they do home visits and check on the nutrition of children in poor communities.
That the children in the slums outside of Phnom Penh have opportunities to  grow healthy and strong.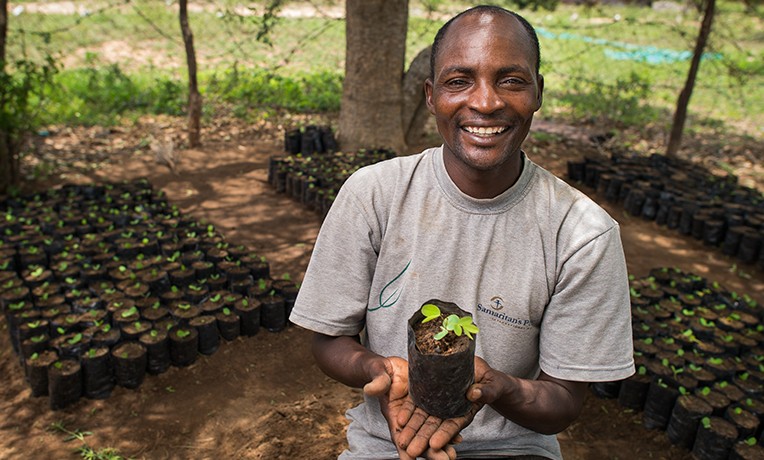 Agriculture
Samaritan's Purse provides seeds, tools, training, and other assistance to help communities transition from subsistence living to food security. Our programs help impoverished families become self-sufficient and combat chronic hunger.