Samaritan's Purse disaster relief teams are in Round Rock, Texas, to help clean up after a tornado tore through the area.
U.S. Disaster Relief
013622
After a devastating tornado ripped through Round Rock, Texas, on March 21 and damaged numerous homes, Gary Cluck, 81, knew he and his buddies had to help.
"We just love to volunteer and help people, and be good witnesses for Jesus Christ," Gary said. "Jesus said that the number one commandment was to love God and then to treat your neighbor as you would want them to treat you."
Gary is a retired Army colonel who served 36 years in the military. On an early spring morning, Gary and four friends (Jerry Cutts, Gene Flowers, Jim Mizel, Bill Saul) from The Worship Place, a church in nearby Georgetown, Texas, carried loose bricks, downed trees, and other debris from homeowner David Knight's yard to the curb.
The five friends—all retired veterans and all over 70—have known each other for 10 years and first served with Samaritan's Purse four years ago when Hurricane Harvey blasted through the Lone Star state. Since then, they have volunteered with us several other times, including after storms in Florida, Oklahoma, and Louisiana. Their shared military experience unites them, but Gary says they are united through something even stronger.
"We are a team," he says. "We love each other through one bond and that's Jesus Christ our Lord."
Jerry agrees. "When we talk to the homeowners, and they see us working as hard as we do, it makes them feel that somebody does care about them. They feel the Spirit of the Lord working in us, and they understand that He loves them."
At the end of the work day, Gary and his friends were tired, but they were eager to continue serving in Jesus' Name.
"God is blessing us with the ability to come and help those in need," Jim said. "We pray it will bring them closer to God."
Please pray for those affected by the storms and for our teams as they bring relief and share the Good News of Jesus Christ.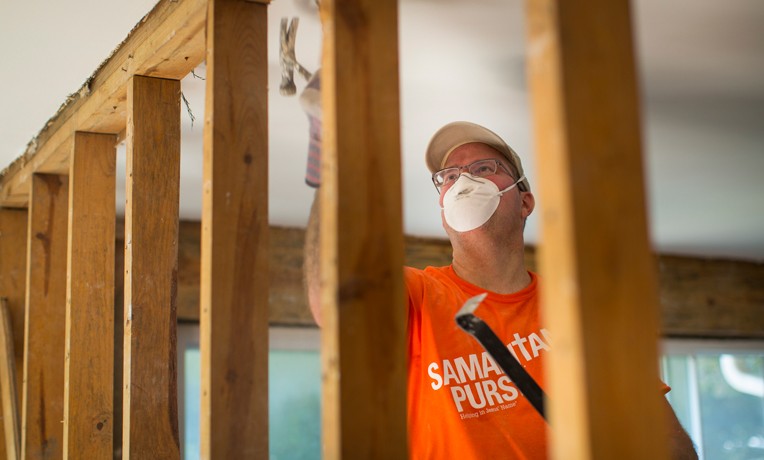 U.S. Disaster Relief
Samaritan's Purse mobilizes and equips thousands of volunteers to provide emergency aid to U.S. victims of wildfires, floods, tornadoes, hurricanes, and other natural disasters. In the aftermath of major storms, we often stay behind to rebuild houses for people with nowhere else to turn for help.
---
U.S. Disaster Relief 013622