Samaritan's Purse responds to severe flooding in the Kratie province that has stranded thousands of families
Thousands of families in Cambodia have been evacuated to higher ground due to severe flooding caused by monsoon rains and overflowing rivers, according to Cambodia's National Committee for Disaster Management.
Many families' stilted houses were destroyed by floodwater. The water devastated their subsistence crops and profitable crops, and washed out the road many villagers use to travel to health centers and to work in the factories.
Women and children are at high risk of malnutrition, and the people are drinking the floodwater. They are also bathing, using the restroom, washing livestock, and cleaning meat in this water—many without even boiling it.
Through our Cambodia offices, Samaritan's Purse has launched a response in the Kratie province.
Over the past week, our team has been working to meet the needs of hundreds of families who are stranded with no food, clean water, or adequate shelter.
Staff and local church volunteers took meals to over 300 families on a safety hill—a place of refuge for displaced families—and by boat to numerous families who were stranded in their houses. We are also distributing water cans, water filters and purification tabs, soap, and other emergency aid.
On Monday, we were able to provide boxes of food to 1,000 children. We also performed minor first aid on their infected mosquito bites and shared the Gospel with them.
Please pray for the families in Cambodia who are suffering from the floods and for our staff to help meet their physical and spiritual needs.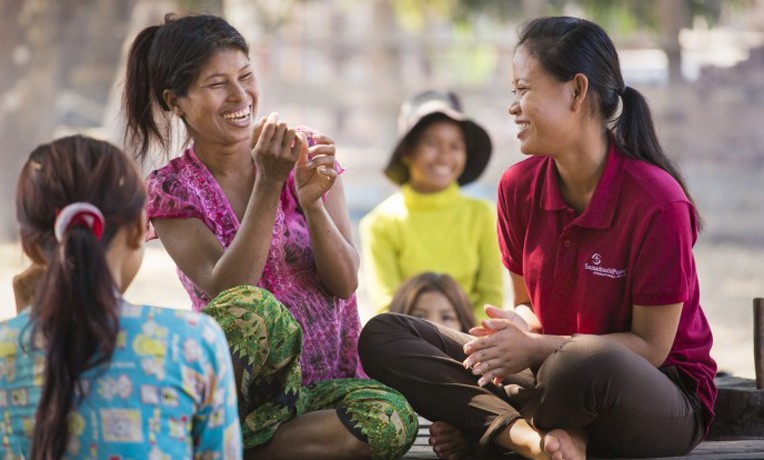 Cambodia Projects
Cambodia, one of the poorest nations in the world, has few resources available to care for its people, the majority of whom live in rural areas. We help meet desperate needs for food and livelihoods through animals and agriculture projects, as well as providing access to safe, clean drinking water. Children's education projects ensure boys and girls remain in school, while increasing their quality of life. Our maternal and child health program reduces the mortality rates of women and their young children by improving obstetric care, teaching essential nutrition practices, and increasing access to quality healthcare. We also combat human trafficking through education and training. Only 2 percent of the country is Christian, and a crucial aspect of our work involves partnering with local churches to help spread the Gospel in their villages.