Samaritan's Purse is providing storm-rated mobile homes to residents of three Mississippi towns and surrounding areas where tornadoes caused extensive damage in late March.
U.S. Disaster Relief
013622
Josh Hatcher and his two children were determined to move forward in their new place—a mobile home in Aberdeen, Mississippi—after fire destroyed their original house in February. But about a month later, on March 24, a powerful twister wrapped their latest home around a large oak tree. Their belongings were scattered across a field and into the woods.
"It was heartbreaking, mainly because you want to do everything you can for your kids," Josh said, describing the moment they returned to the ruins of their home. "Right there at that moment, I knew there was nothing I could do."
Josh is finally getting some good news, though, as he was recently approved to be one of dozens of Mississippi homeowners who will soon receive a replacement mobile home provided free of charge by Samaritan's Purse.
Josh joined Samaritan's Purse President Franklin Graham in Amory, Mississippi, on May 19 to celebrate the brand-new mobile homes we're providing to families with homes irreparably damaged by the storms. Josh will receive one of our three-bedroom models.
Graham dedicated a number of mobile homes to the Lord during the special event, which had homeowners, local leaders, and Samaritan's Purse staff and volunteers in attendance. He also prayed over residents and the community.
"This [mobile home replacement program] is something God has done. We thank Him and praise Him," Graham said. "I want you to know God loves you. Mobile homes can be replaced; cars can be replaced; but lives can't. God sent His Son Jesus Christ to save people. He came to give His life and shed His blood to save us."
Graham continued by quoting John 3:16: "For God so loved the world that He gave His only begotten Son, that whoever believes in Him should not perish but have everlasting life." Then he said, "Jesus isn't dead, He is alive. He will come into anyone's heart who will repent of their sins and trust in Him and make him the Lord of their life."
The Samaritan's Purse mobile home replacement program will provide units to homeowners without insurance or other means to replace their destroyed homes. The new units, in two- and three-bedroom configurations, offer a plethora of enhanced features for storm safety and durability, including stronger roofing and floor joists, tempered glass, and, thicker walls.
They are rated for Wind Zone III, which means they can endure wind speeds up to 110 mph—the average mobile home is built for winds up to 70 mph. Additional enhancements include fiberglass insulation, continuous vinyl flooring, more durable decking material, and 10 times the amount of tie-downs to stabilize the homes during severe weather.
During the dedication, Pastor Justin Myers of First Assembly of God in Amory, our host church, lauded Samaritan's Purse for our relief efforts. "Thank you for what you've done for us," he said.
"Well, we give God all the glory. We thank God that we have great people," Graham replied.
Thankful for Givers
Samaritan's Purse was on the ground less than 24 hours after tornadoes ripped through Mississippi on March 24. We served communities in and around Rolling Fork, Silver City, and Amory. More than 1,100 volunteers served more than 400 homeowners, and we praise God that 46 residents placed their faith in the Lord Jesus Christ during the response.
Nicole Pargo is one homeowner our volunteer teams helped in the days after the storm. She said the tornado struck in a flash—beginning with rapid lightning strikes and ending moments later with her huddled in a closet. Windows shattered. Her roof just tore away.
Samaritan's Purse volunteers helped her clean up the debris on her property, cut up fallen trees, and recovered what valuables they could. Nicole said the days have been long since the storm and filled with uncertainty about what to do next.
"Ever since then I've been in like survival mode," she said. "I really haven't sunk down and just thought about it. I was thinking to myself, 'I really was in a tornado.' We really had a tornado to come, and I lost everything."
When she found out she was approved to receive a new, two-bedroom mobile home from Samaritan's Purse, she couldn't believe it.
"I went and celebrated. I was so happy," she said. "Everything was free. I'm not used to that. I'm not used to people giving. I'm so glad that we have angels on earth like y'all. You know, y'all are angels."
Grateful for a Brand-New Start
Tony Garth is another resident whose new mobile home was dedicated on Friday.
When the storm hit Tony Garth's community in March, he and his son, who has special needs, drove to a nearby shelter. They sprinted to the entrance as debris swirled around them. Then came the roaring and the intense pressure of the tornado.
"Most of the time we ride it out, but this time we listened to the weather man," Tony said, going on to describe the sounds of destruction. "You could hear the damage in the roar. It actually sounded louder than a train."
Tony is grateful for God's provision that has come through the generous gift of a new mobile home.
"I am not gonna lie. I'm excited and thankful for these people who came. I never heard of [Samaritan's Purse] until this happened. I'm gonna support them for the rest of my life. It's an amazing organization.
"I see the work they do for folk. It is enough to make you cry. I ain't gonna waste this. I see an opportunity. It's like a brand-new start. That's how I'm looking at it. I just thank God. God, thank you, Lord. Thank you. That's the only thing I can think of now."
Please pray for those in Mississippi still recovering after the storms of March. Pray for our mobile home program and for area churches who are faithfully ministering to so many hurting families who lost loved ones and homes.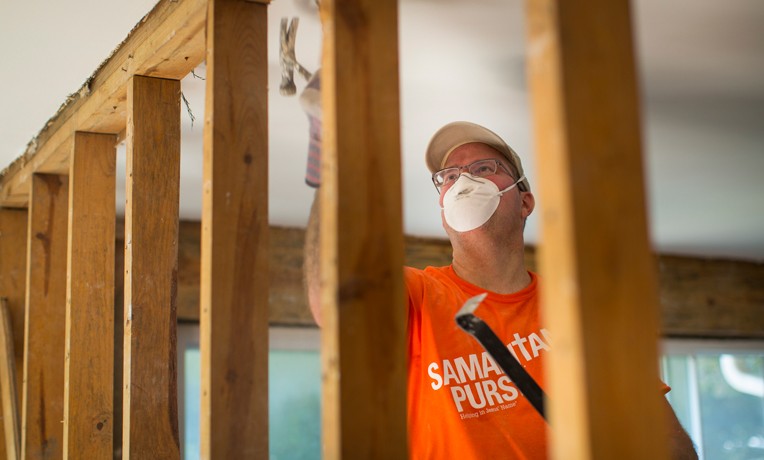 U.S. Disaster Relief
Samaritan's Purse mobilizes and equips thousands of volunteers to provide emergency aid to U.S. victims of wildfires, floods, tornadoes, hurricanes, and other natural disasters. In the aftermath of major storms, we often stay behind to rebuild houses for people with nowhere else to turn for help.
---
U.S. Disaster Relief 013622