The Grahams met with volunteers, homeowners, and local leaders as Samaritan's Purse continues serving hurting communities in Jesus' Name.
U.S. Disaster Relief
013622
For many Mississippi homeowners who experienced the deadly night-time tornadoes that ripped through the state on March 24, the storms added to the ongoing storms of life they've been facing already. Samaritan's Purse President Franklin Graham along with his wife, Jane Graham and son, Edward Graham, visited Rolling Fork where they met Liz Estes.
Liz, 76 and a widow, is also caregiver to a son with Parkinson's disease, an aggressively-crippling neurodegenerative condition. Our volunteer teams assisted Liz with placing tarp on her damaged roof, cutting away trees and branches, and cleaning up the debris created by the powerful winds.
"My granddaughter called me and said 'the tornado is coming,'" Liz told the Grahams as she showed them the damage caused by the powerful vortex and flying debris. "I didn't know what to do. The next thing I knew, stuff started flying around. Glass and debris blew all through the house."
Liz described the deathly quiet and stillness that followed. "I'm just thankful to be here."
Liz's community was in the direct line of a long band of powerful thunderstorms, spawning multiple tornadoes, that carved a 100-mile path of destruction across the Magnolia State last week. It damaged or destroyed hundreds of homes and knocked out power across Mississippi. More than two dozen people lost their lives.
Volunteers have been working in two areas of the state since March 27, serving communities near the Mississippi Delta and also communities hours east near the Alabama state line.
"We're thankful God got you through it," Franklin Graham told Liz, before praying with her. "Father we thank you for protecting her and putting your hands around her. Thank you for bringing her through the storm."
VOLUNTEER IN MISSISSIPPI ROLLING FORK | AMORY
The Grahams also visited with homeowner Andre Brown who shared a similar experience with the storm.
"It hit so fast. You really couldn't think of anything else other than to take cover," he recounted. "When the phone set off to give us an alert, the next moment it was here."
Franklin Graham reminded Brown of God's presence in the midst of the storms we face, sharing the story in Mark 4:35 of Jesus calming a violent storm on the sea.
"When we go through storms, it reminds us that we need to put our trust in Jesus in all the storms of life," he said. "You want to have Jesus in your boat."
'Without the Church, We Can't Do This Work'
The Grahams also visited Lake Washington Baptist Church, host church for our western Mississippi response. They met with Pastor Jimmy Mclendon who expressed gratitude for the opportunity to serve his hurting community in this way.
"God's been so gracious. I've just celebrated my 30th year here at this church, and we're blessed to host you all. It's been incredible," Pastor Mclendon said. "God's just provided in tremendous ways. We're grateful for you all. I was one of those kids that grew up watching Billy Graham on TV. So many of us have been impacted by your ministry."
Edward Graham expressed deep gratitude for the leadership of Lake Washington Baptist Church.
"We appreciate your church very much," he told Pastor Mclendon. "Without the church, we can't do this work."
Edward Graham, the youngest son of Franklin Graham, recently moved into the role of chief operating officer of Samaritan's Purse. He has served at multiple disaster relief sites, including as part of our Team Patriot program.
Since the beginning of our response in Mississippi, we've received more than 150 requests for assistance. So far, more than 130 volunteers have joined the work and completed clean up at more than a dozen homes.
Volunteers are helping to tarp damaged roofs and clean trees and debris from homes and yards. Our volunteers have been working out of Lake Washington Baptist Church, serving the Rolling Fork and Silver City communities. In Amory, Mississippi, to the state's eastern edge, volunteers are deploying from First Assembly of God Amory. These churches are also providing sleeping quarters for our staff and volunteers, dining and cooking space, and necessary utilities for our trucks and equipment.
In Silver City, Franklin Graham and Edward Graham met with Silver City Mayor Bob Hairston and Bruce Williams, sheriff of Humphreys County, to discuss our ongoing work in their community. In addition to our relief efforts in Mississippi, plans to help replace a number of mobile homes through our rebuild program are already underway.
"We know so many people are hurting, they've lost their homes, their jobs, and their community," Franklin Graham said as he prayed with community leaders. "We ask that you put out your arms around everyone in this community and we ask that you help them recover quickly."
The Grahams also met with Billy Graham Rapid Response Team Chaplains working in the communities where they are offering spiritual encouragement and seeking opportunities to share the Gospel of Jesus Christ. We praise God that at least two residents have prayed to receive Jesus Christ as Lord and Savior.
Franklin Graham expressed gratitude to our teams serving on the response as he talked with longtime volunteer couple Bob and Janet Wittenborne, who have deployed some 45 times during 12 years of service with Samaritan's Purse.
"That's what it's all about–being the hands and feet of Jesus," Franklin Graham said. "We can't do it without people like you."
Please continue to pray for communities in these hard-hit areas of Mississippi and for our volunteers and staff for God's favor and protection as they continue to serve hurting homeowners in Jesus' Name.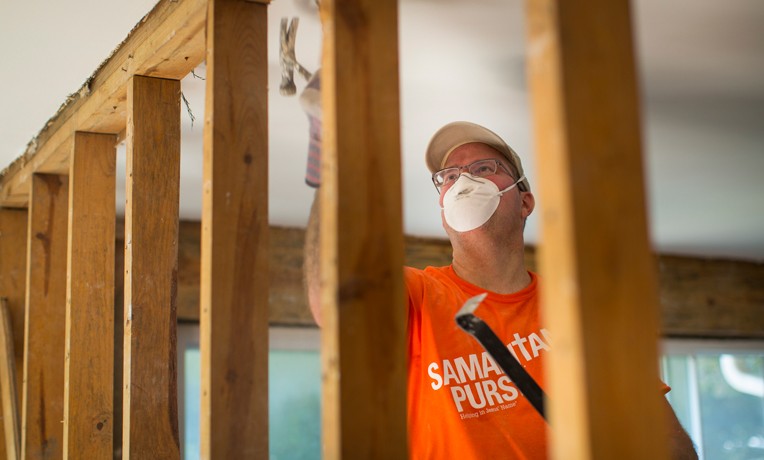 U.S. Disaster Relief
Samaritan's Purse mobilizes and equips thousands of volunteers to provide emergency aid to U.S. victims of wildfires, floods, tornadoes, hurricanes, and other natural disasters. In the aftermath of major storms, we often stay behind to rebuild houses for people with nowhere else to turn for help.
---
U.S. Disaster Relief 013622