He saw firsthand the destruction that Hurricane Ian brought to southwest Florida.
U.S. Disaster Relief
013622
Samaritan's Purse President Franklin Graham traveled to Lee County, Florida, on Thursday, Oct. 6, where Hurricane Ian took dead aim last week and pummeled the Fort Myers area as a Category 4 storm. More than 100 people were killed, and at least hundreds of homes were either ripped apart or flooded.
One resident described it as a "tsunami of mud and water" that came rushing down neighborhood streets and crashed through doors and windows filling houses with several feet of water.
"Hurricane Ian just destroyed this area," Graham said. "But Samaritan's Purse is here to help…and we're doing it all in Jesus' Name. We want every homeowner to know that God loves them and hasn't forgotten them."
One family that Graham met with told him how they rode out the storm in their attic and were trapped there for around 12 hours.
"I met with Kay, a recent widow, and her daughter Shelley and her son-in-law Scott," Graham said. "Water came up so fast in their home that they had to go up into their attic to escape the flood waters. It was so scary for them and they lost most everything they own. To see their furniture being hauled out to the street to be thrown away is heartbreaking."
Graham shared their struggle but also shared the hope that can be found in Jesus Christ.
"When you go through storms like this people want to know if God is mad or angry," Graham said. "No, He isn't. We all go through storms in life. It be may cancer. It may be marriage or something else. When we go through storms, we need an anchor and that anchor is Jesus Christ. Jesus said I will never leave you nor forsake you."
VOLUNTEERS NEEDED: FORT MYERS | ENGLEWOOD | PUNTA GORDA
Shelley Dolloff said the volunteers were "angels." She continued, "I can't believe that people who aren't our neighbors and don't even know us are willing to help us. I don't know what we would have done without them."
Last night, Shelley couldn't sleep so she went on social media and friends there were asking how they could help. She told them the best way to help would be to volunteer with Samaritan's Purse or donate to the ministry.
Responding in Three Hard-Hit Locations
Samaritan's Purse has deployed an army of volunteers to three of the hardest-hit areas—Fort Myers, Englewood, Punta Gorda—to mud-out houses, tarp damaged roofs, clear debris, and comfort homeowners with God's love.
Many people have simply lost everything—their home, cars, possessions. Others, whose house frames withstood the 155-mph winds, now see the contents of their homes piled up along the curb, due to excessive water damage. They also have no power or water, nor do they know when those will be restored.
In addition to the Dolloffs, other families that Graham met also expressed how thankful they were for the army of volunteers who have come to help them.
Michael Massey rode out the storm in his Fort Myers house. The winds nearly lifted the roof off of his house and left it in shreds. Over a dozen volunteers were repairing the roof when Graham arrived.
"These are just wonderful people," Michael said of the volunteers. "I would never have been able to fix this myself. They are a godsend."
Those sentiments were echoed by Elaine Seeley who had several trees uprooted on her property and some landed on her roof and poked holes in it.
"I prayed through the storm," Elaine said. "I didn't know how I was going to clean all of this up and get my roof fixed. But God knew and He sent this orange army to help me."
Graham noted that many people in southwest Florida are retired and living on fixed incomes. "They don't have the wherewithal to bounce back from a storm like this. I'm so grateful for the volunteers who have come down to help and to do it in Jesus' Name."
Beyond the physical help, people need hope and Good News. "When you come to a place like this that has had so much destruction, the hopelessness and despair that's in the hearts of people and on their faces are incredible.
"We want them to know that God loves them, that He hasn't turned His back on them. We want to be able not only to help them physically but share the Gospel of Jesus Christ with them," Graham said.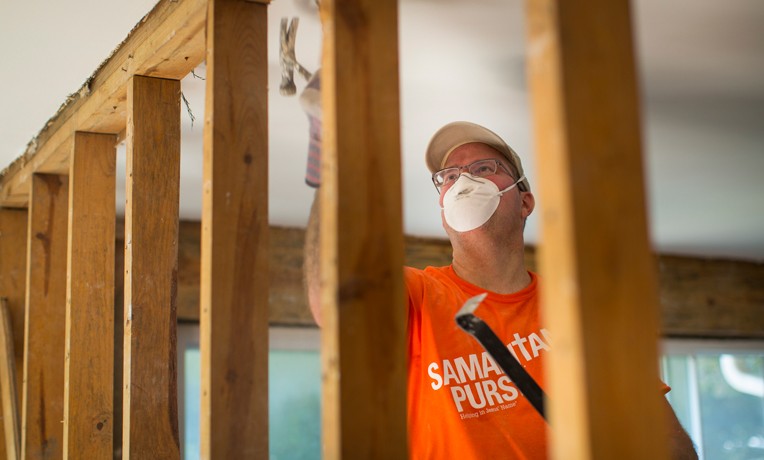 U.S. Disaster Relief
Samaritan's Purse mobilizes and equips thousands of volunteers to provide emergency aid to U.S. victims of wildfires, floods, tornadoes, hurricanes, and other natural disasters. In the aftermath of major storms, we often stay behind to rebuild houses for people with nowhere else to turn for help.
---
U.S. Disaster Relief 013622