Michigan residents are motivated by the story of the Good Samaritan to make and sell purses to raise funds for Samaritan's Purse.
A team of 11 women in the Holland, Michigan, area is tending to the needs of their "neighbors in a ditch" by stitching!
Over the past nine and a half years, the ladies have created over 6,000 purses and totes, giving all of the proceeds to Samaritan's Purse. The group, aptly called Purses for Samaritan's Purse, has raised $86,000 in donations for the ministry.
The group's founder, Lynda Esper, 74, was sitting at her sewing machine making a tote bag in 2011 when "the name just touched me," she said. "I believe it was from the Holy Spirit: Purses for Samaritan's Purse." Shortly afterward, Lynda sewed a large number of one-style totes and hosted an open house—and raised $300 from that first sale!
People soon began to hear about her endeavor, and other Christian women joined her in cutting fabric or sewing. Since they started nearly a decade ago, this team of retirees has expanded their product line to seven different styles of bags, ranging in price from $10 to $25.
"People will open up their home and invite their friends, but it's different [from other home parties] because we tell them what the purpose is," Lynda said.
A brochure about the worldwide relief-and-evangelism work of Samaritan's Purse goes inside every bag the group makes, and 100-percent of the purchase price goes to the ministry.
Supporting Work Done 'In Jesus' Name'
The fact that everything at Samaritan's Purse is done in Jesus' Name is what first attracted Lynda to the organization. She learned of it while packing Operation Christmas Child gift-filled shoeboxes in 2008. When she traveled out of state to volunteer at a processing center, where shoeboxes are prepared for international shipment, she was impressed that "people prayed with you before you worked."
A couple years later when Purses for Samaritan's Purse was founded on the story of the Good Samaritan in Luke 10, Lynda felt that she could "go and do likewise" as the parable commands, by sewing. She chose Matthew 5:16 as a theme verse for the group: "Let your light so shine before men, that they may see your good works and glorify your Father in heaven." Lynda wants their work to shine before others in a way that will lead them to praise God. "It blesses me when people glorify God because of a little thing that I'm making."
Persnickety for a Purpose
Lynda purchases all of the supplies out of her own pocket and does so with great care. "I'm very persnickety, so I pick out the fabrics most of the time," she said. "The funny thing is, God has sent me very persnickety cutters and sewers."
The team's precise, careful approach to their work is an important quality, Lynda says. "We always get comments about how well the purses are made. I feel that everything we do is for God's glory, and we don't want to give Him anything but our best."
After she makes fabric selections, Lynda sends the material to the cutters, who follow plexiglass patterns with a rotary blade. They return the cut pieces to Lynda who assembles bundles of scissors, thread, fabric, and handles for each of the sewers.
Each volunteer serves independently on their own time, but the group gathers to celebrate together once or twice a year.
When the global pandemic limited open houses, the team shifted gears and made over 900 masks. The switch broadened their customer base to corporations. The companies then sent their donations directly to Samaritan's Purse.
'Liberated to Love Lavishly'
Somewhere over the years, Lynda picked up the life theme "because of Christ I am liberated to love lavishly." It's not unique to her, but she finds the phrase frees her from self-consciousness and sin. "He's overcome the world, so I can do what He told me to do: love Him and love others," Lynda said. "And it doesn't mean that every day is peachy keen."
Lynda knows that all too well. In 2005, she and her husband Frank moved to Zeeland, Michigan, and set up life in a new condo, only to have him pass away from cancer less than six months later. They'd been married nearly 38 years. Alone in a new city with few friends, Lynda, then 59, set out to try and find God's purpose for her in this new season of life.
"The first couple of years, I could hold onto God's hand and that's about all I could do," Lynda said.
But in 2007, Lynda put a business card up at the local fabric store to begin serving again as a seamstress, a job she held while her children were growing up. Four years later, Purses for Samaritan's Purse was born.
'Do Something for Someone Else'
Lynda's oldest daughter, Cheryl Balcom, sees how Purses for Samaritan's Purse is allowing her mother to live out advice she used to give her six children.
"When I was younger my mom would always say to us kids, 'Whenever you're feeling down, the best thing to do is something for someone else.'"
"Whenever you're feeling down, the best thing to do is something for someone else."
Over the years as Lynda's family grew, whichever room happened to serve as her sewing room at the time often got converted into a bedroom—resulting in Lynda's sewing machine eventually finding a home in the hallway.
"We fell asleep at night to the sound of her sewing machine," Cheryl said.
And today, that skill her mom first developed when she was 11 years old is blessing others in new ways as she and her team of volunteers continue to create bags that are sold, not only in Michigan, but also in Arizona, Florida, Idaho, Maryland, Virginia, and even Germany.
"It is an amazing testimony of God's faithfulness," Cheryl said. "He's redeemed this very difficult time in my mom's life and brought something beautiful out of it."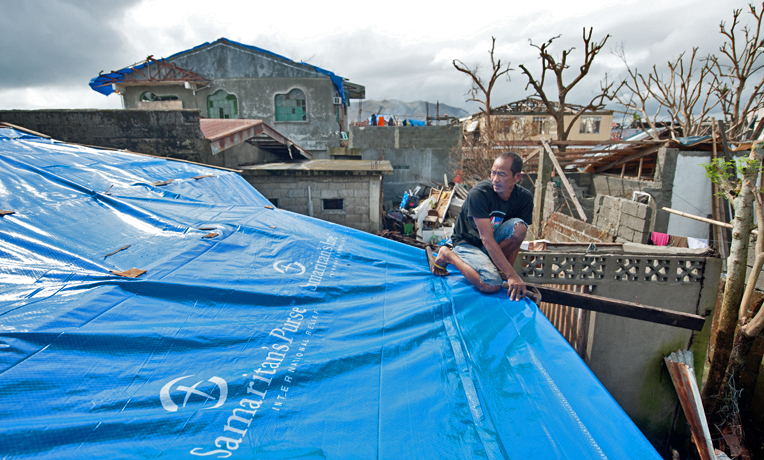 Where Most Needed
Your gift to "Where Most Needed" equips Samaritan's Purse with the resources—including personnel, materials, supporting services, buildings, and equipment—to fulfill our mission of relief and evangelism worldwide.