Amid cancer, heart problems and an emergency room visit, one couple finds a lighter burden through Samaritan's Purse flood relief volunteers
The Colorado flood could not have come at a more terrible time for Bill and Jean Veach.
Jean was diagnosed with breast cancer in June. She had surgery in July and is currently going through four rounds of chemotherapy. The retired couple was already exhausted from taking care of Jean's health needs when the waters rose and they were forced to evacuate.
Donate to U.S. Disaster Relief
"We've never had a flood here. We're not even in the flood plains," Jean said. "But when we looked outside, we could see this tidal wave of water coming down the railroad tracks."
Samaritan's Purse responded to the flooding in Colorado to help people like Bill and Jean.
Volunteers working out of our bases in Niwot and Greeley are removing ruined belongings from flooded houses, taking out waterlogged insulation and drywall, and helping prevent the growth of mold. By taking the time to pray with the homeowners, and presenting a Bible when the job is finished, we clearly communicate that we are working in the Name of Christ and let them know He cares.
When the Veaches returned after the flood receded, at first they thought their house was left undamaged. Jean said there wasn't even a rock out of place. But then they opened the door to their basement. The smell alone was proof something was terribly wrong.
Along with sewage seepage, their entire basement was under six feet of water, ruining both her sewing room and her 78-year-old husband's golf club repair workshop. Jean's prized sewing machine was destroyed along with the christening gown she wore 69 years ago, which was displayed on a china doll.
"It's hard. Very hard. Just have to take it one day at a time," she said. "It's hard seeing memories and old pictures that have to be pitched."
What made the days following the flood even more difficult was the amount of stress the couple endured while trying to handle the situation on their own.
Bill was so overwhelmed and exhausted physically that he went into atrial fibrillation while trying to clear out the basement, completely passing out with blue lips. He was rushed to the emergency room.
Doctors told him he had to take it easy and advised him not to return to his house until the clean up was completed. He felt completely helpless as he was unable to be there for his wife, who not only had to manage the house, but also had to go through round two of chemo by herself.
That's when Samaritan's Purse disaster relief volunteers showed up to help and clean out their basement.
"The best thing about [the volunteers] is it's helping Jean and Dad with their stress," Bill's son, also named Bill Veach, said. "It would cost them more money and take longer to get the results and of course, be more stressful—that's the most important thing."
The day before Samaritan's Purse came to help, Jean had just completed the second round of chemo. How physically and emotionally drained she still felt was written all over her face.
Jean said a contractor had "promised the moon," but because of all the damage throughout Colorado, the company had underestimated how long all the jobs would take. It would be more than a month before Jean and Bill could return to their home. Instead, Samaritan's Purse volunteers were able to complete the job in less than two days.
"[Samaritan's Purse] was such a Godsend. I don't know what we would have done without you," Bill said while still in the hospital, recovering from his heart episode. "I'm a lot more stress free. If I was laying here and nothing was getting done, I'd be a basket case and extremely frustrated."
Bill has spent many years as a volunteer himself, as a hospital clown, golf tournament coordinator, and delivering meals on wheels. Now, he was on the receiving end.
"With every disaster like this, it really shows you the silver lining in everything," his son, Bill, said. "You get to see the good in humanity. The many eager hands really make for less work. Without volunteers, it would have taken forever."
Jean said she hopes that one day, if her health improves, she too could volunteer when another disaster strikes and become like those who were there for her when she most needed help.
"The Samaritans that come here from all over the country—that's an amazing thing," Bill Sr. said. "That's what the world should be about."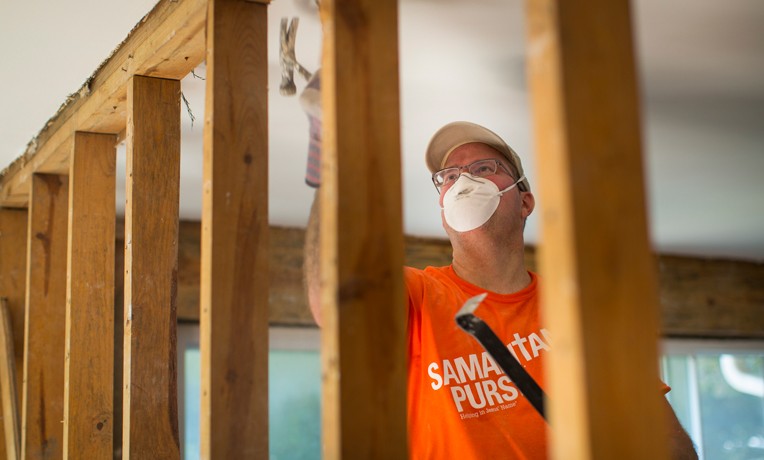 U.S. Disaster Relief
Samaritan's Purse mobilizes and equips thousands of volunteers to provide emergency aid to U.S. victims of wildfires, floods, tornadoes, hurricanes, and other natural disasters. In the aftermath of major storms, we often stay behind to rebuild houses for people with nowhere else to turn for help.
---
U.S. Disaster Relief 013622