First-timers and veteran Samaritan's Purse volunteers bring hope to Texas metropolis in Jesus' Name
Fernando Salas' day started at 2 a.m. with a series of connecting train rides from Aurora, Colorado, to the Denver airport where he caught an early flight to Houston. The long-time Samaritan's Purse volunteer was responding to the need among homeowners following the "Tax Day Flood" that inundated more than a thousand homes under a 17-inch torrent in less than 24 hours.
Just over 20 hours after he first woke in his Aurora home, Fernando celebrated a day of hard work with other Samaritan's Purse volunteers in Texas. They were encouraged by the hope they saw restored when our assessors and volunteers showed up ready to help homeowners.
VOLUNTEER IN HOUSTON— FIND OUT MORE
"People need to know that Jesus loves them, and this is one way people can see how Jesus works in their lives," Fernando said. After disasters, people will turn to other things for relief if they don't rely on Jesus, he said. "I've seen people turn away from God because of things like this. Unless somebody that knows God is around, they'll fall."
The retired law enforcement officer came with the simple desire to help the hurting in Jesus' Name. For Fernando and hundreds of other Samaritan's Purse volunteers, serving in Houston in the flood's aftermath means demonstrating God's love by working hard to remove walls, flooring, and the waterlogged artifacts of residents' lives.
All You Have to Do Is Show Up
Jackie Anderson, a volunteer from Woodlands Church, our base location, had never done this kind of work, but she was looking for a way to help her city. Her church had been announcing opportunities for several days. So she brought her daughters, Madison and Averee, to shovel and wheel out debris from nearby homes.
"I saw the student ministry post on Instagram that they needed help for the flood victims," said Averee. Her older sister, Madison, agreed. "It's an amazing experience for us as volunteers and we get to see everything that happens and that it's real."
Jackie says she came with her daughters because "God didn't put us on this planet to be alone. We are to help each other through difficulties, because we all have them."
Difficult and dire circumstances as those now in Texas (and in Louisiana) have provided our volunteers with open doors as we demonstrate and proclaim the Gospel of Jesus Christ to the hurting, who find their only true relief is in Him.
"Samaritan's Purse is so awesome. All you have to do is show up. You don't have to know anything or have any skills and you find yourself doing things you thought you'd never do," said Leslie Meinen, a longtime volunteer who serves as one of site leaders. "We have neurosurgeons, district attorneys, ditch diggers, toll takers, principals, all walks of life, serving and getting dirty under the same dirt. I love the simplicity of serving. It's all laid out for you. And Samaritan's Purse doesn't back down from what the Gospel says, because we know that's where real relief is found."
Helping Hands of God in Tragedy
Volunteers Larry and Helen Tanaka had only heard of Samaritan's Purse because of Operation Christmas Child. Though they'd been hoping to serve in some way, it wasn't until they recently moved from California to Houston that they joined Samaritan's Purse to help flooded homeowners.
"It's fantastic. This was something we were thinking about doing when we retired," Helen said. "It's very rewarding to be a blessing to someone else and to see other people smile and see the helping hands of God in tragedy."
So far, four people in the Houston area have made decisions to follow Christ through Gospel presentations by Samaritan's Purse volunteers and Billy Graham Rapid Response Team chaplains in affected communities.
Volunteers Needed at Multiple Locations
We will be receiving volunteers for several weeks at our Houston-area base of operations at The Woodlands Church at 1 Fellowship Drive, The Woodlands, Texas. The current close date is May 22.
Many without flood insurance were dazed by how to find their way back to normalcy, and the work of Samaritan's Purse has, as one homeowner put it this week, "brightened my home again. I can actually see the light at the end of the tunnel. What took us a whole day has taken your team 30 minutes."
Please continue to pray for homeowners and for our teams in Houston.
VOLUNTEERS NEEDED FOR MULTIPLE PROJECTS—FIND OUT MORE
Along with our Houston deployment, we have an ongoing response in Ouachita Parish, Louisiana, which was pummeled by an early March storm system. The Ouachita Parish response is scheduled to close May 31. In addition to these ongoing responses, we completed two other responses since March: one in Bossier City, Louisiana, and one in Orange County, Texas. Between these four responses, we have helped over 400 homeowners and more than 150 individuals have received salvation in Jesus Christ.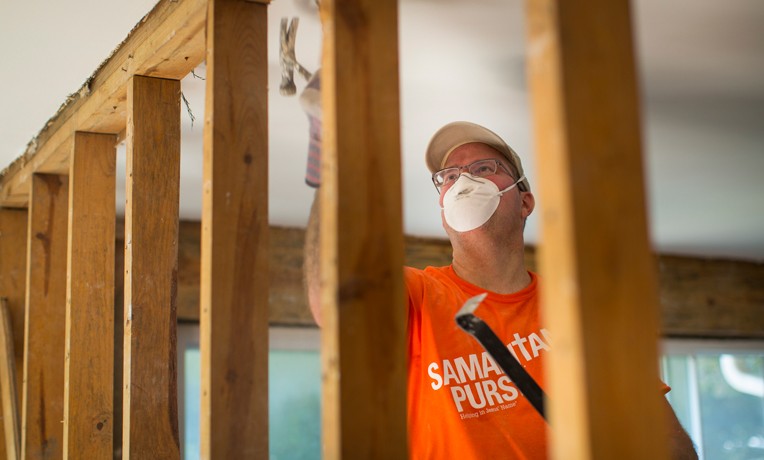 U.S. Disaster Relief
Samaritan's Purse mobilizes and equips thousands of volunteers to provide emergency aid to U.S. victims of wildfires, floods, tornadoes, hurricanes, and other natural disasters. In the aftermath of major storms, we often stay behind to rebuild houses for people with nowhere else to turn for help.
---
U.S. Disaster Relief 013622