Samaritan's Purse volunteers reminded a large Indiana family that they are seen by God and His people.
U.S. Disaster Relief
013622
There's often a whirlwind inside Jaime Richardson's home where she and her husband, Chris, care for their 15 adopted children in Fort Wayne, Indiana. Most days are a swirl of activity with that many kids around, several having special needs including cerebral palsy, autism, seizure disorders, and one confined to a bed for most of every day.
So, when Jaime heard a windstorm was coming, she took it in stride and sat on the back porch to watch it.
"I like a good storm," Jaime said. "I'm from New York. We just don't get those kinds of storms up there. Of course, when the rain started going sideways and I saw little funnels forming in the rain, I prayed for our protection and went inside."
Moments later they heard a violent crack and then another as large hardwoods started falling. The spring storm had morphed into a dangerous, destructive derecho, a weather event packing 98-mph winds that pummeled areas of Fort Wayne. It was terrifying.
When the sky finally cleared, Jaime walked to see where the trees had toppled.
"The trees had fallen in a row like dominoes," she recalled.
The timbers filled the yard, creating hazards and trapping vehicles. She said it was a miracle that there wasn't more damage to their home.
"A friend told me to call Samaritan's Purse," Jaime said. "At first it felt funny asking for help. Our home was OK. We're usually the ones who want to help, not ask for help, but after calling several tree companies with no response, we finally reached out."
"The trees had fallen in a row like dominoes."
Samaritan's Purse volunteers have been working in Indiana since the mid-June storm, serving homeowners in Jesus' Name, helping residents clean up their properties, hauling away trees and debris, and patching damaged roofs.
Working Hard, Motivated by the Love of Jesus
Within a day, our assessors showed up at the Richardsons' house. A day after that, a group of volunteers clad in orange Samaritan's Purse shirts showed up at their door ready to help the family clean up their dangerous yard.
Jaime says that she and her kids watched in awe as our teams started chain-sawing and carrying away trees, freeing vehicles that were trapped by the fallen debris, and removing dangerous fall hazards from where the kids go out to play.
Jaime's caregiving staff, who work with her most medically fragile children, were also amazed.
"Some of the staff aren't religious in any way," Jaime said. "I remember one of them watched how hard they were working—just working for hours because of the love of Jesus. This nurse said 'that's the type of religion I would listen to.' It really made an impression on me and an impression on these people I love who don't really attend church. They were turned off by the hypocrisy, but here in my backyard they were seeing people, who don't know me, being the true hands and feet of Jesus."
Volunteers also welcomed some of the children to help alongside them, showing them how to rake and pick up debris.
"My kids came out to help so they could learn hard work," she said. "Some of them were only able to work a little bit, and a few worked for hours. The volunteers were so kind to teach them and never once made us feel like they were in the way. They were shown love and respect, and they walked away feeling accomplished and valued for their contributions."
With chainsaws and heavy machinery, our team only needed a little over a day to free the family van from fallen trees and make the yard safe again. Jaime said she and Chris are grateful for the many volunteers who said 'yes' to God and helped people in distress after the derecho.
"We started adopting simply because we started saying 'yes' to God," Jaime said. "He has taught us that He is much bigger than all the reasons we can give ourselves to say 'no' to something. God can always make a way for what He has called you to."
She was especially grateful for the way our team showed special care toward her children.
"A majority of special needs families feel unseen and unwelcome—even by the church," she said. "This is why many families end up leaving the church. I've heard the statistic 80-90 percent leave because of that. In this case, though, the church came to us."
—
Watch the video (below), "Answered Prayer in Indiana," to discover another great story from our derecho response. Helen Griner, a widow, thanks God for the help she received from Samaritan's Purse volunteers after the storm uprooted trees in her yard.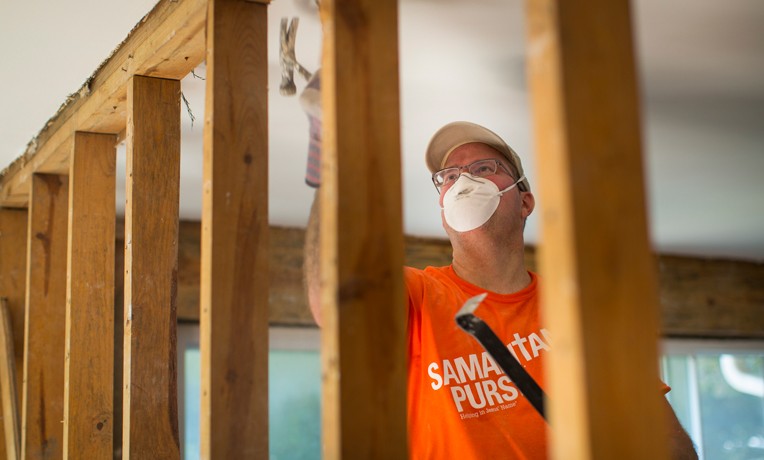 U.S. Disaster Relief
Samaritan's Purse mobilizes and equips thousands of volunteers to provide emergency aid to U.S. victims of wildfires, floods, tornadoes, hurricanes, and other natural disasters. In the aftermath of major storms, we often stay behind to rebuild houses for people with nowhere else to turn for help.
---
U.S. Disaster Relief 013622