We celebrate changed lives as God works through Samaritan's Purse volunteers in Dallas.
U.S. Disaster Relief
013622
Samaritan's Purse responded to hurting communities in Dallas, Texas, where a powerful EF3 tornado and other twisters churned up neighborhoods without warning on Oct. 20.
"The alarm on our phone went off, then we heard the sirens. We heard a loud roar," said Jackie Burk whose yard was covered in debris, including two very large trees, which our volunteers later helped remove.
She recounted rushing into the hall of their home with her husband, her mother, and her dogs just before the tornado tore through her property. "By God's grace the trees didn't touch the house. And even more of a blessing is that these volunteers came here to help do things we could not have done. They were absolutely wonderful."
Since we first deployed to Dallas on Oct. 23, more than 300 volunteers have completed over 80 work orders, and we praise God that nine people have received Jesus Christ as Lord and Savior.
Among our volunteers during this response were Team Patriot participants. Team Patriot is a new initiative of Samaritan's Purse that engages military couples who are also involved with our Operation Heal Our Patriots project. A number of these wounded veterans and their spouses, as well as their older children, are being trained and deployed to serve homeowners as part of our North American Ministries Disaster Relief program.
Even as our deployment in Dallas comes to a close, our rebuild work continues in Pearland and Rockport, Texas, where we are assisting homeowners impacted by Hurricane Harvey. Our rebuild volunteers in the region also included the first ever deployments of Team Patriot couples.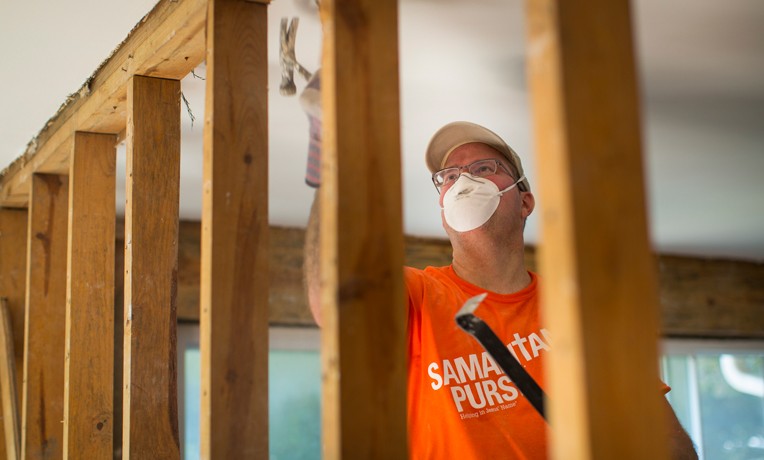 U.S. Disaster Relief
Samaritan's Purse mobilizes and equips thousands of volunteers to provide emergency aid to U.S. victims of wildfires, floods, tornadoes, hurricanes, and other natural disasters. In the aftermath of major storms, we often stay behind to rebuild houses for people with nowhere else to turn for help.
---
U.S. Disaster Relief 013622